On a frigid Wednesday evening, Kyle Raposo sits at his desk, back straight, jaw clenched, eyes transfixed to his monitor. His face, illuminated by the harsh glow of his screen, is a portrait of concentration: a quiet visage of monastic stoicism, hard-won through years of failure, victory and practice. A furrowed brow, bated breath and the air of tension that sits ominously in the dimly lit room are all that indicate that this is no ordinary practice; this is no game. Not for Kyle Raposo.
Yet Raposo is not still. With one hand hovering above his keyboard and the other firmly on his mouse, the sound of rapid-fire clicking shatters the room's sonic void. His eyes dart across the screen, constantly observing and never resting in one place for too long. In Raposo's world, information is king and speed, its queen. Beyond the chaotic and distorted mural reflected in the lenses of his glasses, his eyes pause, just for a moment, and the realization of victory begins to wash over him: slowly — then all at once.
"He's over-extended; rush him. I'm going in," he says in a cadence more befitting of an auctioneer than a third-year engineering student.
A flash of light, the roar of fire and the dopamine-inducing cry of "ENEMY SLAIN" confirms his triumph.
What was the slightest of mistakes by his opponent, wandering just a step too far at the promise of greater reward, Raposo turned into a killing blow — all in just under 15 seconds.
In a League of their own
Raposo, long-time captain of the de facto Western University League of Legends collegiate team, takes the game seriously — and he's not alone. League of Legends is one of the most popular online video games in the world, boasting an estimated player base of 80 million, excluding China (as there is no concrete data available for the country).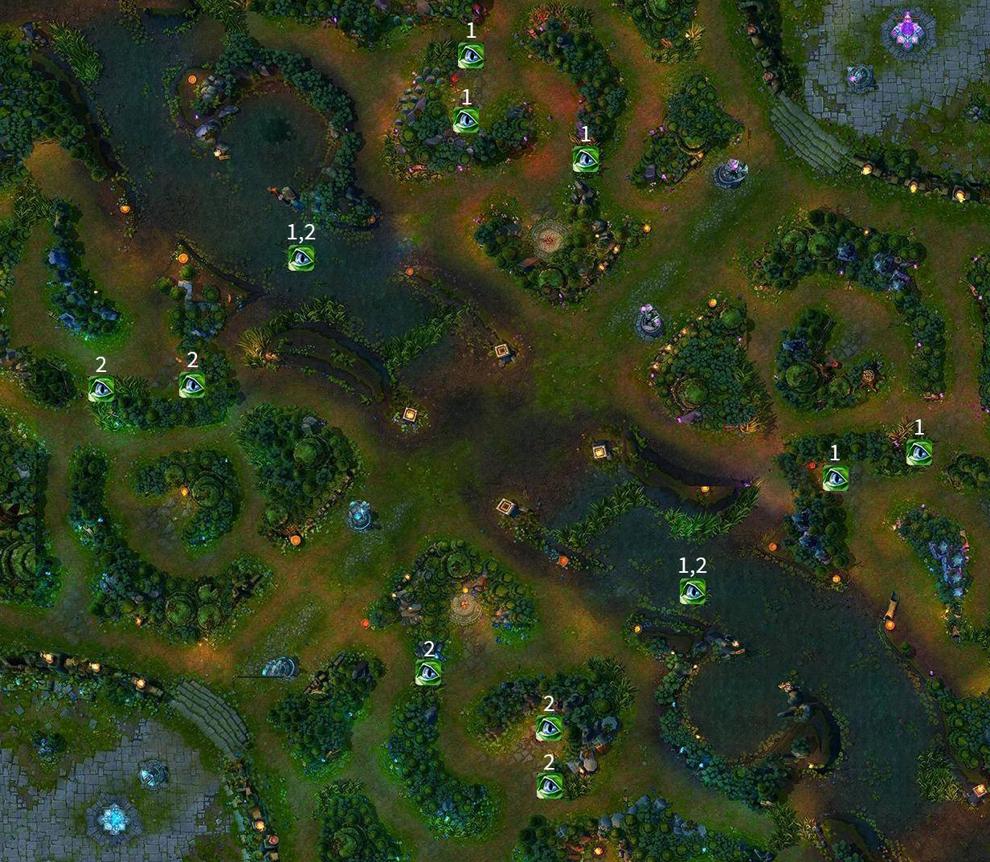 Played in teams of five, League pits players against an opposing team with each initially controlling half of the map. To win, players must overrun the enemy team by destroying powerful fortifications and magical obelisks on their way to the "Nexus," a monolithic and heavily guarded structure situated at the far end of the enemy's territory. Over the course of the game, players vie for control by battling their opponents in separated lanes, with each player fulfilling a certain role on the team using one of the game's hundreds of characters.
League is just one of many massively popular online titles, such as Overwatch, DOTA 2, Starcraft, Counter Strike: Global Offensive and dozens more. And just like in football and basketball, with dedicated positions like quarterback and point guard, players fulfill specific roles on the team, each associated with a different goal or responsibility. In games like League, this can be a core mechanic of the game, where playable characters excel at attributes like speed or strength, making them suited for supporting or attacking other players; in other games like CS: GO, these roles exist in the meta game and are defined best by each player's individual play style.
The popularity of these games is due in no small part to their highly competitive nature and absurdly popular professional scenes. Colloquially referred to as eSports, professional competitive gaming has become one of the biggest and most profitable industries of the last decade. Conducted in a "traditional" seasonal format, game publishers hold yearly tournaments all around the globe, culminating in audacious world finals. DOTA 2's 2018 tournament, The International, had a prize pool of almost $35 million, with roughly $15 million awarded to the first-place team.
Becoming a professional eSports player is no small feat; pros are the absolute best of the best in games with literally millions of players. Their skill is a combination of lightning-fast reactions, deep game knowledge and the ability to adapt to a constantly evolving metagame. Much like how pro football players are the best not just because of their tremendous physical ability, but their knowledge of plays, tactics and awareness of their opponent's strengths and weaknesses, eSports players have a highly specialized and intimate knowledge of the games they play.
As with many popular sports, eSports has also inspired a burgeoning collegiate scene around the world with many publishers holding collegiate tournaments with substantial scholarship prizes, and almost a hundred U.S. colleges have established varsity eSports teams across a variety of games. Western's League of Legends team (although not formally recognized nor supported by the university) performed exceedingly well last June, winning the Eastern Conference finals with a perfect record and competing in the League of Legends College Championships in Los Angeles.
Raposo calls it "the experience of a lifetime."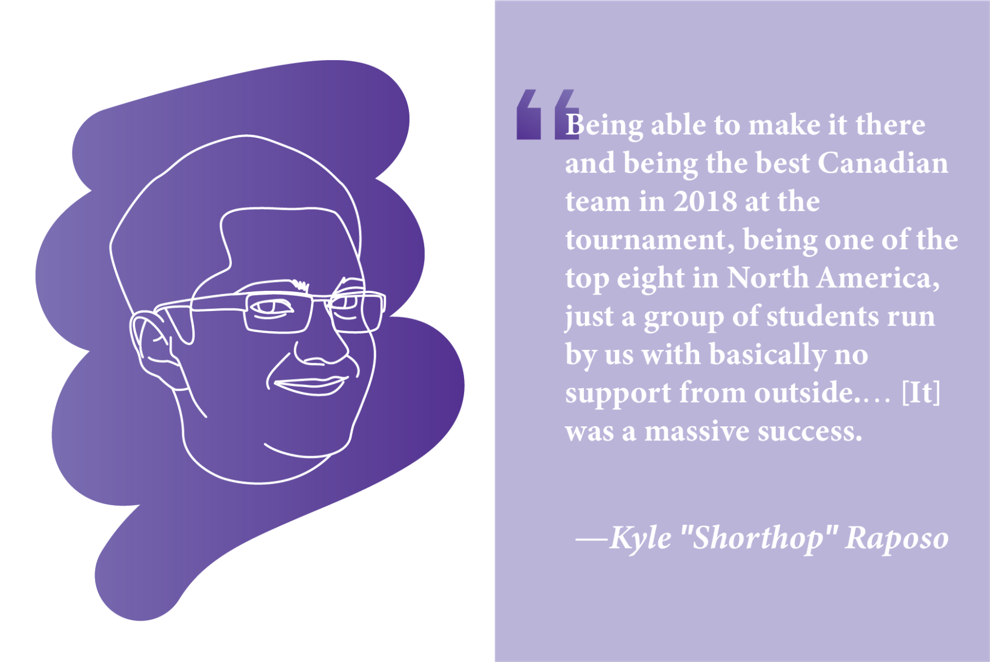 "It's something that, basically since I started running the team in September 2015, I was aiming for," says Raposo. "Being able to make it there and being the best Canadian team in 2018 at the tournament, being one of the top eight in North America, just a group of students run by us with basically no support from outside.… [It] was a massive success."
To secure their spot in the finals, the team had to face some of the best schools in Canada: the University of Waterloo, the University of Toronto and the University of Ottawa, the latter of which won the 2017 Eastern Conference title. By defeating some of the best teams on the continent, each player received an $11,000 scholarship prize.
While the team is officially under the Western Electronic Gaming Association, the team manages its own practice schedule, administrative activities and finances. Like other varsity athletes at Western, players on the League team practice roughly 12 to 15 hours a week during the season (mid-January to early-June), not including individual practice time and administrative duties.
"When the season starts, I probably dedicate something like 50, 60 hours a week to the team," says Raposo. Despite the stereotypical notion that avid video game players tend to shirk their other responsibilities, the Western League team takes their schoolwork and well-being very seriously.
Peter Shi, a third-year medical sciences student and one of the team's core members, says that despite their drive for success, school is always a priority.
"If someone needs time to prioritize their school[work], they always take that time to do that because school comes first," explains Shi. "And if we perform a little bit worse in the game, whatever; it's your second priority, and you shouldn't put that over your studying or your health."
Absent Western's Overwatch
Competitive gaming at Western, however, does not begin and end with the wildly successful League of Legends team. WEGA officially represents both a student Overwatch team and a Counter Strike team in addition to the League team. Belal Howidi, a psychology and pharmacology major in his final year at Western, is a player and internal manager for the Overwatch team and believes that eSports teams at Western could seriously benefit from even the most basic support from the university.
"I think the most important [thing] is official recognition," says Howidi. "That would really boost [the team's] self-confidence and make the team a lot more competitive, and I think that would also boost our recognition a lot."
What's disconcerting about the situation is not that Western has yet to recognize the teams, but that they appear to deliberately deny the team any sort of public endorsement despite their achievements.
After being crowned League conference champions, the London Free Press published an article detailing the team's achievements and their upcoming trip to L.A. The university, meanwhile, offered no acknowledgements.
While the League team is eager to repeat last year's achievement and more, they hope that continued success among eSports teams at Western will mean eventual support from the university.
"Last year, by winning the Eastern Conference and making it to L.A., we gained a lot of publicity; there was something like 25,000 concurrent viewers on [the final's] [live]stream," explains Raposo. "I think the university might take note of that and hopefully open up to the idea of supporting us in one way, shape or form."
Due to the games' online nature, practices are held remotely with players communicating using Voice-Over-IP software like Discord. Practicing in-person as a team, however, is the standard for the best collegiate teams, who use gaming rooms equipped with 10 to 12 computers provided by their university.
While the difference between online and in-person practice quality may seem insignificant, Raposo stresses the need for a common gaming room.
"When we were in L.A., we saw the benefits of working in-person with each other," explains Raposo. "The quality of our practice and the results that we were getting were a lot higher regardless of the fact that we were sort of out of shape [prior to the championship]."
"Some people don't have their setups or their computers at Western," explains Howidi. "They don't bring them from wherever they live."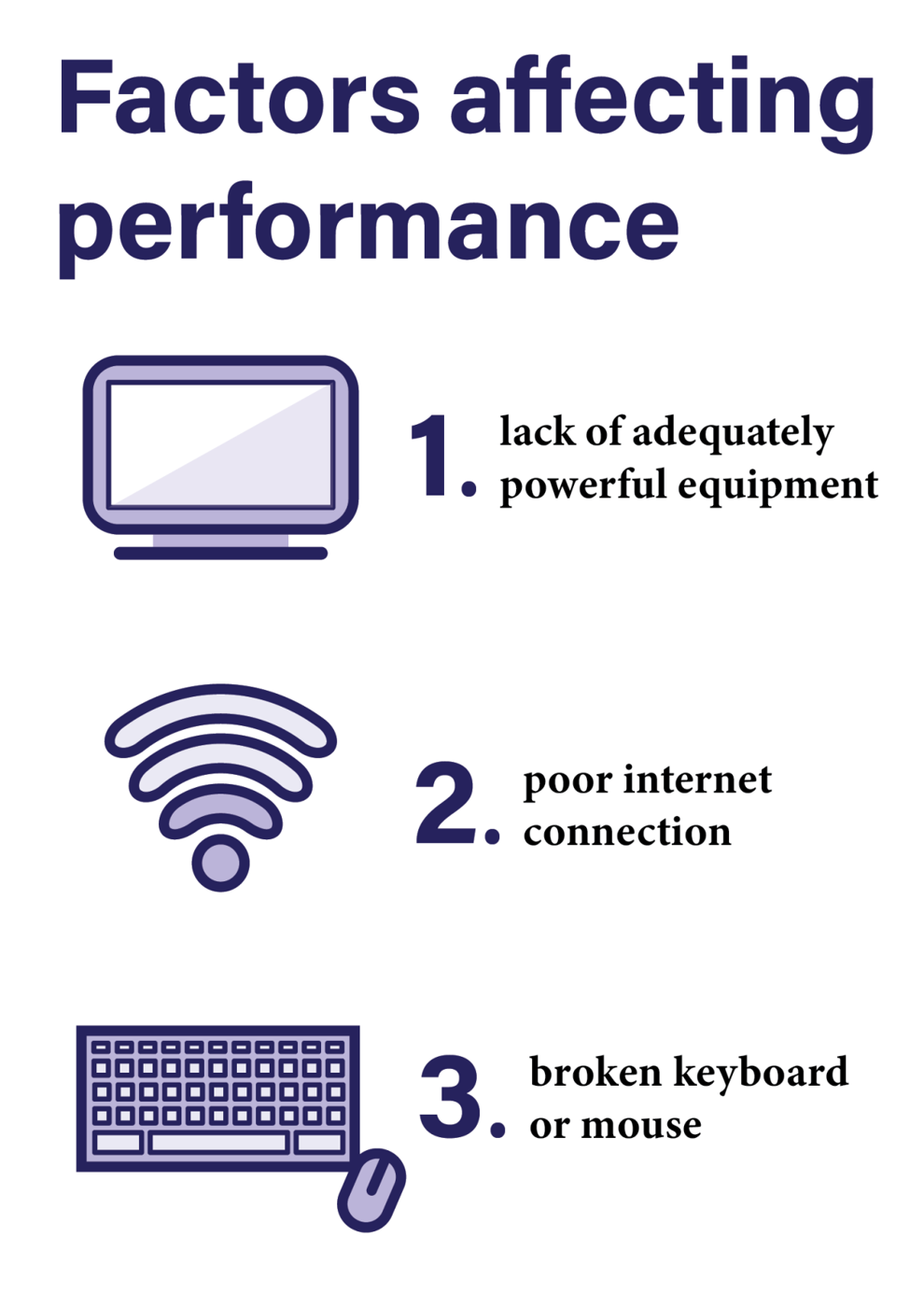 Lack of adequately powerful equipment needed to run the game at full performance, higher input latency as a result of poor internet connection and broken peripherals, such as old keyboards and mice, are all factors that can detrimentally affect the performance of competitive gamers. In a competition decided by millisecond reactions and pixel-perfect precision, quality practice space and equipment is essential to top-level play.
The University of British Columbia and UofT are the most recent additions to the growing list of Canadian schools that openly endorse and are working to support their varsity eSports teams through scholarships, gaming rooms and other financial and academic means — and there's no wonder why.
The eSports industry is projected to supersede the viewership of all professional sports in North America except for the NFL in two years. Current metrics indicate that the total number of eSports viewers around the world is over 335 million. That kind of publicity, even if the collegiate scene receives only a fraction of the attention, could exponentially increase a university's exposure worldwide. Almost 51 per cent of North American collegiate League of Legends players are STEM majors; if ever there was an opportunity to increase enrolment through capitalizing on the enormous crossover between prospective STEM majors and video game enthusiasts, it would be through establishing official eSports teams.
St. Clair College, an Ontario post-secondary institution with a school-sponsored eSports program, has fully incorporated the program into the school's marketing platform, and their recruitment booths at university fairs, such as the Ontario Universities' Fair, draw massive attention from the high school gaming crowd.
League of Legends is also one of the most popular games in China, as publishing tycoon Tencent bought developer Riot Games for over $530 million in 2011 and oversaw the game's release there. In fact, roughly 57 per cent of all League of Legends accounts (more than 117 million) are Chinese and the game has a near religious following there. In South Korea, Japan and China, eSports have penetrated mainstream culture much more successfully and rapidly than in the West. With Western's intense focus on increasing international enrolment, having a prominent eSports program could be a major draw for many students and help bridge the cultural gap between them and the local student population that Western tries to narrow.
Less social students who have a passion for gaming would also be encouraged to involve themselves in the Western community if infrastructure existed around the school's eSports teams that allowed for televised viewings of major games around campus. With decreasing attendance at varsity games, perhaps Western should try every avenue of increasing school spirit and student involvement — even if it's in an area that they're unfamiliar with.
A Counter Strike from the community
When it comes to eSports, it's not a question of if, but when. UBC is currently working on an ongoing scholarship program for their players after the school's new president Santa Ono took office. UofT, a notoriously traditional and academically rigorous school, has established an entrance scholarship program without significant achievement from their existing teams. The sheer volume of collegiate eSports viewership and its constant, uninterrupted growth assures that investing in the field now will pay off.
Western prides itself on being a leader in student experience, and its heavy, almost unparalleled support for their immensely successful varsity teams is evidence of that. As such, they should have been one of the first Canadian schools to pounce on such a fiscally and culturally lucrative option.
As stated in the 2018-19 Operating and Capital Budgets, Western has allocated just under $1 million for sports and recreation expenditures for the year. Yearly expenditures on things such as jerseys (which League players currently design and purchase by themselves) and a one-time investment in an on-campus gaming room (estimated at $4,000 to $20,000 using figures from similar facilities opened in U.S. college libraries) would be nominal fees in the grand scheme of Western's collegiate eSports program — a program that does not exist, yet is already more accomplished than many schools with one.
It's easy to jump to long-held, culturally ingrained opinions of intolerant disapproval when it comes to video games. What many fail to consider, simply out of ignorance or otherwise, is that there is a massive and passionate audience surrounding these games. Competitive video gaming has become something much more accessible and certainly more seductive than the reclusive, sweaty, basement-dweller images of yore.
"A lot of the times, outsiders look in, and they say, 'Oh, it's just a group of guys playing a game together,' " explains Raposo. "But there's a lot of structure and whatnot that goes into it that we have to deal with as a team because we don't have any [university] support."
There's a reason that Riot Games sold out the Staples Center for its 2016 World Finals and that tickets for each subsequent final have regularly sold out in seconds — there is a tremendous fan demand for the competition that League and other games provide.
If you're uncomfortable with the term "eSports," as it seemingly equates video gaming to the significant physical demands of traditional sports, your feelings are not misplaced. In truth, the term eSports is more of a universal corporate branding to describe competitive video gaming in a manner that's accessible to a wider audience. eSports is similar to traditional sports in its flair for the dramatic, storied rivalries between teams and rabid fan-bases; hence the name.
But can eSports really be considered a sport? If we refer to the traditional definition, no — but that's OK.
The success and following eSports has garnered with its own unique blend of a variety of competitive elements has absolved it from any requirement to fulfill the standards of some narrow-minded, quasi-legitimizing definition. eSports is a competition with just as much, if not more, repute than many popular sporting events. Its arbitrary cultural inclusion or feverish exclusion at the hands of gaming mega-corporations and the ever-obstinate traditional sports media does not discount the positive attributes of eSports or traditional sports.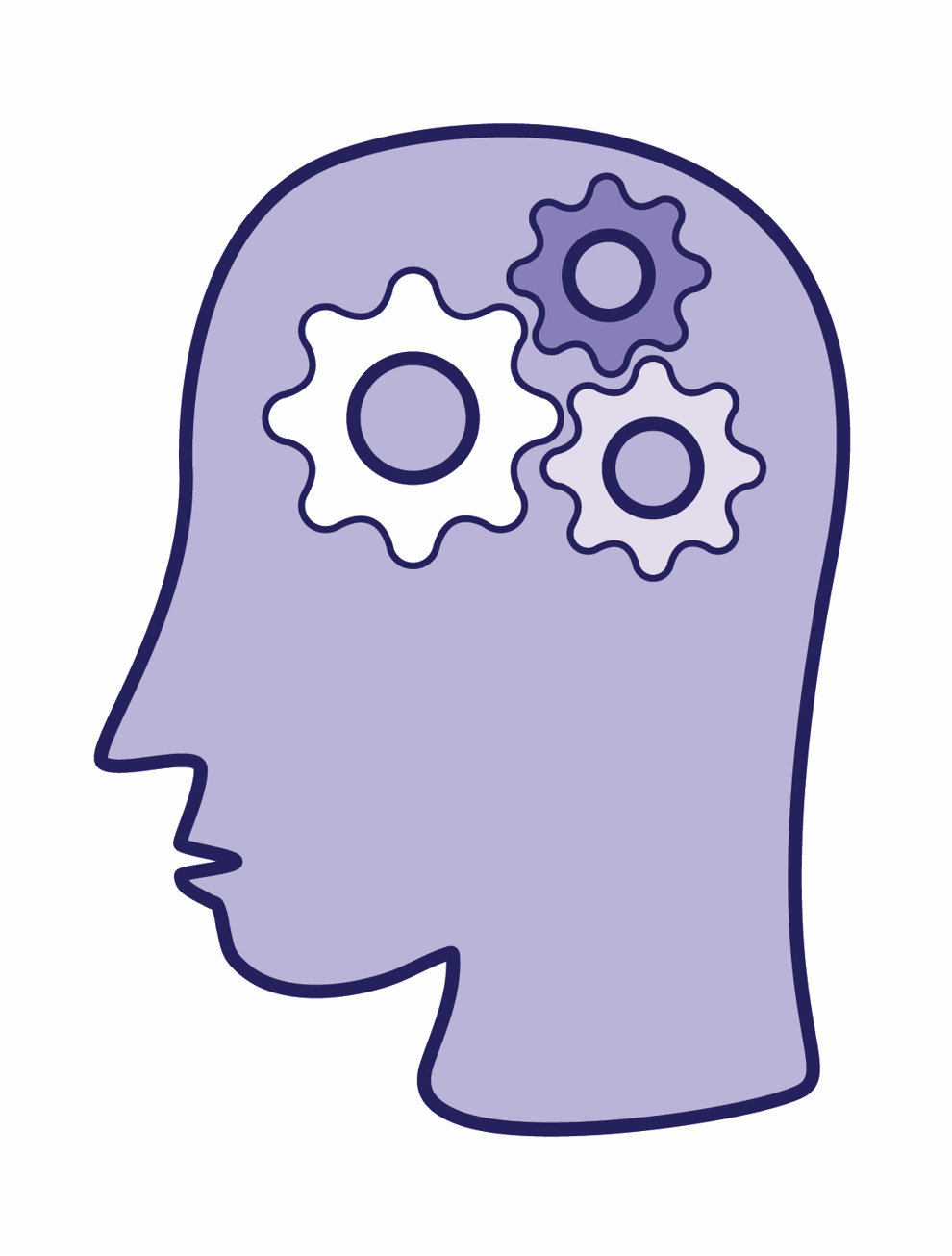 The argument is akin to the notorious and famously inconclusive "is chess a sport?" debate. Competitive gamers are indeed not required to trudge through muddy fields in a heavy downpour while a coach screams at them to run faster, jump higher or throw farther. With that kind of constant physical exertion comes a unique mental fortitude — and that's when the line between eSports and traditional sports begins to blur. The mental game and rapid independent decision-making that defines eSports is at a level far beyond traditional sports, and perhaps that's why they are, and should be, separate fields.
But this debate is inane, and as long as it continues to stand in the way of collegiate eSports players achieving success, it grows ever more pernicious. Whether or not eSports is a sport, there is a massive and rapidly growing audience behind dozens of games that will continue to care about the competitive scene of each one. If publishers are willing to reward students for their efforts with enormous scholarships to help further their education while still providing an outlet for competition and encouraging the development of universally applicable skills such as communication, team work and leadership, why should the university not directly support that?
"We're open to working with [the university] in any capacity and being officially recognized as a team because it's disheartening, at the end of the day, to know that after all this work … we're just a League of Legends team at Western and not Western's League of Legends team," says Raposo.
The collegiate eSports conversation is not about the mainstream opinion regarding eSports. It's about whether or not the university believes that hard-working students who are exceeding in a highly competitive landscape deserve even a shred of recognition.
I say they do, and 335 million people agree.