"You could have reproductive issues."
It wasn't what Madison Vasey, a second-year history student, was expecting to hear — least of all from her chiropractor.
The statement came from Dr. Neil Burden, who runs the Chiropractic Clinic at Western University alongside his son, Landon. Burden has been operating in the basement of Western's central student hub, the University Community Centre, for over 18 years; the clinic is a familiar sight for many students, including Vasey.
On Oct. 6, 2017, complaining of back pain, she went in for her appointment. Burden had her do a few exercises and examined her spine by running his thumb down it, she said. He said he discovered three subluxations (a chiropractic term for a misalignment of the spine), which could lead to reproductive problems unless she signed up for regular treatment with the clinic.
Initially, at the urging of the receptionist and Burden, she agreed.
"It just sounded so serious when he said it," Vasey recalled. "Like it could affect me in the future, and it's only going to get worse if I don't take care of it right now."
But once she got home, she started to feel uneasy. She was skeptical that somebody could diagnose reproductive problems based on a short spinal exam. It was also expensive — according to Burden, she had to come in for three appointments every week at $30 per appointment. At $90 a week, she would exhaust the student health plan's total of $320 for chiropractic coverage in a few weeks.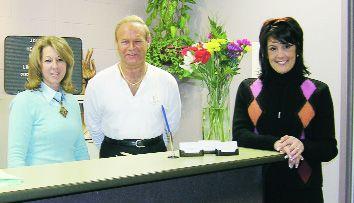 Vasey is not the only student who has raised concerns about Burden's clinic. Online, former patients have expressed concerns on Western-administrated Facebook groups, Reddit and RateMD, where users post reviews of health care providers. Officially, students have also complained to the University Students' Council and Western's administration.
Interviews with 10 former patients tell a similar story. They say Burden claimed to be able to detect and treat non-musculoskeletal issues and mood disorders; claims which, according to interviews with medical professionals, are not supported by scientific evidence.
They also speak about aggressive sales tactics, with the clinic getting patients to commit to many regular treatments with repeated phone calls to book appointments, a complaint echoed in some of Burden's online reviews.
Despite many complaints from students about both the claims made by the clinic and its alleged high-pressure sales tactics, the office continues to operate in a space leased from the University Students' Council in the heart of the university campus. Both the USC and Western say Burden's clinical practices are out of their purview.
Neither Burden nor Landon agreed to an interview for this story. However, when the Gazette sent Burden a document outlining concerns from former patients and medical experts, Burden responded with a written statement. He stated chiropractic does not claim to treat non-musculoskeletal conditions, but it can alleviate associated symptoms. Furthermore, he said chiropractic care can be consistent with the practices of evidence-based medicine. He did not respond to allegations that his office engaged in high-pressure sales tactics.
Burden's subluxation-based practice
In October, Vasey posted about her experience at the clinic in the "Western Class of 2018" Facebook page — a social group managed by the registrar's office. Vasey pointed to the negative reviews on Burden's RateMD page as a reflection of her own experience and as a warning to other students.
Most of the London chiropractors on RateMD are highly rated, but at the time of publication, Neil Burden, who also has another clinic downtown on Oxford Street, has the lowest rating of the 75 reviewed chiropractors in London, sitting at 2.7/5 with 68 reviews. The average rating for London's reviewed chiropractors on RateMD is 4.8 with about 16 reviews each.
Out of Burden's reviews, 19 are positive, with comments such as "I have always found Dr. Burden to be very professional" and "Both Dr. Burden and his staff are very helpful and very knowledgeable."
Many of the negative reviews claim Burden and his clinic were unprofessional or aggressive in the way that they pressured patients into making additional appointments. Others say Burden and his clinic are claiming to treat or attributing causes for disorders that chiropractors aren't trained to deal with — including anxiety, gastrointestinal problems and diabetes.
Burden advertises himself as a "subluxation-based" chiropractor in advertisements, patient reports, his website and the messaging in his office. Under this model, the root of all disease is "vertebral subluxation," a misalignment of the vertebrae that impairs nerve flow and thus causes problems in organs all over the body.
Patients say he purports to fix these subluxations with physical therapy and thereby restore the flow of vital forces to individual organs.
Burden connects chiropractic care to a variety of disorders through subluxation-based treatment. Charts in Burden's office connect individual subluxations to many symptoms — vertigo, asthma and sudden infant death syndrome, to name a few.
Like Vasey, Burden told second-year criminology student Olivia Lindner she could have reproductive issues if she didn't sign up for chiropractic treatment. Burden also told Linder her subluxations could mean she'd have "problems focusing" and "wouldn't live as long."
Other patients report being surprised by the disorders Burden said he could detect and treat. Jack Luo, second-year management and organizational studies student, went in to see Burden with neck pain; Burden quickly started attributing "problems [he] didn't even have" to subluxations.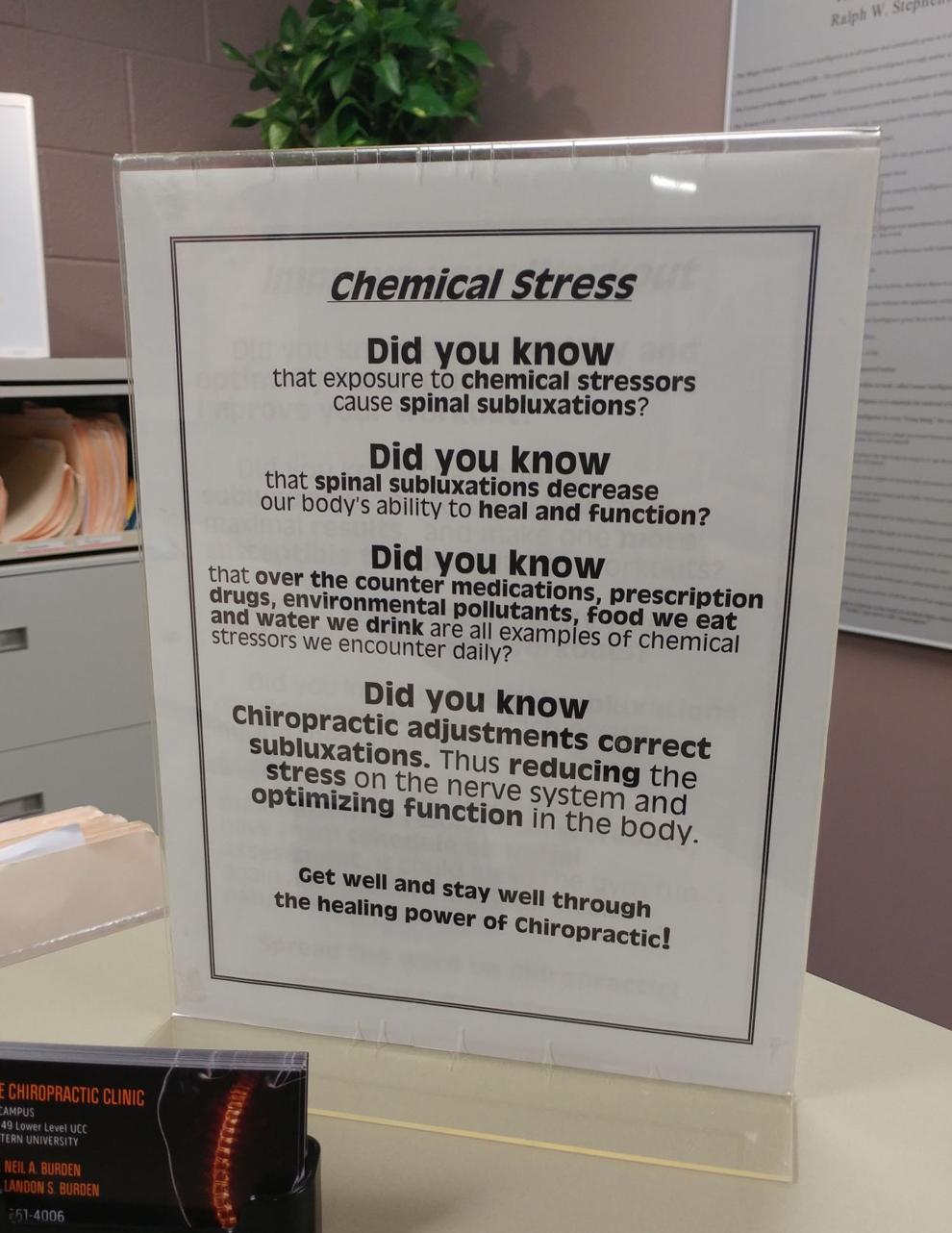 Burden told Luo he had various subluxations that caused fatigue, low energy and poor appetite. Luo — who works out regularly, eats over 3,000 calories per day and rarely feels tired — was skeptical.
Burden's website makes similar wide-ranging claims. The site purports that chiropractic care helps with a variety of disorders including allergies, asthma, bedwetting, indigestion, constipation, premenstrual syndrome, infant colic, ear infections, fibromyalgia, headaches, infertility and immunodeficiency. One page is titled "Chiropractic helps babies with milk intolerance," and another page says "Chiropractic adjustments lower blood pressure." Burden's email newsletters claim chiropractic care can help sleep apnea, autism, vision loss after surgery, cocaine addiction and childhood congestion. Some of these newsletters disparage mainstream medical treatment and recommend chiropractic adjustment instead.
Jackie Sadi, a lecturer at Western's school of physical therapy and a clinical specialist in musculoskeletal physiotherapy, said non-musculoskeletal issues, such as the ones listed previously, are entirely out of the chiropractic scope of practice. As well, she said there is no evidence that chiropractors can help with reproductive ability.
"There's certainly no link between spinal alignment and reproductive issues," she said. "Zero. And that's fear mongering. If anything, the psychosocial implications of telling someone that is much more troublesome than leaving well enough alone."
Burden's claims for chiropractic care extend to mood disorders as well. Two patients the Gazette spoke with, former kinesiology student Christopher Young and second-year student Elizabeth Blair, said Burden told them they could stop taking medication for ADD and ADHD respectively.
"I take Ritalin for ADHD, and he was saying how cracking my back is going to solve my focusing problems, and I wouldn't need to take medication anymore," Blair said.
A chiropractor advising their patient to go off their medication could be an example of "advising outside the scope," said Joel Friedman, director of policy at the College of Chiropractors of Ontario.
Burden's March email newsletter points to the various side effects of ADHD drugs and suggests chiropractic care as an alternative. A placard on the clinic's desk reads: "Did you know that drugs such as Prozac and other antidepressants can actually cause greater complications? Did you know that by correcting the subluxation, you can help the body heal itself without the use of harmful drugs?"
Regulations for chiropractors in Ontario state chiropractors cannot fail to advise a patient to consult another health professional when the patient's condition is beyond the chiropractor's scope of practice.
The Ontario Chiropractic Act offers an ambiguous definition for scope of practice. The act states chiropractors are licensed to assess "conditions related to the spine, nervous system and joints" and diagnose, prevent, or treat: "dysfunctions or disorders arising from the structures or functions of the spine and the effects of those dysfunctions or disorders on the nervous system; and dysfunctions or disorders arising from the structures or functions of the joints."
Paul Benedetti, journalist and lecturer at the Faculty of Information and Media Studies, co-authored the 2002 book Spin Doctors: The Chiropractic Industry Under Examination, in which he investigates the chiropractic profession in Canada. In the book, Benedetti argues that the loose wording of this scope of practice "opened the door," allowing some chiropractors to cite subluxations as the cause of virtually any illness.
The largest chiropractic school in Canada, the Canadian Memorial Chiropractic College, where Burden studied, discourages the use of the term "subluxation" outside of a historical sense, according to Carlos Ammendolia, associate faculty member at the CMCC.
"Subluxation is old hat," said Ammendolia. "Dark Ages. It was initially the dogma of chiropractic education, but that is no longer the case."
Instead, the CMCC teaches evidence-based clinical treatments, specifically for neck and back pain.
Ammendolia cautions against painting all chiropractors with the same brush. Burden is among the minority in his profession, as only about 20 per cent of Canadian chiropractors believe in subluxation as an impediment to general health.
In his written statement, Burden said the concerns about his claims read as a "thinly veiled indictment, referencing allegations and accounts taken out of context and sourced from chiropractic critics … chiropractic does not 'treat' or 'cure' the non-MSK [musculoskeletal] conditions listed but may certainly serve to provide relief from associated symptoms that such patients report experiencing."
Burden said his approach of "evidence based medicine" combines best available evidence, clinical expertise and patient preference in the delivery of optimal therapy.
"Where specific research is limited, a therapeutic trial of chiropractic care may well be both appropriate and consistent with the principles of evidence based medicine. Such trials, accompanied by ongoing reassessment of progress, represent a clinically sound, reasonable and appropriate approach to the delivery of healthcare services," he said in his statement.
Timothy Caulfield, Canada Research Chair in Health Law and Policy, has written extensively on policy and ethical issues in medicine, including the existence of vertebral subluxations in chiropractic. He calls the concept controversial and disputed.
"I think it's fair to call it a 'supernatural' idea. It isn't rooted in science," he said. "Many in the chiropractic community, those who are trying to move more towards the science-based approach, have rejected the concept."
Aggressive sales techniques
Christopher Young left Western in 2016 but still remembers his appointment with Burden in the fall of 2014.
When Young went to pay for the appointment, he alleges that he was interrogated about why he wasn't rebooking.
"I was told if I didn't rebook that day, I was no longer welcome at the clinic," he recalled. "I have never been so disgusted by the way a medical practice is run. I have not and will not go back."
Several other patients describe experiencing high-pressure sales tactics at the clinic. Some say they were intimidated under threat of medical consequences — either by Burden himself or the receptionists — into making more appointments.
A week after Vasey cancelled her appointment with Burden, she was still getting calls from the receptionist asking her to reconsider: "they weren't taking no for an answer," she said. She was left feeling bullied and taken advantage of by the on-campus clinic.
"As soon as you leave the office, the receptionist people are very pushy, like, 'you need to book [an appointment] right now, you need to book it now, we need to know in advance,' " said fourth-year health sciences student Emma Cole.
Multiple online reviews reference the clinic's high-pressure tactics to get patients to rebook appointments.
"Cancelled after 2 — but kept getting calls. Finally faked 'losing my temper' to get the secretaries to stop calling," said one online reviewer in October 2017.
"Didn't go back after my first appointment, and his staff kept calling to book my second appointment even though I said I didn't want to," said another from April 2015.
Cheryl Kriese, 43, who worked as a receptionist at Burden's clinic from March to May of 2011, said she is unsurprised by the student complaints about the clinic's high-pressure tactics – it is what she would expect based on her time working for Burden.
"Oh, absolutely," she said. "That was one of my main jobs, to call and reschedule and make sure another appointment was made."
Kriese was instructed never to ask if patients would like to reschedule but when — even when they had just called to cancel an appointment.
"It would be, 'your next appointment is on Thursday. Is morning or afternoon better?' that kind of thing," she said.
Kriese left the job after two months, partly because she felt unable to live up to Burden's expectations for client interactions.
Based on these student complaints about the clinic, Benedetti believes there's a high likelihood that Burden is using "practice-building techniques." These aggressive techniques are designed to retain the most patients possible. For example, in his book, Benedetti noted that one common practice-building tactic for chiropractors is to claim to treat children, which Burden does as well.
Burden seems to subscribe to maintenance therapy, the idea that patients must come in on a very regular basis to make sure the adjustments take and hold. Studies show that there is little evidence  supporting the efficacy of chiropractic maintenance therapy.
Patients confirm Burden wanted them to come in for three chiropractic sessions a week. The first appointment with Burden is a consultation session: Vasey recalls that it lasted about 20 minutes and cost $75. After that, patients say that the thrice-a-week sessions, at $30 each, lasted about five minutes each. These sessions, according to Burden's website, are important for everyone, with or without symptoms, from newborns to seniors.
"This would be analogous ... to a mechanic saying 'I've fixed your car, but it's a good idea if you bring your car in every Friday, and I'll refix it for you,' " Benedetti said.
Western and USC defer responsibility
In part, Burden is notable because he is operating in the same space as many conventional student healthcare providers: Western's campus houses a medical school, a dentistry school and a school of physiotherapy.
"There is this sort of legitimization," said Caulfield. "You have this science-based institution of higher learning, and this kind of pseudoscience being embedded in it — I think it's problematic. It can add this layer of legitimacy, at least from the public's perspective."
In 2015, Richard Ivey School of Business student Michael Weir, like Vasey, made a public post in a university-affiliated Facebook class group, stating the clinic was too pushy about booking appointments. Three student commenters tagged Courtney Hern, the administrator of the page and Student Central coordinator, to ask if anything could be done to address these complaints.
In an email, Hern stated she was aware of the complaints and turned the matter over to the USC, who are responsible for renting out space in the UCC to commercial vendors. According to Keith Marnoch, director of media relations at Western, the clinic is in the purview of the USC, not Western's administration.
"If there's a particular complaint that goes beyond what people would put forward to the USC or the chiropractic college, I'd certainly be willing to accept or receive that and take a look at it," Marnoch said. "But it's not really something that we oversee."
But Vasey points out that the university links to Burden's website on official pages, including the Graduate and Postdoctoral Studies page and the Health and Wellness page. Burden's posters, as well, are on bulletin boards around the university.
"They can't have it both ways," she said. "The university can't say they have nothing to do with it and then reference it in all of these promotional websites that they have."
Vasey sent an email complaint to the USC — who acts as Burden's landlord — after her appointment in early October 2017. Months later, she still hadn't received a response.
USC president Tobi Solebo said that, unfortunately, the USC missed the email but that he has since contacted Vasey to apologize.
He confirmed that the USC has received complaints about Burden before, but he declined to comment on the nature or quantity of the complaints. He said, as well, that he cannot share the information in the lease. However, he stated that there is no clause in it that would allow the USC to terminate the lease based on student complaints.
"The USC, to my knowledge, has never terminated a lease," he said.
Solebo said when the USC does receive a student complaint, "general practice is to ask students to reach out to the College of Chiropractors of Ontario, who can take the necessary steps in dispute resolution."
Official complaints go to College of Chiropractors
The CCO is the regulatory body for chiropractors in Ontario. According to their annual report, of the 85 complaints they dealt with in 2016, seven had to do with scope of practice.
Friedman, the director of policy, said the CCO does have a complaints process "designed to ensure a thorough and fair investigation of any accusation of professional misconduct." All complaints are investigated by the CCO, he explains, and the Inquiries, Complaints and Reports Committee would decide on further action "if any is required to protect the public."
Possible consequences for a chiropractor found to be at fault may include oral and written cautions, orders to complete specified continuing education and remediation programs and referrals for a discipline hearing.
Friedman said the complaints process is confidential, and he cannot confirm whether there have been any complaints regarding Burden. He said there are no disciplinary notices for Burden on the CCO's public register.
Both Western's administration and the USC are redirecting student complaints about Burden to the CCO, but according to Benedetti, submitting complaints to the college comes with its own set of problems.
In researching his book, Benedetti followed a few complaints made to the CCO and notes certain kinds of complaints are dealt with effectively: for example, complaints about financial issues or sexual misconduct.
But complaints about specific styles of chiropractic care, such as Burden's vertebral subluxation model, are not as effectively dealt with by the CCO, Benedetti said.
In response, Friedman said he cannot comment on how effectively each individual complaint is dealt with. He said the CCO does not endorse any specific style of practice but asks that chiropractors comply with the relevant standards and regulations.
For his part, Burden said in his statement: "My focus has always been the health and wellness of my patients. For over 18 years, I have served the Western community helping students, staff and faculty get back to doing the things they need and love to do. I believe that longevity to be a testament to the quality of my care."
Months after her visit, Vasey is still frustrated by the way she was treated. It was her first time going to a chiropractor, and she didn't know what to expect.
"Luckily, I had people to talk about it," she said. "I just feel bad for people who don't know what they're getting into and put their trust in that clinic."
Editor's note: Paul Benedetti is a member of the Gazette's Publications Committee.