Over the past few days, Reddit has been flooded by students with an unusual concern. Though it might seem impossible, reports indicate that academic counselling has gotten worse.   
The string of complaints started when Ashley McTaylor, a third-year medical sciences student, requested academic relief against losing marks in a course with mandatory attendance.
"I had just spent days quarantined in the hospital," McTaylor explains. "I work at a preschool, so you know how it is — I got a pretty bad case of the measles."
When McTaylor emailed Science academic counselling a photocopy of her doctor's note, she was surprised by their response. Her request to miss class without penalty was denied within minutes, with academic counselling telling her that there's "nothing we can do."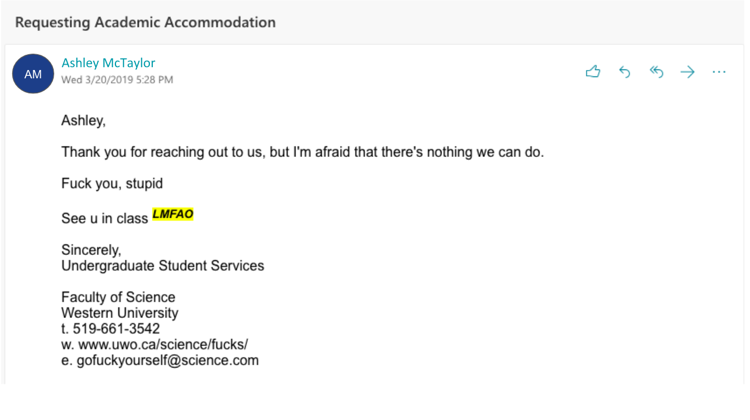 McTaylor has been forced to return to class because she "can't afford to lose the marks." The result has been a faculty-wide quarantine, with med-sci students locked away in the University Community Centre basement while science professors scramble for a solution to the measles outbreak. The group of quarantined students are losing marks by the minute, with a new email from academic counselling stating that "having measles is not a valid reason to be absent from class."
Med-sci students aren't the only ones having problems with academic counselling.
Benjamin Iron, a fourth-year engineering student, posted a lengthy complaint on the Reddit thread r/uwo/ about a recent meeting he had with a counsellor from Engineering Undergraduate Services.
"I requested an extension on an assignment because I've been overwhelmed by how much I have to do over the next few days," says Iron, who has 84 assignments due this week and a beer pong tourney to attend over the weekend.
"When I brought up my concerns to my academic advisor, he laughed and told me to 'please drop out.' "
Iron claims that the academic advisor proceeded to call him "ugly," adding that "feeling stressed isn't a valid reason to visit academic advising — nothing is."
Undergraduate services have addressed these concerns in a mass email sent out to over 10,000 students. The email, which was sent at 3:02 a.m. this morning, simply reads "It's not our fault you're stupid."