So you're finally ready to unleash into unfamiliar territory: university. Here, parental consent is most likely not needed, meaning you'll probably be spending money on your own terms. But without a solid plan, you can bet you'll find yourself shaking an empty wallet upside down within a couple of weeks.
Stock up on bills, not pennies, while freely enjoying your student life with these tips:
Use cash
I know what you're thinking: "What a hassle!" But spending cash helps you keep track of how much money you're using. Rather than tapping on a debit machine — which admittedly most of us do without looking — handing over physical dough requires more effort and, therefore, makes you more reluctant to do so. So keep your bucks on deck.
Going out
Don't you love waiting for hours in line at the club, exhausting yourself from dancing to blaring music until the point of no return and then feeling groggy the next morning with an excessive hangover? No? Then go to a free social event on campus or try a movie night at home instead of spending your night unpleasantly vomiting into a washroom stall at Jack's. Save a weekend for sitting back and relaxing in your comfortable bed. With popcorn. And blankets. And maybe a little bit of candy. OK, maybe a lot. 
Eating
Before tempting yourself with pizza or a quick McDonald's run, don't. If you're desperate, try to limit yourself to once every two weeks, but don't forget your bank account needs to be fed too. That means learning how to cook can come in handy, even if you just boil a bowl of macaroni and top it off with some cheese powder like a master chef.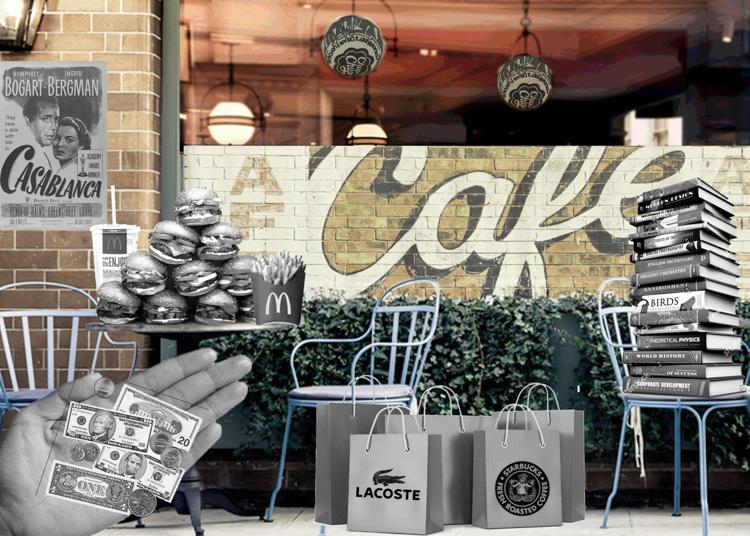 Shopping
Get in, loser, we're going shoppi — no wait, we're going broke. That's right: avoid shopping at all costs. Unless of course you're being a responsible adult and going grocery shopping (on a full stomach and with a flyer). While shopping is often harmless, it can be a problem if you run into debt or if you're not saving some money on the side. Create a budget for yourself so you're not overspending and taking paycheques for granted. If you're still recklessly spending, you can always ask your bank to cap your daily spending limit.
Textbooks
School books may be heavy, but your debt will weigh a lot more if you don't use this tip: buy used textbooks and sell them when you're done. Trust us: your future self will thank you for saving some money for that thing you've been eyeing all year.
Coupons
What do students and seniors have in common? They get discounts! Many places offer coupons or discounts for students with a school ID, so go on and take advantage. You'll feel like a true VIP member.
If you're not staying on top of it, saving money can be difficult, especially if wage income isn't filling up the gaps in your pockets. After all, Bill Gates didn't become a billionaire overnight. That's why it's important to control your spending. This will keep you from gasping with offence when you check your account balance thinking you have $35 when you actually have $2.53. Now get saving!