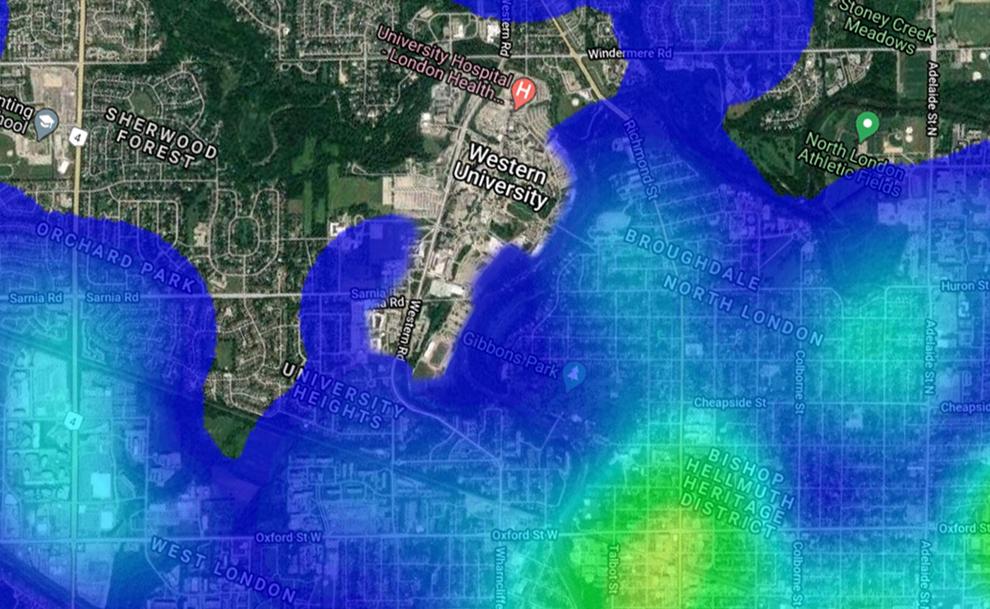 London police are reporting an increase in break-ins at residences "known to be off-campus student housing" in the north end of the city.
From Sept. 1 to Oct. 18, at least 13 student houses were broken into, with technology and cash stolen among other valuables. This was a mild increase in break-ins, though different neighbourhoods are targeted each year.
Analytical software employed by the London Police Service Crime Analysis Unit, shows a mild increase in student-area break-ins during the same time period — from Sept. 1 to Oct. 18 — over the past five years.
Counting student residential areas near Western University and Fanshawe College, the Gazette used Wonderland Road, Windermere Road, Oxford Street and Adelaide Street as the boundaries around Western and Clarke Road, Huron Street, Adelaide Street and Dundas Street as the boundaries around Fanshawe College.
Although these neighbourhoods are home to more than just students, the proximity of these residences to the post-secondary schools makes it attractive for students. The break-ins counted all took place within the established boundaries, but it cannot be guaranteed these were all student residences.
The number of total break-ins near each post-secondary institution has fluctuated since 2015. In the area around Western, the number of residential break-ins increased from 2015 with 11 break-ins, to 2016 with 18 break-ins and 23 break-ins in 2017. This number dropped in 2018, with only 12 break-ins, but doubled to 24 in 2019 before dropping to 17 this year.
The years 2018 to 2020 show an increase of break-ins around Broughdale. The Broughdale neighbourhood, which only had three break-ins in 2018 and four in 2019 in the small time frame, became the site of five break-ins in 2020. 
Home to Fake Homecoming, the Broughdale neighbourhood is known for its plethora of student housing. But 2015 to 2017, Broughdale was the site of only a handful of break-ins.
South-side neighbourhoods around or south of Western Road and south of the Oxford Street and Richmond Street intersection have been flagged as consistently intense hotspots from 2015 to 2019. In this area, the number of break-ins averages 11 during the same time period.
But, the total number of break-ins in the Fanshawe area followed a decreasing trend with a minor bump in 2018 to 14 break-ins compared to the 13 break-ins in 2017.
The LPS crime density map also shows consistent locations for break-ins around Fanshawe, mostly in the area between Sandford Street, Huron Street, Oxford Street East and Clarke Road, with the exception of 2018 and 2019.
Two years ago saw no hotspot within the area around Fanshawe and in 2019, the area between the Dundas Street and Saskatoon Street intersection along with the Dundas Street and Clarke Road intersection were targeted instead.
In 2020, three of the eight break-ins close to Fanshawe took place on Thurman Circle and Fleming Drive, the same streets targeted for break-ins in 2016. These break-ins took place over a different time period, outside of the Sept. 1 to Oct. 18 range.
More recently, there were two additional break-ins in the area surrounding Western since LPS first announced the increase, one in the Broughdale neighbourhood and four around Fanshawe.
Despite fluctuating numbers and no clear pattern for general break-ins in Western student neighbourhoods since 2015, the LPS issued a warning this year that student houses are being targeted.
The LPS couldn't speculate why student homes are targeted, but cash and electronics were some of the common items taken from homes.
The community crime map software shows Saturday was the most common day for break-ins over this time period in 2020.
Saturday night is a common time for students to go out, and according to ADT Inc., people looking to break and enter are more likely to choose a time when they believe the house is empty.
"In most instances, entry was gained through unlocked [or unsecured] windows," the LPS' press release about the 13 student break-ins reads. "Opportunistic thieves will watch residences for people leaving, and then break into the home through the easiest point of entry."
it is possible more than 13 student homes were targeted, according to LPS, as it is likely that not all of the break-and-enters are actually reported. 
"If you see suspicious people, please call [the] police immediately," the press release reads.
---
This article is part of our annual Housing Issue, read the full issue online.