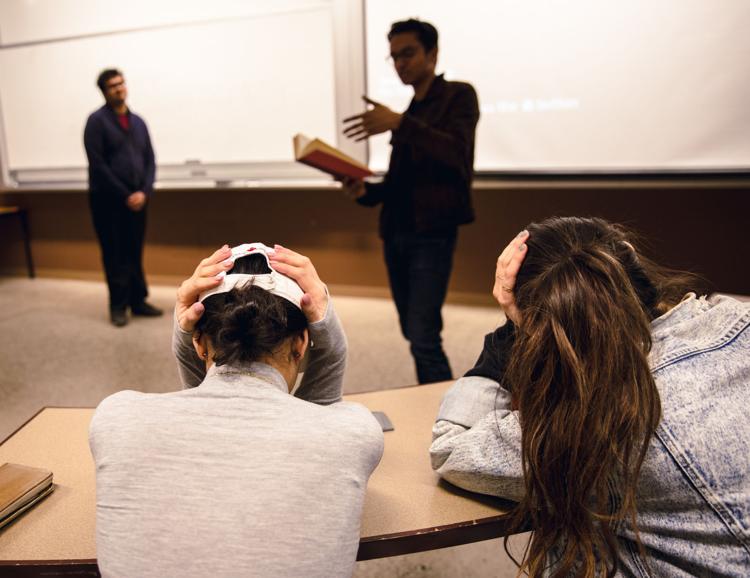 Somerville House is on lockdown due to an ongoing hostage situation, reports say.
Now 43 minutes into his vague, directionless enquiry about John Milton's Paradise Lost, reputed windbag James Carmichael shows no signs of letting up, though the class has long since ended.
Jasmine O'Reilly, who managed to escape early with a bathroom break, says 18 students are still trapped in the room with Carmichael.
"It was hell," she says, a haunted look in her eyes. "People started moving around, closing their laptops, putting on their coats. But he just wouldn't stop talking."
O'Reilly says the question started with "Isn't it possible — and correct me if I'm wrong here – but isn't it possible, considering the vast body of evidence, and despite suggestions to the contrary, that it would not be incorrect to assume, if you'll bear with me, that Milton — or to use a Foucauldian term, the author — ..."
Here, O'Reilly could not bear to continue.
Friends and family of the hostages and the London Police Service are gathered outside Somerville, where Carmichael's silhouette can be discerned gesticulating and pacing around the classroom. Around him, students are slumped over and unresponsive — some say the hostages may have already died of boredom.
Preliminary reports suggest that this is not an isolated incident. Carmichael has long been a person of non-interest to the local police. In the past, he has been charged three times for rambling with the intent to bore and twice for aggravated pedantry.
"Once, I asked him how he was doing on the midterm essay," recalls Dana Brantford, who took Middle English Literature with Carmichael last year. "You know, like the normal thing that everyone asks. He launched into this whole rant about Chaucer — it was insane. I was sitting there, nodding and smiling, for like 15 minutes."
Carmichael has yet to make his demands. But according to clinical psychologist and hostage negotiation expert Ahmed Chaudry, he might not make any at all.
"This isn't your run-of-the-mill political terrorist," says Chaudry. "What we're dealing with here is a stage seven bore. He's criminally boring. He's not interested in money or material gain. He's just doing this for the pleasure of hearing his own voice."
Chaudry says Carmichael likely began his query not to get an answer — which, traditionally, is the purpose of a question — but to showcase his own knowledge on the subject. Interminable blowhards like Carmichael are often subject to such delusions of grandeur.
Some onlookers say the instructor of the course, Professor Barnaby Kellow, is the last hope for the student hostages. Others aren't so sure.
"Wait, it's Kellow? Oh, God," says Chaudry. "He's a stage 10 bore — he's made a whole career out of it. I hate to say it, but I don't think we're ever seeing those students again."