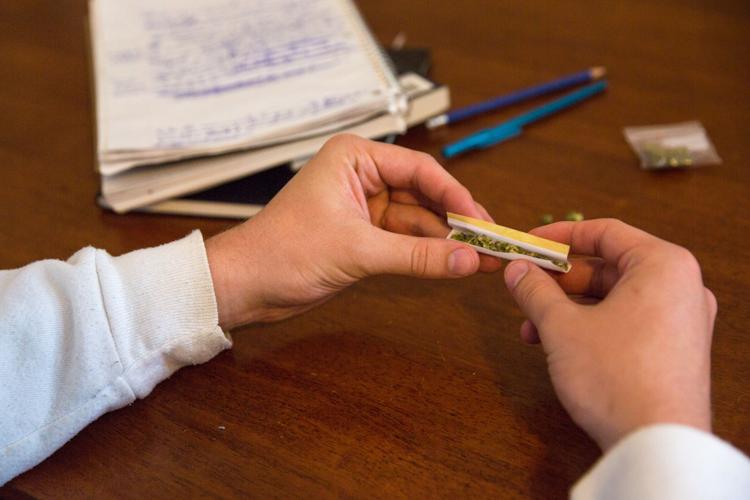 Even though cannabis legalization is just over the horizon, it's not surprising that Western University discourages student cannabis consumption and possession on campus. Regardless, awareness and education around cannabis is something all students need.
Many students have already developed smoking habits prior to entering university. In 2017, a Maclean's student survey reported that 41 per cent of Western students consume cannabis. But with recreational usage currently illegal, the potential for new campus policy deriving from this year's legalization appears non-existent.
"At this time, we have decided that cannabis possession and/or consumption and that smoking or ingesting is not going to be permitted in residence, regardless of age," said Chris Alleyne, director of residences at Western.
As Western moves towards a smoke-free campus as of July 1, the university clearly stated what its expectations will be around cannabis so that students can make an informed choice about whether they want to live in residence or not.
Every summer, residence administrative staff review what has happened in the past year to see if any policies and rules need to be changed. Right now, it's too early to tell whether or not any changes will be imposed in the 2019-20 academic year.
These policy decisions come with monthly consultations to hear feedback from student staff members and elected student representatives to ensure that any policy change is deliberately done with the students in mind.
While there are designated smoking areas around campus that are being introduced on an interim basis for one year, students need to remember that these are cigarette smoking areas. As for consumption or use, part of the current proposed cannabis legislation is comparable to legislation regulating alcohol.
"You can't walk down the street drinking a can of beer," said Alleyne. "The smoking and ingestion and use of cannabis still needs to be done not in public areas. So it's not like someone can go to the designated smoking area and light up a joint and consume it that way."
But many students disagree and think consuming cannabis on campus should be allowed. While educating people on cannabis is important for users in reducing stigma, they also want to be able to use cannabis as they please. 
"If you can have beer in the UCC, why can't you smoke a joint outside?" said Ryan Devine, fourth-year economics student.
Brian Tan, an upper-year don at Alumni Hall and second-year student in the Faculty of Education, said the approach to handling consumption or possession of cannabis in residence is not completely different than alcohol. Residence staff are certainly expected to address it because in both cases, students are not following the residence contract. 
There are residence staff, including sophs, residence advisors and dons, who will also be trained to prepare for what the year might look like by taking part in roleplaying for dealing with students in situations when cannabis gets involved.
"We've had training to identify warning signs of people smoking weed in rooms. We've also had training on the risks associated with drugs and their usage and how to help and provide resources to students who may be addicted," said Elliot Klein, a community leader in London Hall for 2018-19.
In the past year, residence administrative staff held cannabis education seminars every other week. Previously only for students who have been sanctioned in residence, the administrative staff is looking to open these seminars up, making education available for anyone who is interested in learning more about cannabis. Alleyne said information is also likely to be passed on through residence floor meetings through sophs and residence advisors.
"I think that education is beneficial," said Sunho Hong, a third-year management and organizational studies student. "If the education process is overseen so that students really understand what the positives and negatives to cannabis [are], it's going to have a huge impact on a lot of people."
Graeme Rooney, a fourth-year media, information and technoculture student, also said education is important since movies and the media often misinform people about cannabis. 
"We're trying to ensure that we're working very closely with our campus partners," said Alleyne. "We are consulting with campus partners, such as Campus Police, Western Health and Wellness Education Centre, to ensure that we have a coordinated approach to how we're educating around cannabis."
The administrative staff are also looking to external partners and public health agencies. When making public health decisions, the university consults institutions like Middlesex London Health Unit and the Centre for Addiction and Mental Health because they're likely to model the most appropriate approach to cannabis health education. 
Certainly, there's information available regarding cannabis use or possession and its effects. With a thorough understanding of cannabis these effects and consequences, students can make appropriate — and educated — choices.