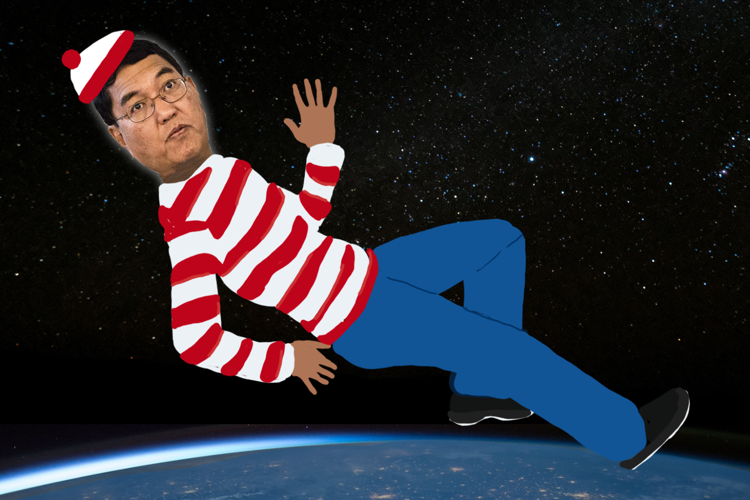 As the reign of Western University's favourite president, Amit Chakma, dwindles to a close, many students, staff and faculty are asking where he is off to next. What will be this mythical man's newest project?
The man, the myth, the legend has been spotted globally since Alan Shepard's appointment, perhaps on a soul-searching journey to discover his post-Western passion. Chakma has always been a private man, reigning the student body from his ivory tower of Stevenson Hall. When previously asked where he has set his sights on after departing, the legend simply shrugged and said "Ban FOCO."
Around campus
Chakma has been acting stranger than usual: a first-year social science student reports seeing him wandering around Lawson Hall wearing tin foil, searching through the garbage cans for more shiny food wrappers. The source says the experience has scarred her, and she has since transferred from Western. The student would like to remain anonymous for concerns for her safety. 
Another student has reported arriving to a meeting with Chakma only to find him standing in a corner, staring into the wall. Chakma reportedly did not hear the student enter or say his name multiple times. Chakma only turned from the wall when the student sheepishly addressed him as "Mr. President, sir, your honour." The president turned, as if suddenly awake, and sat down for the meeting. He did not address previous altercations and claims to have no knowledge of it to this day.
The students have begun to demand answers. A group of Chakma's most avid supporters have gathered in order to piece together the puzzle of this mystery man. They still have no answers — only more questions.
Bermuda Triangle
Most recently, an eyewitness account testified that Chakma was spotted boarding a rubber motor boat on the coast of Miami, clad in safari attire. After loading what seemed to be boxes of gear into the boat, Chakma raised one knee to put his foot on the side of the boat and dramatically unwound a yellowing scroll.
The eyewitness account then claims Chakma waved the scroll wildly, muttering about triangles and magnetic fields to himself. The map, once held in the air, could be seen to have an embellished red triangle between three points in the Atlantic Ocean.
The witness raced to report back to the group of students — the only people looking for him — as Chakma kicked his boat off-shore and began the motor. The students screamed, "Stop that man at all costs," but it was too late.
Chakma was already gliding out, racing toward Bermuda, perhaps never to be seen again. Early reports indicated he may have sunk, as his vessel was far from ocean-worthy.
Atlantic City
However, weeks later, Chakma was spotted driving his motor boat up onto the garbage-ridden beaches of Atlantic City, New Jersey, joined by Hinder frontman Austin Winkler and stacks of $100 bills. Local authorities, concerned about the duo —who were wearing Western Mustangs polos and short jean shorts in sub-zero temperatures — approached them and asked if they needed any assistance.
"So we ask them if they need a hand, what they're doing out on a small motor boat in the dead of February, and Mr. Chakma simply looks at me and asks where the nearest Chili's is," said Atlantic City Police Department constable Bill Bickers.
Throughout the week, eyewitness reports claim Chakma and Winkler frequented Atlantic City Chili's establishments, often getting kicked out of the restaurants for singing "Lips of an Angel" loudly and attempting to play-fight each other. They were also seen at a number of local casinos, schmoozing with New Jersey's finest and playing the slots with governor Chris Christie. At a much-anticipated bout between boxer Floyd Mayweather and a Tasmanian Devil named Steve French at Atlantic City's Boardwalk Hall, Chakma attempted to jump into the ring to throw a Dairy Queen ice cream cake at French.
No official reports confirmed Chakma was in fact in Atlantic City, although he can be spotted in an Instagram post by Winkler showing the duo at the Donald Trump Plaza.
Chakma, growing bored of grinding out late-night wins on New Jersey's 24-hour Texas hold 'em circuit, sought a new motivation. He still had his boat. And he was ready to take off.
But where to go?
Loch Ness
Wandering around Atlantic City, he sought fuel for his travelling fire. Should he ship out west for fish and chips from a small, unassuming diner on the Absecon Bay coast? Ought he to continue north and visit a pleasant county fair in beautiful Nova Scotia? Questions such as these danced around his head.
And then the questions, all in a flash, ceased. Wandering around a quirky (if not poorly located) Scottish souvenir shop, he encountered a poster of the Loch Ness monster. Despite assurances from the shop's owner and four different shoppers that it was a long-debunked fable, Chakma was undeterred.
Chakma fired up his boat and set across the Atlantic.
Bringing three bags of beef jerky and an unsweetened lemonade, Chakma arrived in Scotland 16 days later with one bag of jerky left and the lemonade untouched. For days, he worked between sailing northeast through the heart of Scotland and dragging his raft behind him, like some sort of Santa Clause sans reindeer.
Nine days later, he arrived, screaming at the top of his lungs, "I am here to lay sight on the marauding Scottish beast!"
Incredibly dehydrated and clearly suffering from exhaustion, a local offered to take him in for a meal.
Upon sharing various cereals and poultries, the local showed Chakma a host of YouTube videos debunking the myth. "So many people have come through here with full-blown radar," the local informed him. "It's literally impossible that the Loch Ness monster exists."
Seemingly agreeing, Chakma walked out of their home and thanked them for the dry foods. The local, not wanting to see Chakma dragging his boat around, turned to grab their keys and offer him a ride. But the keys were off the counter.
The local ran outside just in time to see Chakma dumping the boat and hopping in the driver's seat. Chakma screamed something unintelligible — in any recorded language.
Then Chakma sped off, down the road and into the winding Scottish pines.
Where is he now? Well, that's a story for another day.