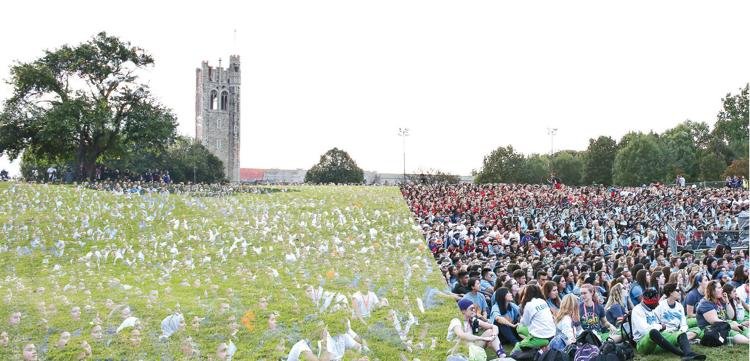 O-Week and its events pass in a whimsical blur. An air of youth, nervousness and drunken splendour follow its crowds, culminating on UC Hill for the week's biggest events. Often overlooked, however, is the magnitude of work that goes on behind the scenes to bring everything — including the performers — together.
The process of selecting performances begins in April, with most performers receiving offers in June and July.
"A lot of our early conversations were bouncing names around and checking availability and feasibility," says Jake Schindler, the University Students' Council orientation coordinator.
It takes about four months to confirm all speakers, musicians and entertainers for the week. The balance and variety of performances is an important attribute in planning, stresses Schindler.
"One of the best things about O-Week is that in one night you can see a world-class hypnotist, another night, a powerful presenter and a slam poet, and another night, go to see a hype concert," he explains. "We have the opportunity to bring in not just amazing musical acts, but also powerful speakers and some of the world's best entertainers."
For Schindler, O-Week is all about community and its programming has to reflect that.
"Orientation's goal is to make students feel at home and give them an amazing opportunity to meet other people," says Schindler. "We want every performer we choose to add to the O-Week experience."
The One Love event, a staple of O-Week's programming, helps craft this culture of inclusivity. One Love conveys themes of self-care and acceptance, in addition to shining a light on the social issues that students face.
"One Love is about belonging," says Schindler. "It takes the business of O-Week and quiets it down."
Canadian artists Jessie Reyez, Dzeko and Felix Cartal have been confirmed as the performers for O-Week's weekend concerts. Performances from hypnotist Michael C. Anthony and Western's own Rick McGhie came earlier in the week. Events such as the Variety Show and Carnival and Pecha Kucha offered frosh a range of entertainment.
Schindler says the hype built on Facebook ahead of the week's events is rewarding, but seeing students enjoying themselves on UC Hill is when O-Week really sinks in.
Without those behind the scenes, O-Week wouldn't resemble the amazing experience it has become. So enjoy this once-in-a-lifetime experience, and when you're partying it up on UC Hill, remember that countless hours of work and coordination went into making nights that many students don't even remember.