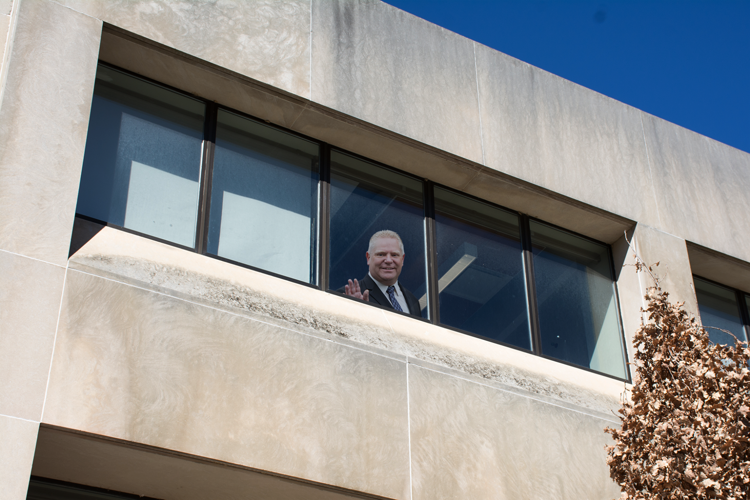 Premier Doug Ford has announced he will be firing all university presidents in Ontario and taking on their positions himself for the 2019-20 academic year.  
The unprecedented move is part of Ford's effort to "balance the budget," following through with one of his key campaign promises. In a press conference yesterday morning, Ford touted his plan as not only a way to reduce the deficit, but as a "gift" to the university presidents.
"I'm doing all of these presidents a favour. I'm not particularly excited about having to deal with these filthy-mouthed 20-year-olds who only seem good at screaming about debt or whatever," said Ford. "Might have to wash their mouths out with soap myself next year."
Ford, who has never attended university, expressed no concern with regard to running all 21 universities simultaneously while sitting as premier, despite having zero experience in these institutions. 
"I really don't think the people who elected me are concerned about credentials and whatnot. That's all elitist talk, and that's exactly what we ran against," said Ford.  
The change, which will leave 21 university presidents unemployed, has prompted an emergency meeting for all university presidents. Plans are underway for the presidents to stage a protest at Queen's Park later this week. 
Students across the province are planning an indefinite walkout in solidarity with the university presidents. 
Western University's president, Amit Chakma, announced in 2017 that he would not be seeking a third term in at the end of the 2018-19 academic year. Chakma expressed relief to have made the decision to leave prior to Ford's drastic announcement.  
"I've been the running joke at Western for years now. You made memes out of me, put me on your FOCO banners. I guess I'll be having the last laugh now," chuckled Chakma in an exclusive interview with the Gazette.
According to Ford's government, the elimination of the university presidents is estimated to save the province $10.4 million. However, it still remains unclear how Ford will split his time between his duties in Queen's Park and at the 21 Ontario universities.