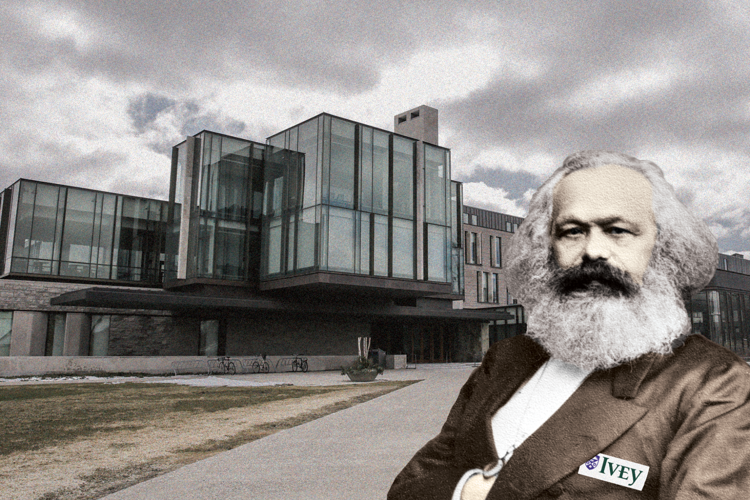 In a surprising turn of events, this year's Ivey honors business administration class of 2018 has collectively decided to embrace Marxist philosophy. 
"The free market is an illusion," the students said at a press conference. "Turns out Marx was actually really onto something."
The group plans to create a hippie commune somewhere in the forests between London and St. Thomas. Ivey HBA Cup winners, section eight, will lead the community as they split resources and jobs according to abilities and needs. The students stated they will work on a combination of the honour system and highly-regulated bartering. 
This sudden heel change seems to steam from a widespread epiphany.
"After two years in a $110-million facility and many weeks of exclusive Ivey nights at the Barking Frog, we realized it was all a bit unfair," one student said. "Just because we studied hard, grew our networking skills and sacrificed a lot of leisure hours to get to where we are doesn't mean we deserve it."
With that in mind, they will be staging a demonstration immediately following their graduation ceremony. Upon receiving their diplomas, they will rip off their gowns, revealing Che Guevara t-shirts, moccasins and camo pants.
"It's really to show how committed we are to the liberation of the people," they said. "And also to show any doubters that we truly are in this for the long run."
The soon-to-be graduates have their critics, however; Ivey professor Richard Kapittle in particular was in a state of disbelief.
"Haven't they seen Western's sunshine list? It's filled with Ivey profs," said Kapittle. "Clearly we know what we're doing. Let the dollar signs speak for themselves."
Having abolished capitalist measurements such as calendar years, the students estimate the commune will be ready in the sixth lunar cycle.