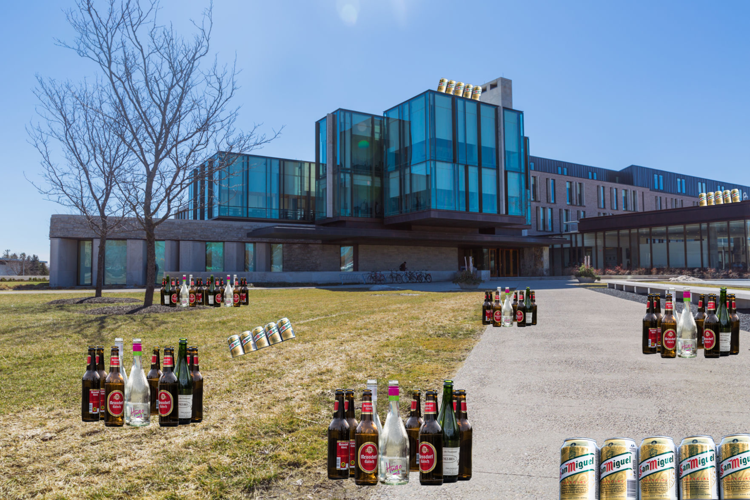 "An event following the footsteps of FOCO," authorities are saying, as students drunkenly stumble out of the trashed Ivey building.
Twenty one-year old HBA1 student Jared Maccoy has been named the mastermind behind what he calls "the biggest banger" of the year.
With over 400 attendees, the Ivey private party spanned three floors. The third floor was exclusively for Alumni, including Mellissa Park, who pitched the idea of "The Ivey Party" in her 2257 feasibility project back in 2017.
"I'm proud because I've created a legacy of sorts. A lot of Ivey kids just roam the halls, come and go, but I wanted to be different," said Park, who now works as a big data analyst at Apple. "Seeing these kids take my idea, make a business out of it and make what I imagined a reality is just so humbling." 
Tickets for the party were sold at $10 per person, or $100 if attendees came as a group of 12. They included drinks, access to games and private room bookings for small groups.
The party was rumored to have started at 12 a.m. and went undisturbed until staff arrived the next morning. 
"It's amazing that the police can be so invested in the destruction of FOCO but can't even tell a party like this is happening right down the street," said professor Marc Jenson.
The staff were greeted by hundreds of hungover students sprawled across the floor, littered bottles and the pungent smell of vomit. Authorities were called immediately.
"When I walked in, I wish I could say I was shocked. This party happens every year, and they never learn from it because god forbid we tarnish our reputation. It was appalling. Someone was throwing up over the Starbucks counter, the floor was sticky — I just walked right back out," said Ivey professor Tim Benson.
Authorities landed on site at approximately 10 a.m. to survey damages and escort students out of the building.
"We found broken windows, furniture and busted open doors to the teachers' lounge," said officer Michael Smith of the London Police Service. 
It was simple for officials to pin the responsibility on Maccoy as several students surrendered his name for freedom, before rushing out of the building.
When asked for a statement, Maccoy defended the students actions. "No one threw me under the bus. We all know nothing is going to happen to me — we basically own this building — so throwing this party is more of a title than anything," he said. 
Within hours of the event, Maccoy's father Mitchel Maccoy and his team of lawyers were at the scene and promptly went into discussion with authorities and Ivey officials.
"I think this is a learning opportunity for my son. We put him in this program to make money, and money can fix anything. If he's going to be the man he is now, he needs it behind him to cover his tracks," said Mitchel.
Maccoy and his father walked out of the building at 7 p.m. with no charges, no consequences and no responsibilities.
"I was just worried the payments that go towards buying my grades would have to go to the repairs instead. Luckily, Dad just sold his fourth house, so he could cover both" said Maccoy as he left. 
Partying away any stress, Maccoy has interviews lined up next week at Amazon, Microsoft and Bell.