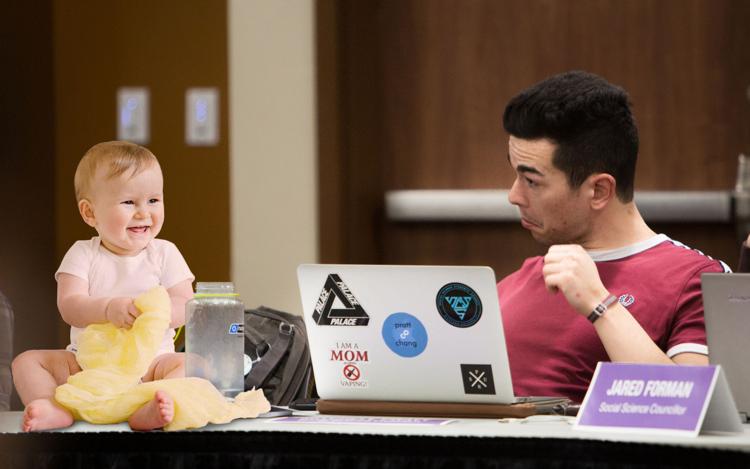 An unusually lengthy University Students' Council meeting was marked by the birth, life and death of area man Robert Walpole, who grew to a ripe old age in council chambers.
The meeting, which was described as "unprecedentedly boring," spanned 84 years and accomplished nothing of note. Nevertheless, Walpole managed to live a rich and fulfilling life through it all.
"He always brightened my day," says Sophie Burton, social science councillor. "He was always there, always cheery, even though he didn't have speaking rights."
Walpole was born early in the meeting, during a motion to amend an amendment to a previous amendment.
"At first, we thought having a wailing, petulant child in council would be disruptive," Burton recalls, "But actually, he fit in pretty well."
Friends and family fondly recall how Walpole grew into a "strapping young lad" during the legislative calendar changes, though they can't recall much else about it. Every night, Walpole was lulled to sleep by the officious droning of student representatives.
"The thing about Robby was that he stuck to it," said Chris Wozniak, vice-vice-president of the student operations subcommittee. "We've had kids born during council meetings before, but they usually leave before it's over, like the 15th year or so. But he was here until the very end. That's real dedication, if you ask me."
Walpole met his wife during the tumultuous shift in the meeting from "Old Business" to "New Business," a heady era marred by change and uncertainty. They had a modest marriage ceremony at the back of council chambers while the governance and finance standing committee presented the first of many expense reports.
Together, Walpole and his wife had two children and started an independent organic bakery by the chamber doors, where his sons still work to this day.
"Dad was a local legend," says Chris Walpole, the older son. "Like, really local. As in literally just in this room. He really felt at home here, you know?"
In memory of Walpole, the USC is introducing a motion to fund a scholarship in his name. Once the proposal has been rejected, affirmed, repealed, amended, translated into ancient Hebrew, twisted and bopped — and once speaker rights, by-law reviews and council composition has been dealt with — we may see the scholarship take effect as early as 2084.