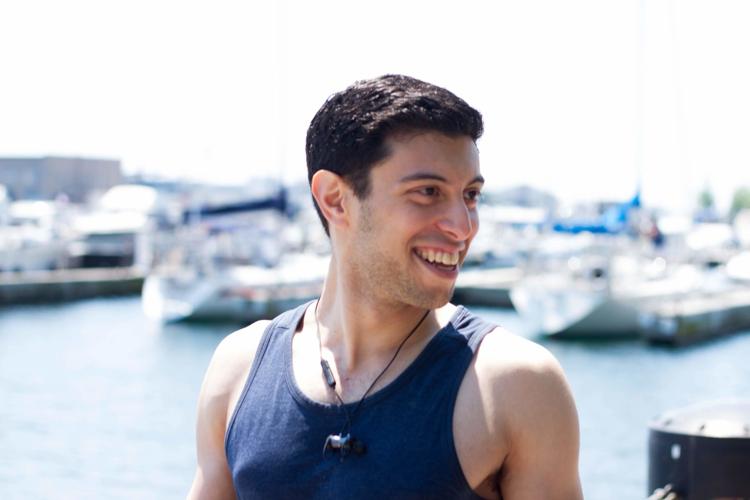 How would we define Morgan Rosenberg? Would we say that he's a Western University Ivey grad? Would we say that he's an entrepreneur and a CEO? Or would we listen to the content of his speech — really listen, the way he pleads we do when checking in with others?
In our interview, he says "care" 40 times. Because he cares — a lot.
Morgan Rosenberg isn't trained in mental healthcare. Most people aren't, and he knows that. But he also knows that everyone stands by their loved ones.
He knows because he did too.
Morgan used to work for TechAlliance of Southwestern Ontario coaching up-and-coming entrepreneurs. But before he was helping entrepreneurs, he was helping someone much dearer to him.
"I was caring for my partner, who was struggling with depression and anxiety, and I cared more about her and her health than just about anything in the world," says Morgan.
He was dedicated to his partner's mental health, but during the two years he stood by her, he noticed his own mental health deteriorating.
"You kind of forget to care for yourself," Morgan explains.
Exposing yourself to another's stressors is taxing. Mental healthcare professionals undergo training to safeguard from the effects of this, but there's no equivalent for the everyday caregivers. Sometimes, the toll can be so high that these caregivers require their own help.
"There really [isn't] a lot in that field that the average person has to maintain their health in periods of prolonged stress," Morgan says.
Through Western, Morgan's partner received care, and things got better. But Morgan saw that the system was overburdened; there wasn't enough help to go around.
Morgan knew that successful entrepreneurs took stock of the problems people faced.
"Look at your own life and find what you wish you had more support for," says Morgan.
Morgan did just that, and he was determined to solve this problem, opting to benefit others, as he often did.
If he couldn't do it from the inside, he would supplement the system from the outside — reduce the burden, in the same way he did for his partner.
Morgan didn't have the resources to do it alone — a powerful parallel to battling mental illnesses — so he enlisted help.
After liaising with professionals, he had his solution. And in August of 2017, he founded Supports Health.
Morgan and his team are now creating an app that caters to the informal, everyday caregivers — the friends and families of those with mental illnesses — by giving them the tools they need to provide support while also bolstering their own mental health.
"We as a society need to continue to get better — even better — at supporting each other, and providing care is just a normal function of life," Morgan says.
Morgan plans to release a beta of his app to Western students by the end of September, which will hopefully help stave off some of the stress of university.
It takes a selfless person to see the solution Morgan saw and to think about both those with mental illnesses and their caregivers.
Thankfully, Morgan and his partner's story has become a happier one. Morgan formed a circle of support both personally and professionally, and he's adamant about providing those same tools to others.
So how would we define Morgan Rosenberg? I'd define him as being exactly what we need him to be: caring.