Spoof
Mustangs Athletics announces 2018–19 lockout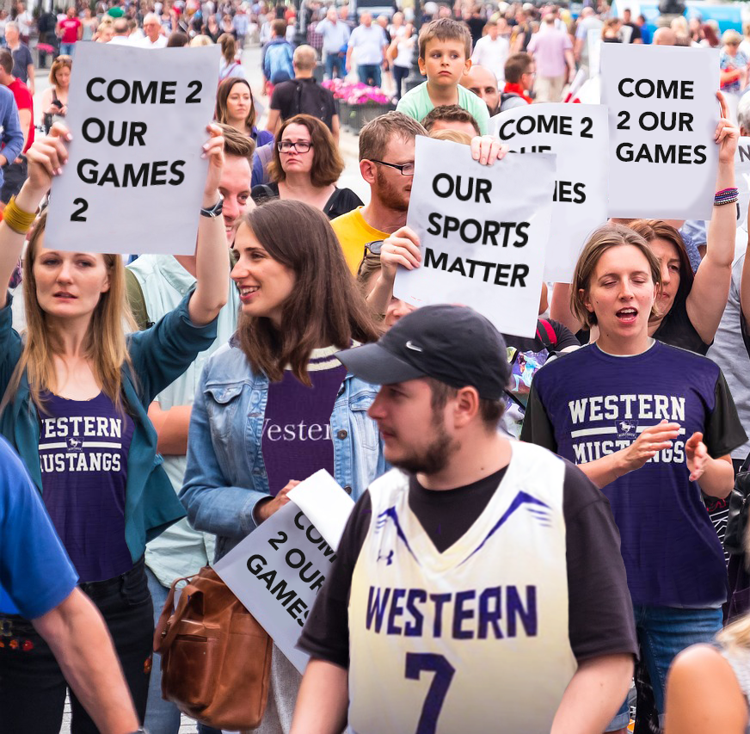 In a stunning turn of events, nearly all Mustangs varsity sports programs have announced a lockout for the 2018–19 season due to what men's softball coach Greg Bule describes as a "stunning and frankly unacceptable lack of fan interest."
The lockout comes as a response to the shocking Chuck Clarke Report, which revealed a devastating decline in attendance and ticket sales in the 2017–18 season.
Bule, who organized the lockout and a series of marches that will be held throughout next season, was appalled at the report.
"Well, the name says it all," said Bule, the chief organizer of what has been officially dubbed the Care About Our Sports March. "We really need people to care about our sports for us to experience self-worth."
Among the demands of the striking athletes and coaches is mandatory attendance by all Western University undergraduate students at all varsity sports games throughout the year, as well as a forced quota of 16 pages per issue of the Gazette dedicated to non-football varsity sports teams.
A number of athletes have worked alongside Bule to spearhead the lockout. Among them is Penny Nickelberry, captain of the women's lacrosse team and third-year sociology major.
"A lot of my friends told me I should've played a sport that people actually care about, but I don't listen to them," said Nickelberry. "We all know it's our national sport, and the National Lacrosse League is booming right now."
However, while many athletes on campus are dedicated to forcing their fellow students to pretend to care about their sports, there has been a considerable amount of backlash to the planned lockout.
"In reality, there's literally no reason for us to have more than one varsity sport [football] at this school," said Mustangs' associate athletic director Don Dickells. "I've worked here for 15 years, and I'm just now hearing that we have a men's softball team."
As for the response from Western students, the reactions have been mixed. A number of students are disappointed that they can't use Mustangs hockey games at Thompson Arena for midterm studying. Others are upset that their boyfriends and girlfriends have to play in front of sparse crowds.
And yet others, like fifth-year general studies major Steve Steveopolous, were unaware that varsity sports existed at Western.
"I'm unsure of who that is," said a confused Steveopolous when asked whether he would be negatively affected by the absence of Mustangs' sports next year.
The lockout is forcing U Sports to change their schedules for next season, while Mustangs athletics has announced plans to move all athletic funding from programs involved in the lockout to the football program.