Neighbourhood watch: The crucial service of break-in safety
The house was silent. The three students living in the rented space had gone home for summer break, and the only thing heard was the ear-piercing shatter of glass shards falling to the kitchen floor.
The window at the back of the small, red-bricked house was shattered. Broken glass littered the ground, some fragments coated in blood. The burglar was in.
"My house has been robbed twice so far," said Ajeash Ketheeswaran, a fourth-year management and organizational studies student at Western University. "Once in the summer, I think in May, and the second during winter break when I came back."
According to the Lexis Nexis Community Crime Map, with data provided by the London Police Service, there were 309 residential robberies reported in 2017 — an increase from the 218 burglaries in 2016 in that same area in a two-mile radius of Western. This year, there have been just under 500 robberies so far. The map also shows there were 96 records of home robberies within two miles of Western in the month of October alone.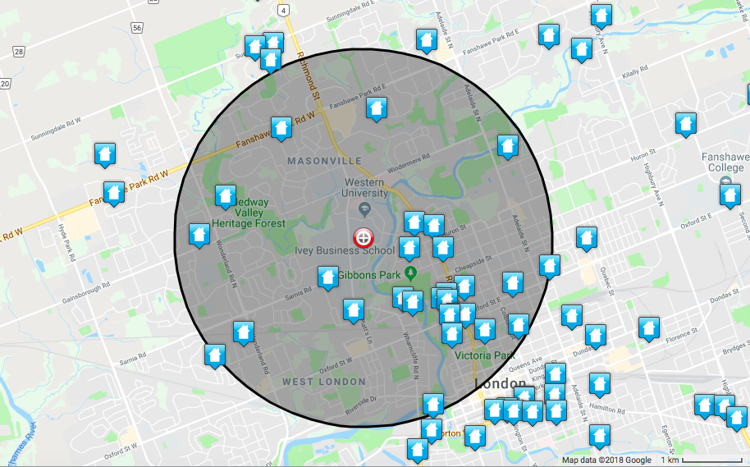 "I'm pretty sure the robber smashed the window with a rock," said Ketheeswaran. "They easily got into our house."
Ketheeswaran's home's property management company, London Property Corp., took reactive measures both times to ensure the window was fixed quickly. Although the company provided a piece of plywood for the window, which would help insulate the house before repairs were completed in the next couple of days, they did not implement anything long-term, such as installing automatic lights or security cameras. 
Exclusive Rentals, another property management company that caters to students, has acknowledged this ongoing problem of break-ins in housing around Western, as they have been targeted in the past few years. They say detailed emails are sent out before every reading week or holiday, advising tenants of safety precautions, like locking doors and windows, taking valuable items home and closing all blinds. They even provide security checks of all managed properties to ensure instructions were followed and the property is secured.
However, it's clear break-ins are still happening.
Ketheeswaran said he and his roommates think both break-ins could have easily been prevented if they had automatic lights in the house or had security system stickers to threaten outsiders. He says these things could prevent break-ins and provide a little bit of relief when students go home for the holidays or breaks.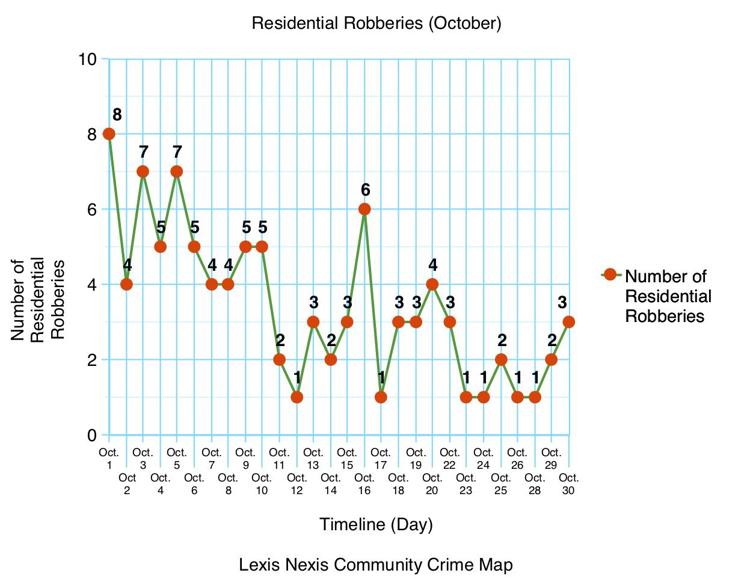 James Heo, a third-year student in management and organizational studies, and his three roommates had a similar experience with the lack of preventative measures in his house, located downtown on St. George Street, when it was broken into last winter break.
"We don't have locks on our doors so the robber just pretty much went into everyone's room and tried to look for everything," said Heo. "I was a bit surprised, shocked, a little bit scared. They took mostly electronics, and a couple beers in our fridge, and the PS4 with a couple of games."
Heo said his landlord, who is with Exclusive Rentals, advised them to get an alarm system to insure the house for reimbursement of stolen items in case it happens again. Heo thinks having locks on individual bedroom doors would be helpful, too.
However, off-campus housing can be easily targeted by criminals who know that students generally own valuables such as laptops, gaming systems and mobile devices. It's also predictable when most houses are vacant for long periods such as during Fall Reading Week, December holidays, Spring Reading Week and the entire summer.  
To offer some protection, off-campus housing administration recommends students change their locks when they first move in, as many past tenants have copies of keys after they move out. It's important that students get this written into their leases as landlords are not required to change locks when tenants change. They also remind students not to leave their valuables in view of any windows.
For students like Ketheeswaran and Heo, it's constantly in the back of their minds to lock their doors and secure their homes before they leave the house, even if it's just for five minutes. They feel that security measures are a crucial part to take into consideration because break-ins can happen to anyone at any time. Ketheeswaran advises turning on at least one light when no one is in the house, but Heo says he would like to see more permanent action, such as a requirement for preventative measures in housing contracts. 
"A lot of the neighbours around us have been getting broken into, and we hear about it all the time during the year, not just during the breaks," said Heo. "That's the scary part; they know when we're gone."
With all three incidents, the London Police were unable to identify or arrest the robbers, even after thorough investigations. For this reason, students recognize and agree that the solution should start at education on prevention.
"Not a lot of people take action to take care of the housing situation," said Heo. "[We need] more support and advice on how to get houses more secure."
"You're living in this house for eight months out of 12, and it's for four years, so you want to live somewhere safe," said Ketheeswaran.
But the approaching winter break presents more concern for Ketheeswaran, Heo and their roommates since none of them are going to be in London. Ketheeswaran suggests asking your landlord to clear snow to give the appearance that someone is home.
The police advise Londoners to keep doors and windows locked, even while inside residences, and to contact police if anyone or anything suspicious is seen. If break-and-enters are not reported to the police, they are unable to investigate them.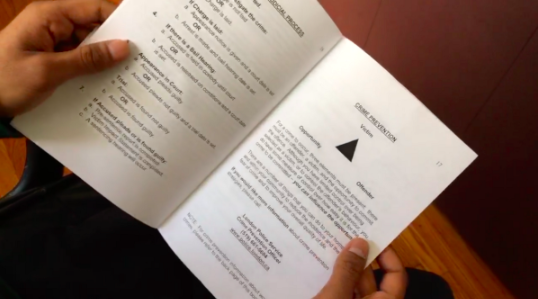 The police also say they have crime prevention officers who can provide safety planning. They have a page on their website with general tips to protect homes from break-and-enters.
If anyone feels concerned or has questions, they can always contact the police for advice at their non-emergency number 519-661-5670 or the Crisis Intervention and Victim Support Unit unit at 519–661–5636.