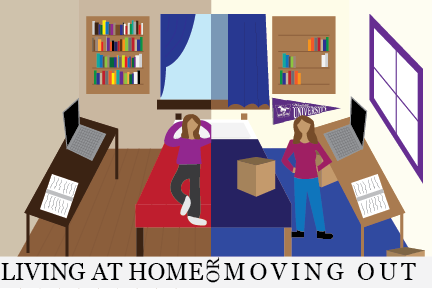 From rent money to cleaning your own toilet, students have a lot to stress about in their rentals — so while the freedom away from parents may seem nice, consider staying home in the pandemic.
The biggest reason to stay home is obvious: saving money. Rent, groceries, furniture, utilities and internet are just a few of the expenses students face and staying at home almost immediately cuts many of these costs.
When I'm home, I don't need to worry about expenses like rent, utilities and furniture because they have already been paid. This gives me the flexibility to budget and have financial security.
And the sense of security extends to more than just money — family often brings feelings of comfort, more so than roommates.
While independence in your own accommodations may seem great, it quickly becomes apparent that you sacrifice a lot of comfort to be there. In London, you become the primary caretaker of a residence and that comes with more responsibilities, from cooking to cleaning.
At home, a lot of these bigger chores will usually be done for you and saving those countless hours of extra work is far more valuable than the short-lived excitement of living away from your parents, especially when you can barely even leave the house.
Living at home can also give you a less stressful environment to work in.
Even with all classes online, the climate in London is still taxing. You're almost always around other students and school must be a top priority all the time. Especially as the line between work and home becomes blurred, it can be hard to take time for yourself to step back.
Even if you're more productive away from home, your mental health matters more and being in an environment where school work is always the number one priority can negatively affect that.
Your physical health may also be safer at home than in London. In the few months I've been here, London has experienced several coronavirus outbreaks and cases skyrocketed among Western University students. You are less likely to join dangerously large social gatherings at home. Being around friends and roommates in London means that you already have a larger social bubble and that bubble only gets bigger through more social interactions with other people.
Now of course living at home may not be an ideal option, and there are plenty of reasons to have your own place, but if you are able to, staying with your parents is the most practical option available.
While living in a student rental may have the charm of independence, when you take off the rose-coloured glasses the novelty is hardly worth the rent price. Living with your parents may not be as glamorous, but it is comfortable, safe and practical — and isn't that what matters in the end?
Disagree with our opinion? Read the other side of the story here.
---
This article is part of our annual Housing Issue, read the full issue online.