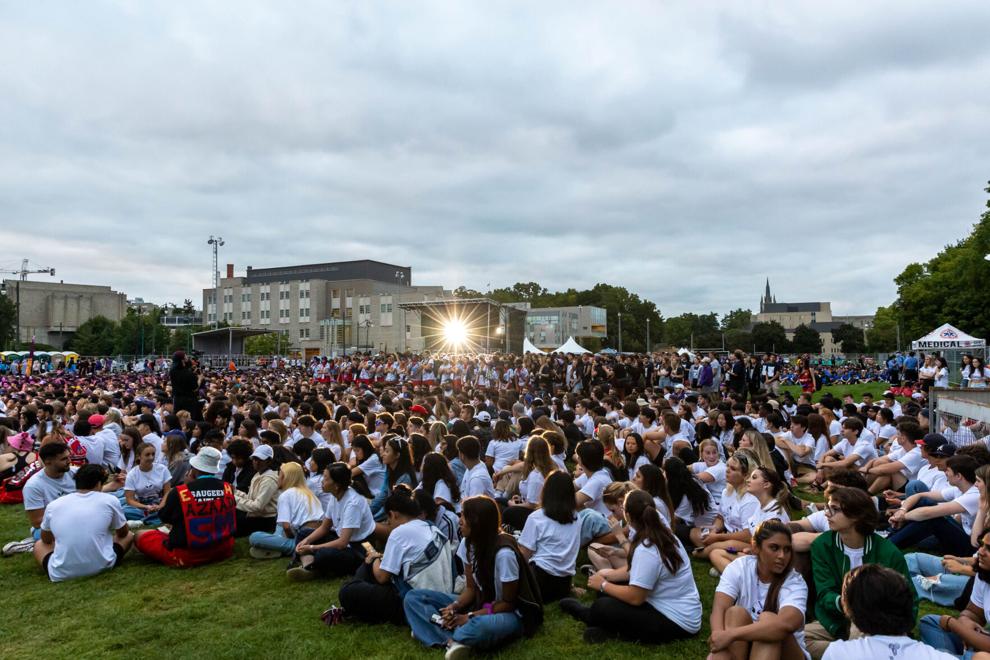 Approximately 4,000 first-year Western students gathered on the Health Science field Monday evening for this year's OWeek opening ceremonies featuring speeches, soph team cheers and musical artists.
Crowds were more controlled and cooperative than last fall, though sophs did need to corral students to fit all attendees into the fenced-off field. Approximately one-third of the initial crowd had left the field by the beginning of the headlining Loud Luxury concert.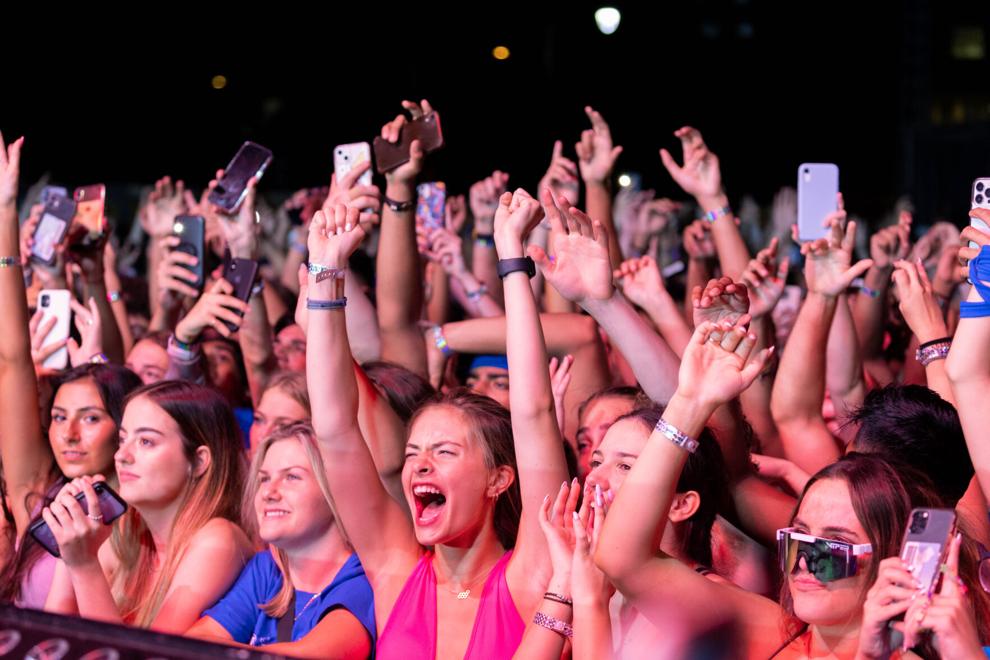 Monday night's event was the first since 2019 where students participated in OWeek activities without masks, social distancing or other coronavirus restrictions.
Last year's OWeek opening ceremonies saw many students break down fences and disobey social distancing and masking rules — including by forming "mosh pits." Many 2021 first-year students were also expected to watch a live-video stream of performances in outdoor spaces across campus but were disappointed with the event structure, resulting in the disturbances.
Last year's OWeek also made national headlines, with reports of sexual assault and druggings in residences and the death of first-year student Gabriel Neil.
While some first-year students said they were aware of the reports from last year's OWeek, many said they felt safe on campus.
"It's just made me more aware of what to look for when we go out drinking," said Natalie Talmage, a first-year media, information and technoculture student.
Blane Gebreyes, an off-campus soph and fifth-year medical sciences student, said she feels she received the training she needs to support students and safety is always on her mind.
"We did a lot of training last week about how to properly give support so that we're not exhausted, and how to ask for support for anything that's emotionally draining, and then who to connect students with if we don't have the capacity to do it," said Gebreyes.
Security guards, campus police, the Student Emergency Response Team and paramedics were at the field all night, along with sophs, residence dons and orientation staff to ensure attendees were safe.
There were no significant disturbances to report.
Idunnu Alabi, a second-year Science student and faculty soph, said she was "really happy" Western returned to in-person events. Maya Barua, another Science soph in her second year at Western, agreed, adding that she was glad first-year students were able to have this experience.
The event kicked off with introductory speeches, including from University Students' Council president Ethan Gardner, who told students Western University is "more than just a pretty campus, more than classrooms you attend classes in and more than just a degree."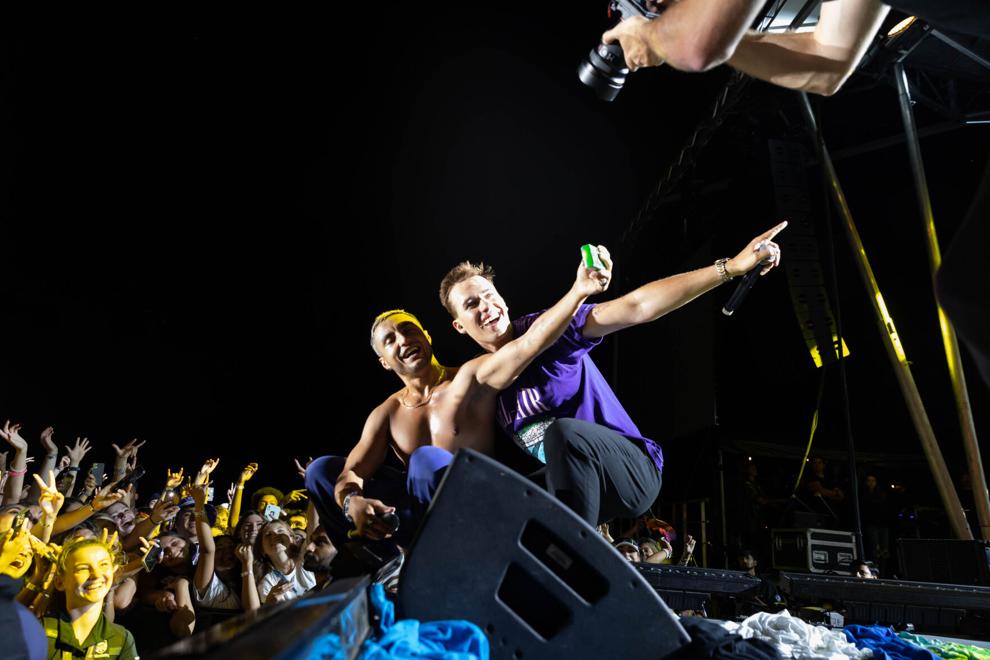 "Western is a place for you to discover who you are, make friendships that are lifelong and figure out how you want to change the world. That all starts right here, right now," he said.
Gardner was followed by speeches from orientation staff and London, Ont. political leaders Josh Morgan, deputy mayor of the City of London, Mariam Hamou, ward six city councillor, and Peter Fragiskatos, London's Member of Parliament.
Many students were excited for the music acts, including Kavisha Subramnian, a first-year bachelor of management and organizational studies student at King's University College, who said she liked "meeting new people" and having everyone together, but she was especially "excited" for Loud Luxury's performance.
Twinsick has finished their act and @LoudLuxury is now onstage pic.twitter.com/DxWKGP9GlJ

— Sonia (she/her) (@soniarpersaud) September 6, 2022
"It was honestly a dream come true," said Loud Luxury D.J. Joe Depace on his performance at Western's OWeek as the night drew to a close.
But while many stuck around for the concert, the crowd thinned out as the night wore on as some students opted to attend other on-campus events, return home for the night or head elsewhere.
Megan Jackson, a first-year psychology student, said she was leaving to attend a party.
"I'm trying to see what the night life is like, just seeing where the night takes me," she said.
In between each opening speech, students mingled and danced to musical interludes with a mashup of songs including Britney Spears' "Baby One More Time," Taylor Swift's "Look What You Made Me Do" and Lizzo's "Truth Hurts."
Soph teams performed their cheers following the speeches, including soph teams from faculties, residence buildings and affiliate colleges.
.@westernuMusic sophs take the stage to do a Western-themed musical medley, with live vocals and instrumentals pic.twitter.com/zDjWZk6bD2

— Sonia (she/her) (@soniarpersaud) September 5, 2022
Third-year neuroscience student and Perth Hall residence programming assistant Akshitha Ereddy said she was excited to see a lot of "energy and spirit" from first-year students.
"I think everyone's really excited to be back on campus and also to see the concert," said Ereddy.
Talmage summed up the night by describing the atmosphere as "electric."
"I'm feeling really good about myself. I'm feeling really excited and ready to start the year."