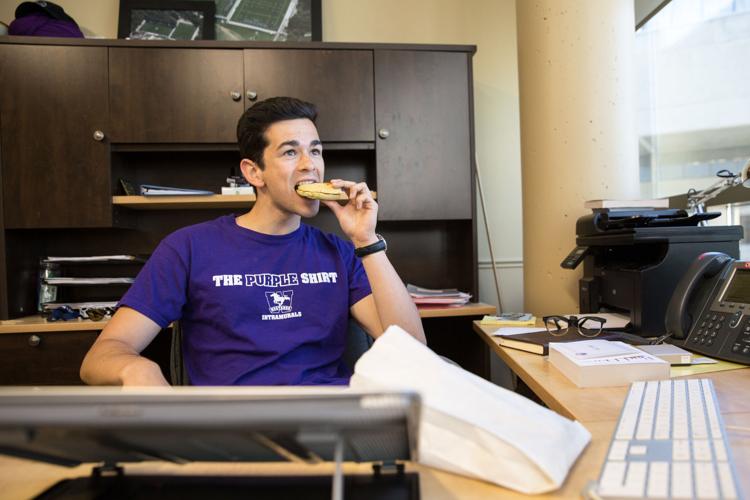 What says "Western" more than that famous shade of purple? It's safe to say there's no better way to show school spirit than parading around in a rightfully earned Purple Shirt.
We're not talking about just any purple T-shirt from the bookstore. We're referring to the Purple Shirt. Students can only win a Purple Shirt by winning an intramural sports league.
"My team won the women's intramural hockey league, and that's how I got my shirt," said second-year Ivey student, Kate Taylor. "It was really exciting, and it made intramurals more intense. Everyone really wants to win a shirt."
The Purple Shirt is a Western tradition that most students will know. Commonly recognized and awarded with praise, the Purple Shirt is something special.
"Whenever I see someone with a Purple Shirt, I ask what they won," said Madison Hilliard, third-year management and organizational studies student. "I really, really want to win one before I graduate. I feel like it's just something you have to do while you're at Western — or at least try to do."
Intramurals are one of the most popular extracurricular activities on campus, providing a wide variety of sports with a competitive but fun atmosphere. From soccer to inner tube water polo, Western offers it all. With over 700 teams competing in 18 sports, all you need to do is pick a sport, get a team together and sign up.
While events like one-day futsal tournaments and sports with smaller participation numbers, like European handball and badminton, offer the best chances at snagging an elusive Purple Shirt, it's not all about winning in the end. Even if you don't win a shirt, the quest for purple is a great way to bond and make friends while being physically active, and it's extremely common for first years to form teams with their floor mates.
"Dodgeball brought me and my floor so much closer together in first year," said Andrea Sretenovic, fourth-year media, information and technoculture student. "We didn't end up winning, but the whole experience was really awesome, and it's funny seeing people's competitive sides. That shirt really got people going. It's jokes."