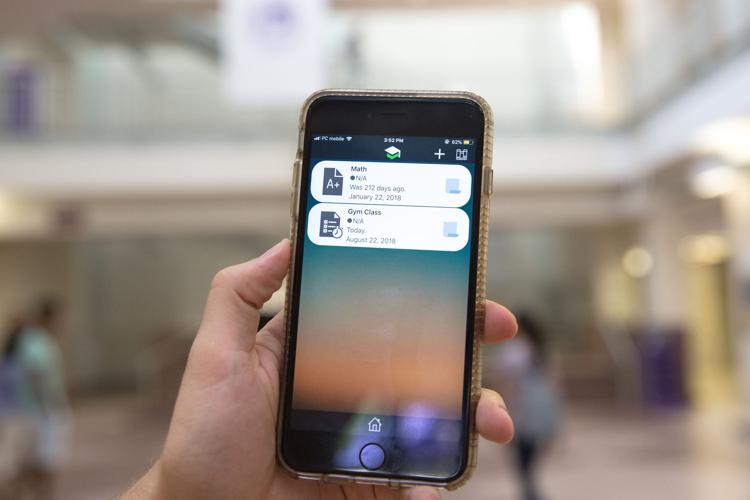 There's almost nothing worse than giving yourself a headache trying to memorize 20 pages worth of syllabi, straining your eyes to see tiny font every time you forget due dates, which is — let's be real — always. But now with B4Grad, you can stop squinting and stay on top of things with just a few taps on your phone.
B4Grad is a productivity app designed to help your decaffeinated brain focus on upcoming assignment due dates, exams and lectures.
Developed by Anthony Giugno, a fifth-year computer science student at Western University, the startup app emphasizes the idea that the agenda should do the heavy lifting for you. 
"You shouldn't have to spend time organizing your homework," said Giugno. "Your tools should do that for you or at least make it as efficient as possible." 
The app intelligently organizes all of your upcoming tasks chronologically, like that assignment due in two weeks or that lecture you've got later today, allowing you to easily visualize your most pressing concerns. 
Unlike other productivity apps, B4Grad is specifically designed for students. With its digital syllabus, you can customize your calendar according to your course schedule by adding your lectures and tutorials into time slots, which are displayed in a week-by-week view. It sorts all of your scheduling and course information in one convenient display, and its design is minimalistic, making the interface easily navigable.
"I felt like there's got to be other students in my shoes," said Giugno. "The problem that I was dealing with was that I felt like using a physical agenda — which is what I've always been using — feels like an outdated tool. It doesn't use our smartphones, which are in our pockets at all times. On top of that, there would be times where I forget my agenda."
For visual learners, B4Grad emphasizes a sleek aesthetic and straightforward function. You can either select an icon and colour for each task, assignment or scheduled course. Alternatively, you can use the icons and colours the app chooses for you. For example, if you type in "economics," the app will select an image of a coin, or if you type in "astronomy," it will show a star or a moon.
The app works by searching the database of input information and reviewing all of the things happening within the next two weeks. It then decides how to order this information based on the type of task and due dates. With just a few taps, you can quickly change the due date for any listed task.
Another advantageous aspect to B4Grad is its convenience and its ability to help you pace yourself during the school year. Once you've input your course information, the app is essentially on autopilot and will show you each of the tasks in your notifications tab when they become relevant.
It can save you considerable time, and it gives your overworked brain a break. 
The struggle was real, as Giugno said. He had to learn mobile-app development on his own, spending summers learning and trying different projects, which eventually led him to his first app, B4Grad, two years later.
But his app development doesn't end there. Giugno wants to enhance B4Grad so that it can help students organize to their full potentials.
"It's a work in progress," said Giugno. "It's been an interesting learning experience, and I find it fascinating to see the number of users go up."
He's currently working on features for future updates. Giugno said he may add a calendar feature at the bottom of the app that shows a month-by-month view of all your tasks. You'd also be able to tap on a day and manage all of that day's tasks. Another possible feature is a timetable that would show a weekday-only view of lectures, tutorials and labs, with an indicator that shows the current time to give you an idea of when your next lecture is.
If you want to get more done on the go without having to dig into the depths of your backpack for a pen to write reminders, using B4Grad might be a step in the right direction.
For now, it's only available on iOS devices in Canada. Giugno hopes to create an Android version and release both versions in other parts of the world.