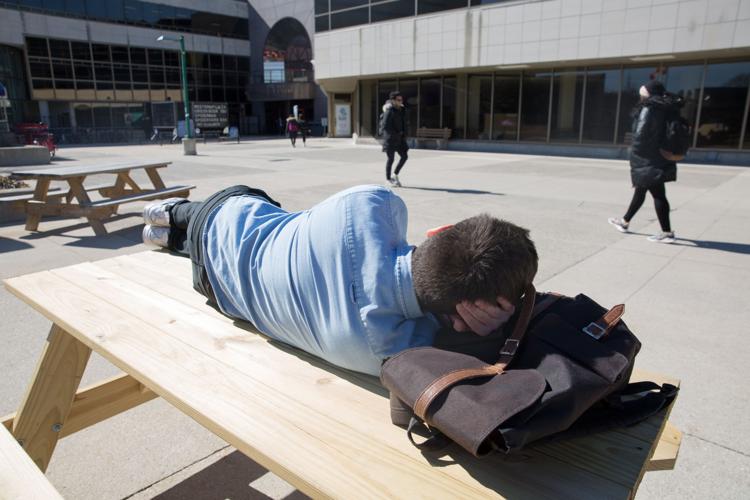 It's made its annual return. The crippling disease known as senioritis strikes senior Western University's students once again, causing a major decline in class attendance.
The dangerous disease, initially diagnosed at Western in 1883 with the school's first graduating class, is known to lower student motivation and decrease the use of brain cells.
Every year, Western's students experience prolonged periods of wearing sweatpants and hoodies, a major symptom of this disease, which also includes laziness, a dismissive attitude, increased absences and excessive procrastination. So far, 6,666 cases have been documented, most of them being near the end of second semester after senior students have received their midterm grades, or after they've handed in their job applications.
"It affects every senior, regardless of who they are and what program they're in," says Dr. Phillip Calvin McGraw, also known as Dr. Phil, a psychologist who's known for his "get real" approach to solving problems. "It happens naturally, like diarrhea."
According to a very credible report by Rick McGhie, a victim of senioritis whose sole reason for staying at Western was to find out how the disease was affecting other students, UberEats has seen a 420 per cent increase in their orders. As a result, grocery stores face extinction and students' bank accounts are at an all-time low.
Bar owners and bouncers at Jack's, The Barking Frog, Ceeps, Belfort and 5th Avenue have all seen an increasing percentage of older students in their nightly customer base, saying this time of year is the busiest with students' alcohol supply running threateningly low.
It appears there is no treatment for senioritis, although there is a time-related cure, a phenomenon known as graduation. Based on when the senior student is diagnosed with the disease, it could take up to months for senioritis to be cured.
"My senioritis started around the end of February when I didn't do most of my assignments until 9 p.m. a day before the due date," says Pete Zah, a fourth-year student in media, information and technoculture. "I pretty much don't really care about the consequences at this point."
In some cases, the cure could prove ineffective, and the student may experience symptoms of senioritis post graduation. In these cases, it's highly advised by Dr. Phil for the student to immediately begin a post-grad degree.
"It's sad to see students suffer senioritis because I've been in their shoes," says Noah Signments, a professor in the department of psychology at Western. "I studied psychology to understand this disease better and hopefully find a more immediate cure."  
Cases of senioritis have been reported at universities across the world, and Dr. Phil expects to see thousands of cases again next year.
If you know someone affected by senioritis, you can call 1-800-DON-TKAR to let them know all your concerns. They care.