In a shocking turn of events second-year Arts and Humanities student, Isa Frahd, stumbled into riches.
Five million dollars later, Frahd reflects back on the experience and urges students to learn from her willingness to take a chance.
On May 23, 2018, Frahd received an email from Bill Gates.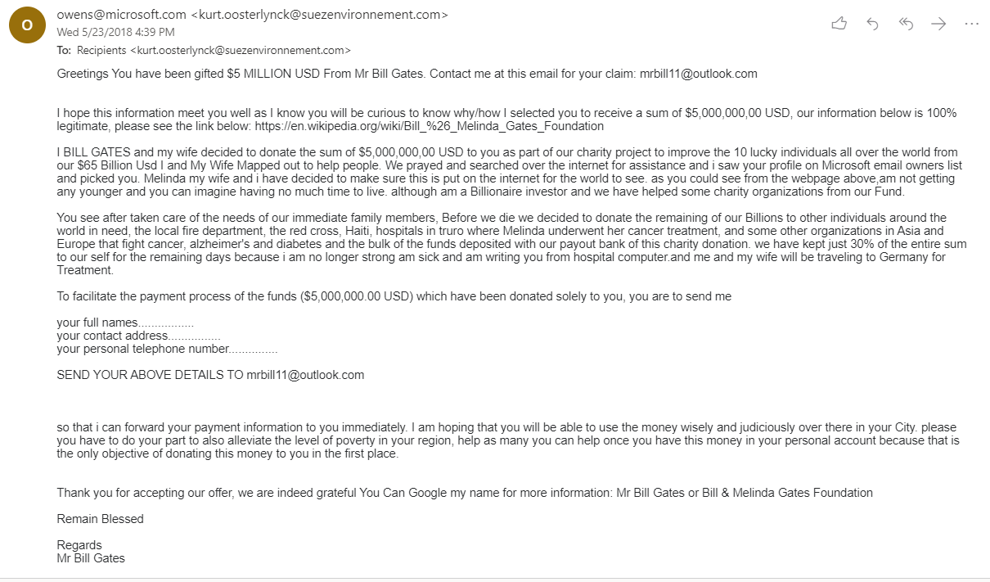 The email outlined an initiative Gates and his wife, Melinda, wanted to help 10 underprivileged folks around the world. They specifically targeted impoverished areas, telling recipients to "use the money wisely and judiciously over there in [their] city," while also urging recipients to do their part to "alleviate the level of poverty in [their] regions."
"I guess it made sense, London is in fact 50 per cent broke students with a very dismal future," says Frahd.
At first, Frahd wasn't absolutely certain the email was real, but after some investigation, she found that nothing seemed to be awry.
"After I checked out the links they sent and realized the email came from a Microsoft account I felt pretty comfortable trusting them with my information," explains Frahd. "Not to mention Gates himself promised the email was '100 per cent legitimate,' so who was I to question him?"  
Following this epiphany, Frahd promptly emailed Mr. Gates back.
After submitting her full name, her phone number and house address to "mrbill11@outlook.com," Frahd received another email to process the donation. She then gave over her banking information and patiently awaited the $5 million.
"I think what also helped me realize that this was legit was comparing it to other fraud emails," says Frahd. "Like the one with the Nigerian prince offering you millions of dollars — like come on, that's obviously a hoax."
After three weeks the money was deposited into Frahd's account. Since then, she has donated part of her wealth to the charity organizations while also supporting students — covering all dollar beer purchases at Jacks on both Mondays and Wednesdays for the year.
She plans to save the rest and use it to elevate her career and provide for her family. 
"I think we need to trust Western University to remove any phishing emails. They get rid of the bad stuff, and if an email like [the Bill Gates one] gets through, it's probably legit," says Frahd. "You just have to be willing to put yourself out there."
Currently Bill Gates — despite outlining that he was "no longer strong am sick" and was writing from a hospital bed — is doing well and remains to be extremely wealthy. No subsequent email donations from the Gates family have surfaced since his recovery.  
Although not from Bill Gates, emails like this one continue to make it into student inboxes. Perhaps the next time you're offered millions of dollars you should email back.
You could become the next Frahd.
---
Read the full Spoof Issue online now. Happy April Fool's Day, Mustangs!