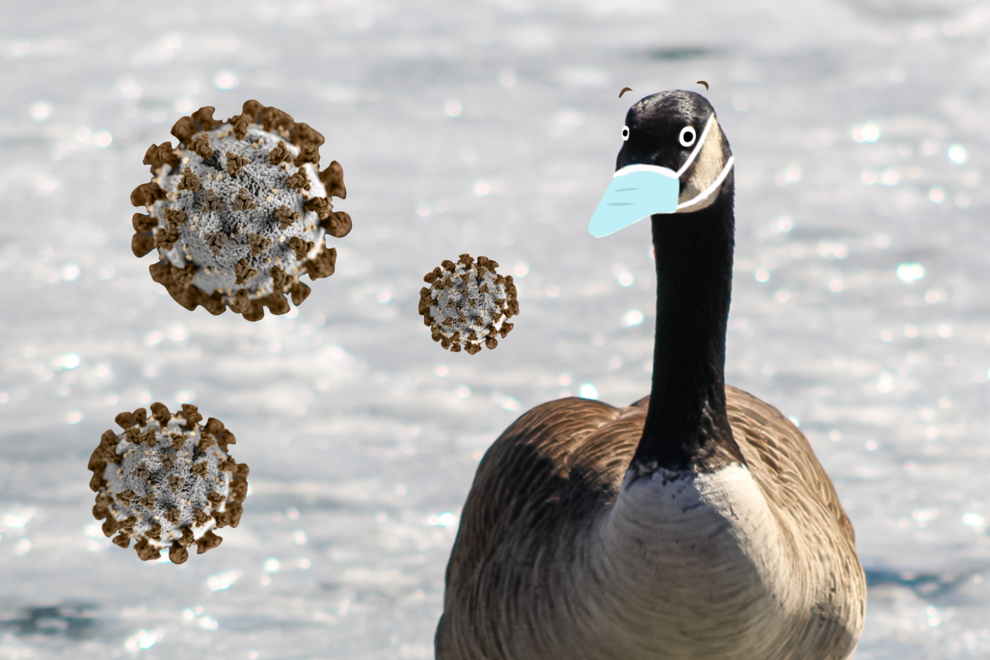 After three days of unexplained symptoms, the MLHU officially declared a student bit by a goose on campus patient zero of the novel Govid-21 virus strain.
The Middlesex-London Health Unit reported the student became infected after offering a bite of their jalapeno and cheddar bagel to a goose.
Health officials said that the new virus strain developed from the geese being in contact — and possibly biting — students previously infected with the coronavirus.
The close contact of students in Saugeen-Maitland Hall along with campus geese was also identified as a possible cause of the new virus development.
The student has reported symptoms of uncontrollable rage, honk-like coughing, as well as frequent bouts of small green-coloured feces to MLHU.
MLHU will quarantine the Saugeen residence for 31 business days as they attempt to trace possible spread of the new virus strain. 
As a reaction to the new development, Western is implementing new health guidelines against the geese. The new anti-geese guidelines include avoiding direct eye contact with the geese, walking only in non-geese infested areas of campus and avoiding cross contamination of any food or liquids with geese. 
The health unit is currently barricading areas where the geese congregate to keep them enclosed, as well as hiring student volunteers to bang pots and pans to drive the geese away. 
"Honk honk honk honk," Gerald Goosenburg said, a long-time figure on Western University's campus, who added his campus roaming prospects have been affected by the new geese guidelines implemented in light of Govid-21. Goosenburg supports the Canada Goose Federation of Geese who are protesting these anti-geese guidelines.
Dr. Chris Mackie, chief medical officer of health with the MLHU, made a public statement to Western students Tuesday.
"This is a dire situation. Now is the time for the people of London to work together, and to stay safe, against the dangers the geese bring," he said. 
Any students experiencing GOVID-21 symptoms are encouraged to reach out to the health unit.
The affected student was unavailable for comment. He tried to bite the Gazette news reporters as they approached him for an interview.
---
Read the full Spoof Issue online now. Happy April Fool's Day, Mustangs!