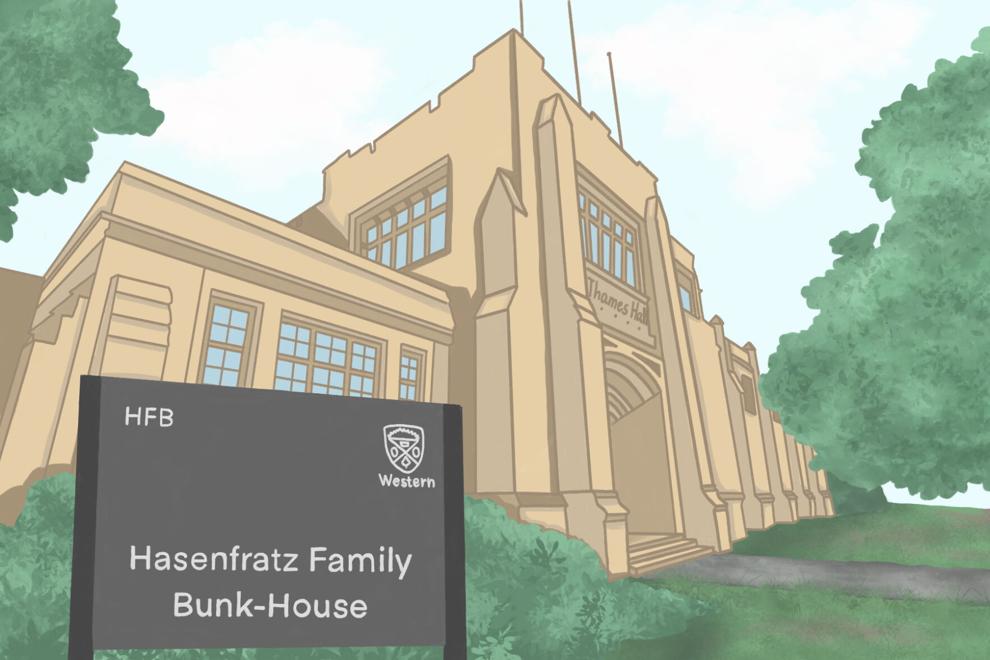 A $6-million anonymous donation has been put towards renovating Thames Hall into a new Western residence — the Hasenfratz Family Bunk-House.
This past December, Western University chancellor Linda Hasenfratz took a family vacation to Barbados, and the Hasenfratz Family Bunk-House will be largely focused on replicating that vacation-like experience for incoming first-years.
"Seeing chancellor Hasenfratz come back from her vacation looking so relaxed and well-rested was the inspiration we needed to start this project," said Regina Phan, director of Western's Housing. "All we need to do is label a residence 'not Saugeen' and kids will rush for a spot."
For $9,000, students will get their own bunk and a single suitcase for their belongings in an effort to whole-heartedly replicate the tropical experience. The residence will be open concept, with over 400 bunk-beds available for students.
While the residence does not have a cafeteria, students will be given an unlimited food passes to the Western gardens to pick their own fresh fruits and vegetables.
"Going on vacation was the refresher I needed in these unprecedented times," Linda Hasenfratz wrote in a statement to the Gazette. "I might have made a judgment error, but now everyone can have some fun in the sun and not face the consequences."
On move-in day, students will receive a case of coconut water along with their move-in package. The walls will be decorated with seashells and palm trees to encourage the feeling of being on a cruise.
Western hopes that the communal residence will be an adequate replacement for the mental health services originally offered at Thames Hall, now found in the basement of the Facilities Management building.
"I'm an only child, and the only person I interact with outside of my household at the moment is the UberEats driver," said incoming first-year student Connor Lingus. "I think being at Hasenfratz and being around people all day will be great for my mental health."
This residence will act as a pilot project to introduce more Bunk-Houses around campus. If successful, the next residences to be converted will be Elgin Hall and Essex Hall, which will be themed to an under-the-sea experience and the Australian outback, inspired by past Western president Amit Chakma.
"Here at Western, we want to prioritize the student experience," said current Western president Alan Shepard. "Allowing students to constantly feel they are at the beach, and on vacation, will keep their minds at ease during this difficult time in their life."
Some students have concerns about the Bunk-House, due to a lack of privacy and the singular shower outlined in the floor plan. The students have been trying to communicate their concerns to the University Students' Council to no avail. 
When asked for a statement on the new residence, USC president Matt Reesor texted the Gazette "lol this is Zamir's problem now" before blocking the newspaper on all social media platforms.
"We're so excited to see the class of 2025 in the Hasenfratz Family Bunk-House," said Shepard. "We're able to give more students the one-of-a-kind student experience Western is known for, and best of all, we can put the saved money towards the extra staff vacations for even more residence inspiration."
---
Read the full Spoof Issue online now. Happy April Fool's Day, Mustangs!