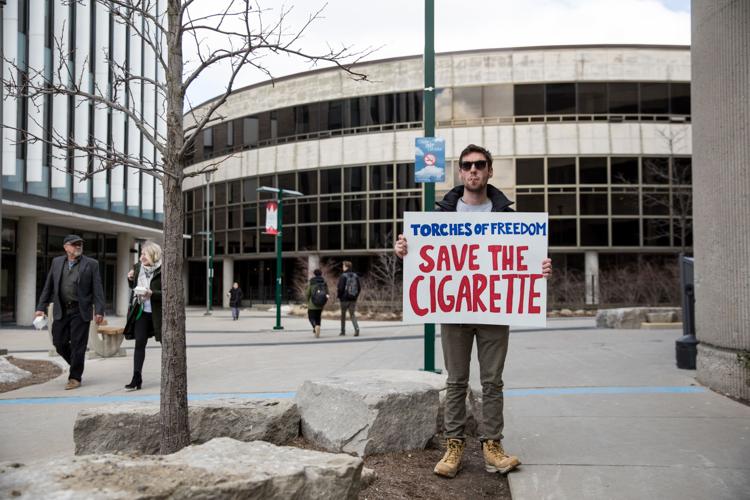 There's nothing more satisfying than the sweet taste of tar and ammonia after a long night of studying at the library. That's why Western University smokers are enraged about the school-wide smoking ban that is set to take place next year. 
"Let's clear the air my ass," said Josh Wooly, fourth-year floral management student. "We've been oppressed by a school that promotes intolerance and persecution against the harmless act of hacking a dart." 
As a result, Wooly and other smokers have spearheaded "Torches of Freedom," a protest movement that advocates against the ban, stating that it's a violation of human rights. The group plans on meeting up outside of D.B. Weldon Library every 10 minutes to hack darts in symphony in an attempt to repeal the ban.
Wooly hopes to piss off students, faculty and administrative staff by blowing smoke at anyone entering the front doors of the building and coughing on those who give a snarky look or attempt to retaliate.
According to the school advisory committee, Western wants to provide a healthy and clean environment for its community, and smoking doesn't contribute positively to that, but how else are students supposed to de-stress?
Wooly believes that smoking has played a central role in his ability to make friends, and to him, looking cool far outweighs the negative health effects that lighting up may cause. Without a dart in hand, Wooly wouldn't feel confident enough to constantly talk over others during study breaks, at parties or just about anywhere else douchebaggery occurs.  
"Within milliseconds of the first drag, endorphins are released in the brain's societal-rebellion centres," says literal sciences professor Marl Boro, who believes that the group kind of has a point.  
According to Boro, the water fountains and cafeteria food at Western are already contaminated, so there is no reason to preserve the fresh air. 
Wooly believes that this is just the start of "Torches of Freedom." Once the group repeals the smoking ban, they plan on getting ratified by the University Students' Council and creating a safe space for smokers to bask in the glory of tobacco.