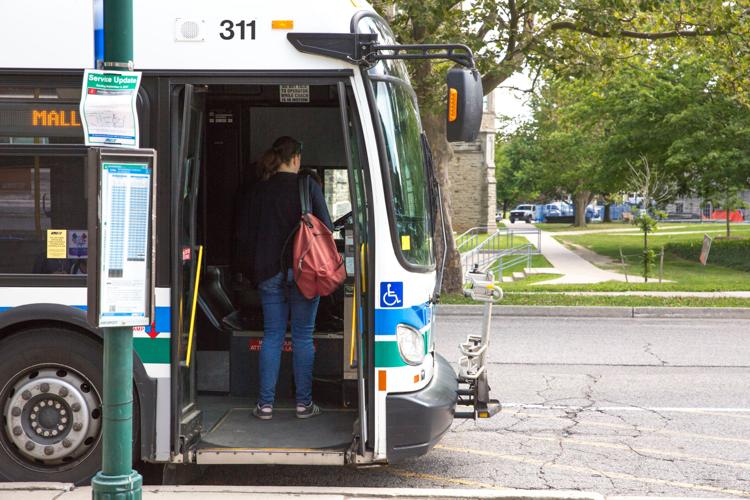 Getting around campus and London can definitely be daunting as an incoming student, especially if you're new to the city. However, you can rest well knowing that there are several options to get around town. 
The London Transit Commission buses are the most obvious choice, but there are other services provided by the University Students' Council that students can use. Get familiar with these services, you'll probably use them at least once during your time here at Western University.
LTC
The LTC is students' most used transportation service. There are several bus routes that pass through campus, making it a very convenient means of transportation for students. 
All full-time students pay a fee in their tuition that gives them access to a year-round bus pass. Students cannot choose to opt out of this fee, but the bus will prove to be useful — even if you have a car!
Your Western ONECard acts as your bus pass, which means that with the tap of your student card you are able to make your way onto the bus. 
If you lose your student card, you can get it replaced at Student Central for a $31 fee.
There are peak times when a lot of students are trying to take the bus, such as before a 9:30 a.m. class or in the late afternoon and early evening. If you have to take a bus around this time be prepared to be rejected.
Affiliate Buses
These buses run from main campus to the affiliate colleges — namely King's University College and Brescia University College. These are great if you are a main campus student taking a class at one of the affiliates, or vice versa. These shuttles have specific bus stops and routes. Stops are found at key points on campus including Alumni Hall, University Main Gates and Middlesex College. Check out the King's and Brescia bus route schedule online to plan your trip. 
Exam Shuttle
During exam periods the libraries are open later than usual. Weldon Library is even open 24 hours for a period. Due to these extended hours, the USC runs a free exam shuttle during these times, picking students up in front of the University Community Centre and following different routes to get students home. The bus drivers will try to get you as close to your home as possible.
Mustang Express
The Mustang Express is another USC-provided service. This late night shuttle was created to bring students home from the bars after the LTC has stopped operating for the night. According to the USC transportation web page, all full-time and part-time undergraduate students are eligible to ride the shuttle.
Around the time you go to pick up your Western ONECard, make sure that you get the purple Mustang Express sticker. This sticker will be your ticket onto the shuttle at night.
Western Accessible Transportation Service (WATS)
Western offers transportation to students with disabilities. According to the Student Development Centre, students can use this service to travel around university locations, including affiliate colleges. Students who require this service must book an appointment with a counsellor to obtain the proper documentation.