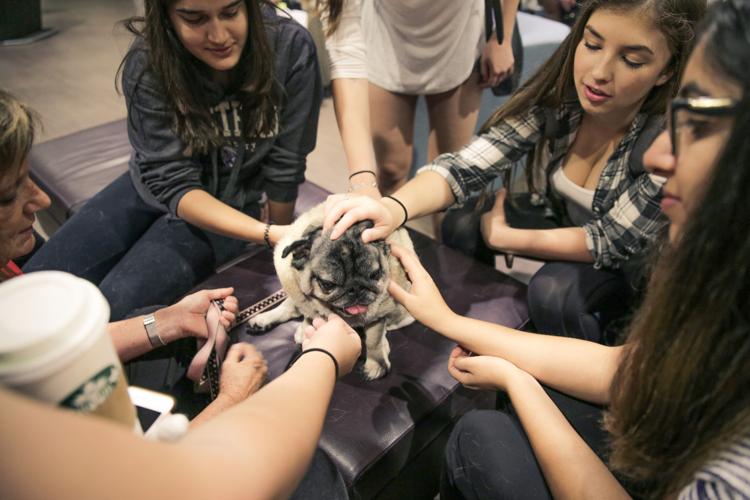 Russell the pug has always been a good boy. Whether he's sitting comfortably on the cold and muddy floor in the University Community Centre or cuddling up to sick patients at the Children's Hospital, the St. John Ambulance therapy dog is always the centre of attention — but recently he's been going through a ruff patch.
"Really, I've just had a hard time trying to relax," said the four-year-old pug, acknowledging that he always has to be "on" to appease the multiple strangers he's forced to interact with daily.
According to Russell, constantly posing for pictures, travelling across the city and putting on a show for people he's barely met can be an exhausting experience. As a result of this stress, the canine is seeking formal rehabilitation to cope with the constant demands of being a therapy dog. Russell has reached out to his employer and is currently pursuing a three-week leave of absence from his duties in order to attend psychotherapy counselling sessions and to sniff dog behinds at the Greenway Off-Leash Dog Park for a prolonged period of time.
Russell hit a breaking point on March 10 at the cafeteria in Essex Hall's cafeteria, where he ferociously attacked an over-excited resident. According to a report filed by Campus Police, the student went to hug Russell as an attempt to show (and receive) affection; upon physical interaction, the pug bit off the student's ear — in the most adorable fashion.
"I already had a jam-packed day full of clients at the Chartwell Riverside Retirement Residence, and I was not ready to be pet by a group of obnoxiously loud and odorous university students," said Russell, adding that the incident was caused by stress that had accrued during his time as a therapy dog.
According to third-year residence soph Dana White, who is currently undergoing reconstructive surgery at University Hospital to replace her ear with buttock skin, Russell seemed calm and collected until she was eye-to-eye with the dog. At that point, White noticed Russell's eyes light up, and a rumbling growl deep in his chest startled her. The next thing the student remembered was waking up in the hospital to news that her ear had been completely shredded off.
"I'm not going to press charges, but I really hope that Russell learns from this very serious mistake," said White. "The police have notified me that after the incident took place, Russell's owner had called him a bad boy several times. That is enough punishment, in my opinion."
Russell argued that he feels expectations being placed on him every time an individual so much as pets him. He described himself as an introvert forced out of his comfort zone each and every day. 
"I get it. I'm a local celebrity, but this isn't easy work," explained Russell. "You try waking up every morning knowing that you have to fetch a squeaky ball from just about every dimwit in town. It's an existential crisis that I need to comprehend through therapeutic treatment."
The companion animal has informed St. John Ambulance that the leave of absence is necessary for him to feel like he can dedicate 100 per cent of his time to the job again.
"Truthfully, I just want to control my anger. Maybe hang out with some other therapy dogs and gauge how they deal with the human race, because right now, I find them repulsive," said Russell.