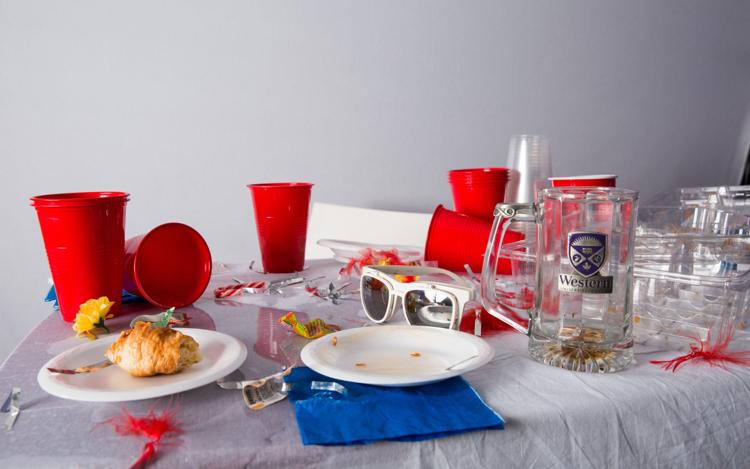 So you want to throw a legendary party but don't want to deal with the aftermath of red Solo cups on the ground, spilled booze stains on the couch and friends passed out from a not-so-memorable night of drinking?
Project X may have set the standard for absolute mayhem, but if you're going to throw a wild banger, you're also going to want to prevent that extra headache from your morning hangover when you have to clean.
Here's how to have a blast without the trash:
Prepare for the worst
There's no doubt that your house is going to end up like a compost bomb went off inside. It's probably going to smell like it, too. But preparation is like studying for an exam: take time to focus on what needs to be done and brave through the hours of the night because at least you'll be prepared for when the unexpected arises.
That means vomit-proofing your washroom with plastic sheets, stocking up on air fresheners, removing anything valuable or glass, and locking your bedroom doors for the sake of your clean, dry, bed sheets, which hopefully won't end up stained with questionable substances.
Serve practical food
The last thing you'll want is to find a half-eaten slice of pizza wedged into the middle of the couch. Serving things like hot dogs and cake aren't ideal because you have to remember that drunk people are like babies: they wear their food instead of eating it.
Perhaps try delicious, one-bite finger foods that people can easily pop into their mouths with no mess, like mini cinnamon rolls, jalapeno bites or deep fried meatballs. Food is what the party people want, and these items might satisfy drunk people's monstrous appetites and relieve headaches for you.
Keep the drinks simple
One thing a good party has is a variety of drinks. But the more options you provide, the more chances you'll find a shattered bottle on the ground. Avoid this scenario and instead, concoct jungle juice in a large juice dispenser by mixing ice, a juice of your choice and any type of alcohol. To serve this, provide plastic cups so that you won't have tons of glass bottles everywhere, which could break at any moment. And you and your old friends — and some new ones you just met in the washroom — get to enjoy a delicious icy cocktail.
Use plastic, not glass
Mind you, plastic harms the environment, but only if it isn't recycled properly (you can find out how to do so here). Surely using plastic plates, shot glasses and cups is better, especially when they can be recycled and can't be shattered — unlike glass, which can harm your hands and feet if you're not careful during the clean-up. 
Have multiple garbage bags or bins ready
If you have multiple garbage bags or bins around the house, it won't be hard for a belligerently drunk fellow to stumble into one. And it won't be hard for people to have access to a garbage bin when they need one. There's nothing worse than feeling your insides churn with alcohol and having to navigate your way through a crowd of drunk people to find out that the one washroom in the house is occupied. Although, it could be argued that having to clean it up is worse. So have several garbage bags ready around the house. You'll basically have the guests do the cleaning for you.
If you're serious about undertaking the responsibility of throwing the most awesomest, greatest and bestest party of the year, be prepared to make red Solo cups and two-bite brownies your best friends, and make this experience one hell of a night.