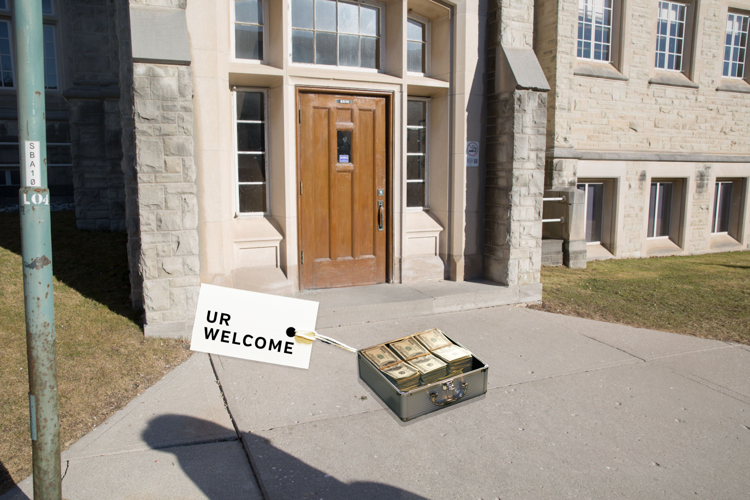 Western University's provost, Andrew Hrymak, announced today that the Faculty of Arts and Humanities will be receiving adequate funding next year.
The announcement was made in University College's Temple of Fire, which earned its name from the building's lack of electricity, which forces each meeting to be lit by a bonfire.
"I'm proud to announce that the Faculty of Arts will have enough funding to hire one professor next year," said Hrymak. "As I'm sure you're all aware, this is a big deal for the faculty."
All four arts students erupted into applause.
This hiring of the faculty's first professor in 12 years is likely to greatly increase the quality of education for students in the faculty, explained Hrymak. Previously, education in the Arts relied on Wikipedia articles printed in Talbot College — a practice which consumed approximately 40 per cent of the faculty's budget.
Following the Provost's announcement, philosophy students had a lot to say — however, their statements were too prestigious to be understood.
Theatre studies students then displayed their gratitude through a spontaneous enactment of the classic rock opera Jesus Christ Superstar, in which they hoisted the Provost into the air and chanted "king of kings, king of kings."
However, the crowd was disappointed when Hrymak failed to turn water into vodka.
After the sacrificial ceremony concluded, Janette McInnis, a second-year visual arts student, asked if her program would be seeing any of this new funding.
Hrymak was quick to turn her down.
"Unfortunately, the administration and I have decided that cave painting is still the only medium we can afford to fund," said Hyrmak in response. He added that in arts' next budget review – which is scheduled for 2029 — they might consider thrifting pencils for the program.
The new budget also aims to repair University College's left wing, which was damaged in a dumpster fire last year.
"I'm really excited to see the arts flourish under this new funding," said Hrymak. "I really hope they realize that this university prioritizes the arts just as much as any other faculty."