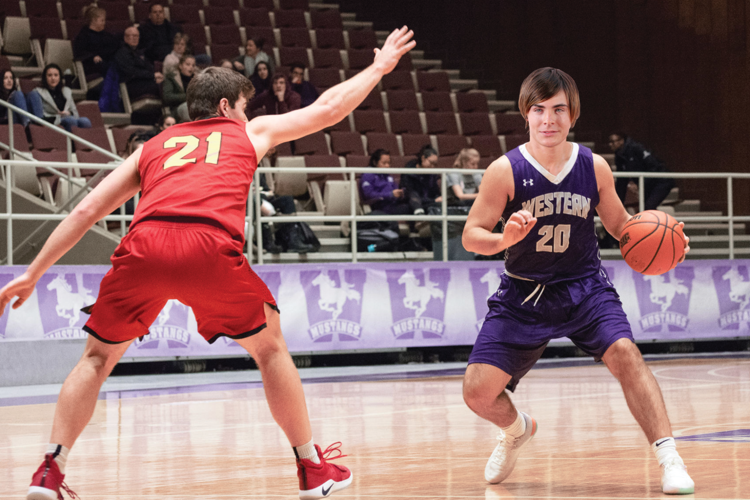 Straight-A student, all-star athlete and musical theatre prodigy. Western Mustangs basketball's newest recruit truly is the ultimate triple threat.
This coming September, the Mustangs are happy to welcome their newest varsity athlete: Troy Bolton.
Troy laces up his red and white basketball shoes and heads onto the court. Hanging around after practice to work on his free throws is one of the small factors that made him the player he is today.
The gym is completely empty and the smell of sweat lingers in the air. The sound of his shoes squeaking against the freshly polished court and the swoosh of the basket netting are the only sounds to be heard.
"I'm so excited to be soaring and flying with the purple and white next year!" said Bolton, smiling from ear to ear. "I was like, 'Why stick to the status quo and go to some college in the States? Canada's basketball program is way better.' "
Bolton's time at Western is definitely going to be the start of something new. He plans to bring the same success to London that he brought to the East High Wildcats. He walks past the trophy case in the gym, with countless trophies shining in the light.
"Winning back-to-back state championships was the highlight of my high school career." he says, staring intently at the trophy case. "That game was rough, I had a hard time getting my head in the game, then I remembered, you gotta get'cha head in the game, it's now or never, right here right now, and I want it all. Then we won."
From a young age, Bolton knew he wanted to follow in the footsteps of his father. He wanted to be another Wildcats captain, leading his own generation to back-to-back state victories. When he looked at his father's dusty photo in the trophy case, his face filled with pride and inspiration.  
Aside from being an all-American basketball legend, Bolton is also a performer in a very different way.
"Last year, I discovered my love for the performing arts," said Bolton, his tone shy and embarrassed. "I told myself I'm breaking free and doing what I love. I remember when my dad said I was a basketball player, not a singer. I looked him dead in the eyes and said 'Did you ever think maybe I could be both?' " 
Bolton managed to clinch the lead role in their school musical, where he revealed to not only himself, but his family, friends and classmates, that he is an incredible performer on stage. His face lit up when he talked about the experience. He spoke about it like it was something he didn't get to talk about a lot.  
Bolton's love for both the arts and basketball is what drew him to Western in the first place. When he discovered that a theatre program actually existed at the school and that he would likely be the best player on their basketball team, he was locked in.
"I'm so excited to help the Mustangs bop to the top of the OUA," he said. "The boys are back, and we're all in this together, and we're going to work this out! What time is it? Time for a gold medal! And you can bet on it. You can bet on me."
Although he's ready to represent the Purple and White, Bolton will always be part of East High at heart. As I walked out of the empty gymnasium after our interview, I could hear him gently chanting the team cheer to himself under his breath.
"What team? Wildcats. What team? Wildcats. What team? Wildcats. Wildcats. Get your head in the game."