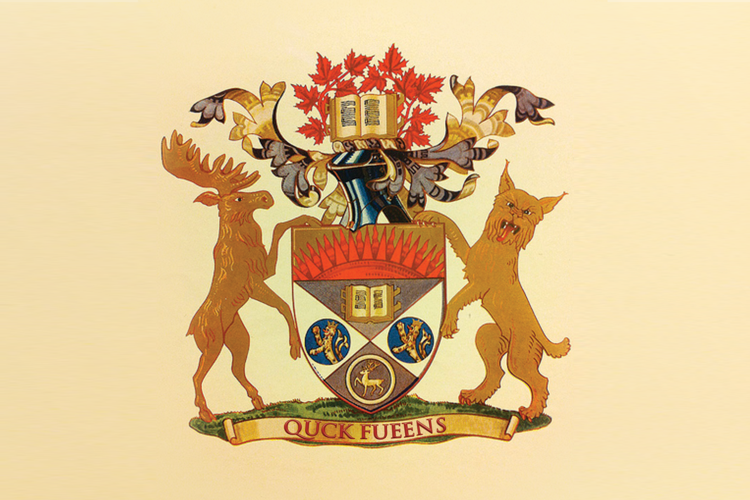 After 140 years, Western University is swapping out its old motto, Veritas et Utilitas, for a new one: "Quck Fueens," the Latin phrase for "Better than Queen's."
Last Friday, 25,000 students and 500 faculty members voted on the fate of Western's motto. There were multiple great options for the school's rebranding, including: "Definitely Not a Party School", "Jordan Peterson-Free Zone" and "Literally Just a Big Ole' Frat." Even then, "Quck Fueens" won over 60 per cent of voters.
The phrase "Quck Fueens" arises from a long-standing rivalry between Western and Queen's University. While reasons vary from person to person, Western students seem to just really fucking hate Queen's.
"Queen's is just really pretentious," said Chad Smith, a third-year Ivey student wearing a frat-branded polo shirt and smoking an electronic cigarette. "I'm glad we finally have a motto that reflects that."
Julie Simpson, a first-year engineering student who also voted for the change, expressed that she hates Queen's because of their ivory-tower status.
"I mean, Queen's is just so elitist," Simpson yelled. "I know this girl who had really solid grades in high school and was student council president, and she still didn't get into any of the programs she applied to there."
Simpson started crying moments after the interview, whispering "fuck Queen's" as she sobbed into her Class of '17 student council sweater.
The rivalry between the two universities stems back to 1894, when Queen's and Western went head-to-head in varsity football for the first time. The game took place on Western's home turf and was cut short when a flock of geese attacked the visiting team, severely injuring many of the players. Believing that the geese were serving Western's agenda, Queen's vowed to get revenge.
It is rumoured that years after that fateful football game, Western's founder whispered "fuck Queen's" on his deathbed, solidifying the rivalry with his dying words.
"Quck Fueens" will be replacing Western's previous motto, "Veritas et Utilitas" — Latin for "Truth and Usefulness." President Amit Chakma explained that the old motto was outdated and didn't ring true for the university.
"Considering that we offer creative writing as a program, we can't pretend that Western is built on a foundation of 'usefulness,' " Chakma laughed. As far as truth goes, he also said something about money laundering before insisting that it was all off-the-record.
The change will officially be enacted on April 20, when flags with Western's new motto will be hoisted above every single building on campus. It will be celebrated with a party in the University Community Centre, where students and faculty will join together in a uniting chant: Quck Fueens.