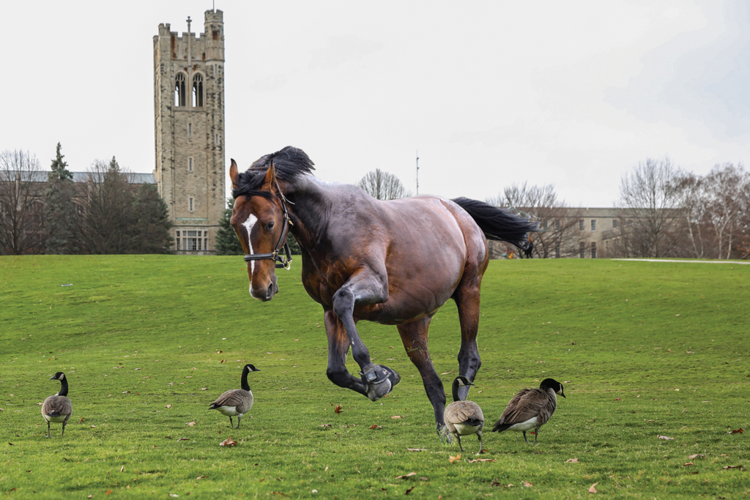 Gambles, one of the mighty Western University mustangs who is usually seen prancing around at football games, was spotted galloping across campus on March 22, which led the university's students, faculty and staff on a goose chase to catch the wild beast. 
At 10:30 a.m., the steed was seen dashing at full speed without a rider through the football field. According to the horse's caretakers, after grabbing a mouthful of carrots, the horse suddenly hopped over the fence and followed Western Road towards the university.
Students quickly made their way to campus to do some horse-spotting when they heard one was on the loose. The last time Gamble was seen, the horse was trotting down along University College Hill the next morning toward a herd of geese.
"It's not everyday you see a horse at your school," said Kevin Baxter, a third-year engineering student. "It'll be exciting to get a photo of the horse. It could make me go viral."
Campus Police said an animal of that size could easily collide with a vehicle and cause serious injuries. They've filed a missing horse report and are waiting for more information on its whereabouts.
"This is a serious issue. We don't want anyone to get hurt. We don't want the horse to get hurt," said Officer Boris Chambers from Campus Police. "We're making it a priority to catch it before something bad happens."
Chambers said five helicopters are circling to keep an eye out for the mustang, but the police are still unsure how to capture the horse and, as a last resort, they plan to tranquilize it.
While most students are feeling excited about this fiasco, authorities and athletes are taking this a lot more seriously. 
"What are we going to do when we score a goal and there's no mustang to do a lap around the field?" asked Zack Turner, the Western Mustangs' football team's quarterback.
If any student has information on the horse's whereabouts, please report it to Campus Police immediately.