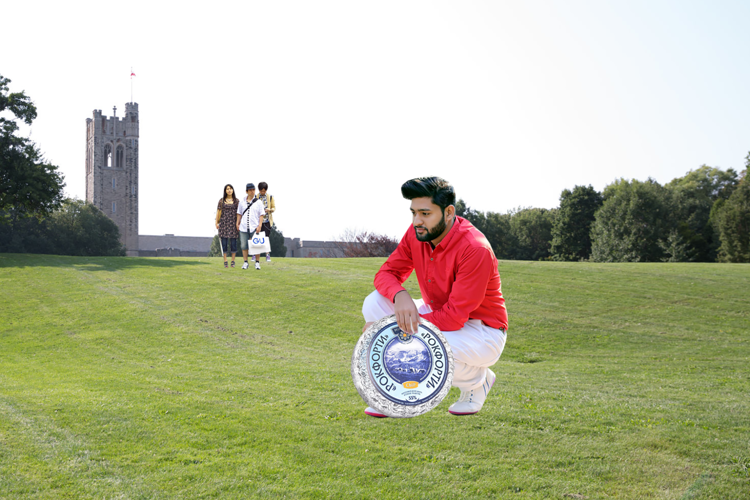 Western University's first annual cheese-rolling competition took place this past weekend on University College Hill. Over 100 students and staff showed up in hopes of catching the coveted cheese wheel.
Inspired by the Cooper's Hill Cheese-Rolling and Wake in Gloucester, England, second-year international student Brie Colby wanted to bring the English tradition across the pond.
"I'm very grateful for the opportunity to host such an amazing event here in London," she said. "Since I grew up on a dairy farm, cheese has been in my blood, literally and figuratively. It's difficult for me to go back to England, so I brought a little bit of England here."
In order to participate in the event, cheese-chasers needed to donate $10 in cheese products to the London Food Bank. 
Cheese-rolling involves chasing a seven- to nine-pound Gloucester cheese wheel down a relatively steep hill, and the winner of the competition is the individual who catches the cheese roll first. The winner then has the opportunity to take it home with them. The cheese gets a one-second head start with competitors following after it.
"We were lucky this year; Costco donated a nine-pound wheel of Gunn's Hill's 5 Brothers Cheese, which would normally be about $250," Colby said. 
The sport, however, is not for the faint of heart; reported injuries of bruised kidneys and broken bones from participants throwing themselves down the hill are common. Yet, this did not deter any of Western's cheese challengers.
"If anything, it makes it more exciting," fourth-year engineering student MacKenzie Donald said. "There are EMTs by Talbot College, so I'm not concerned."
Only five participants needed medical treatment, with the most severe injury stemming from a Canada goose attacking and biting first-year student Richard Feta's thumb. "When they say don't feed the geese, they're also including that you shouldn't chase a wheel of cheese near them," Feta said.  
The eventual winner was Lottie Kraft, a third-year kinesiology student, who caught the cheese shortly before it reached Elgin Hall. "I'm so excited to cook with the cheese. Every bite will be the sweet taste of victory," she later said.
Overall, Colby believes this tradition will continue on well past the time she graduates. "The cheese chase brings the community together in the pursuit of food, and I think that's amazing," she said. "I mean, who wouldn't want some free cheese and bragging rights?"