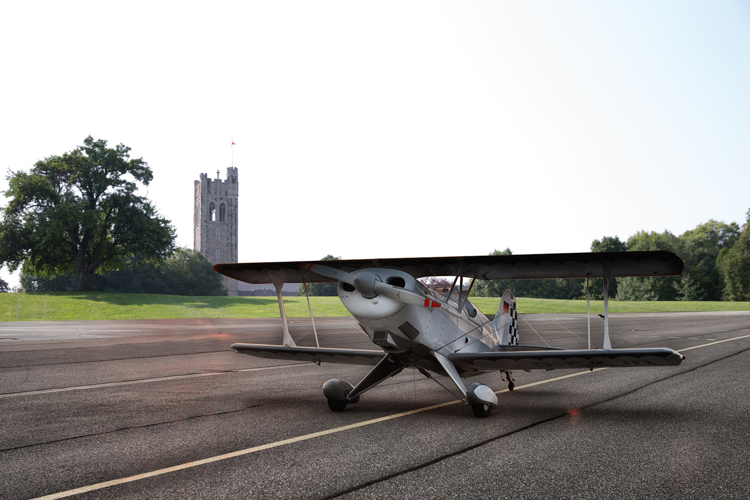 Western's own Commercial Aviation Management program announced late last night that it would launch a new air-taxi carrier aimed to better solve the ride-share issues within the Western community. Now, we know the name: WesternJet.
The CAM program describes WesternJet as a carrier "for students, by students," flying routes for their peers whose lifestyles involve regular commutes to and from London. The program states that WesternJet will launch this summer with short haul flights from London International Airport. The routes will initially include Windsor, Tillsonburg, Burlington Executive Airpark Airport, Toronto Islands and Cornwall. Long haul routes are to debut in winter 2019 to destinations including LaGuardia Airport in New York and Fort Lauderdale Executive Airport in Florida for winter break and reading week.
According to the CEO and president of WesternJet Ibro Azamat, "These routes are extremely difficult to plan as past flights were unable to proceed due to the heavy presence of Canadian geese." The runway, placed at the foot of University College hill, will hope for the best concerning geese delays.
In order to be competitive with current ride-share options, WesternJet will price match any current ride-share offers on the various Western rideshare Facebook groups. The program's chief financial officer, Kite Ling, stated, "Through the utilization of student co-op regulations, we are able to cut almost all labour costs, which allows us to have a healthy profit margin."
"The team at WesternJet aims to provide an innovative approach to handling the ride-share problem at Western University," stated Azamat. "We supply semi-qualified pilots and management that will help this initiative take off, and most importantly, provide the pilots and management real world chances to screw up." 
"WesternJet will offer two fare prices: The basic OSAP Fare is a partially subsidized ticket that offers bottled water and an inflight snack," said Ryan Lift, vice-president of Inflight Services. "The premium Mustang Fare will additionally offer one free checked bag and aux cord privileges during the flight."
We also interviewed the chief pilot of the airline, Ryan Wall. "After passing my multi-engine rating two weeks ago, I have the utmost confidence in not only myself, but all of our line pilots to offer exceptional service and smooth flights," Wall stated.
These line pilots, including Nick Chilli, Sean Boddy, Stephan Wirt, all stated that they are ecstatic to put their Commercial Pilot Licenses to use and fly their fellow peers across Ontario. 
Describing WesternJet's visual identity, Simeon Level, vice-president of marketing, said in his statement that the aircraft livery will be "inspired by our signature Western purple, which symbolizes the airline's roots, enthusiastic management and over the top services." Li added that the airline's name, WesternJet, was "inspired by the aspirations of students wanting to become jet airline pilots and stunt on their peers."
Later this month, WesternJet plans to release further details on their pricing, pilot uniforms and full schedule. They also plan to release photos of their first aircraft, which they have nicknamed The Mustang of the Sky.