Today we hear of millions of dollars being donated to Western University in support of research projects, student scholarships and state-of-the-art technology. Entire buildings on campus bear the names of some of Western's wealthiest philanthropists.
Yet, one of the most valuable donors in Western University's history goes virtually unnoticed by students. 
In 1918, one of the university's first private benefactors gave his life savings to Western. Unlike most donors, his contribution wasn't money, stocks or bonds: it was books — nearly 40,000, which built the foundation of Western Libraries.
The donor was John Davis Barnett, a boisterous, well-known man who prided himself on never shaving his lengthy beard. Very little is known about his life; the few news clippings and articles written about the bibliophile focus on his love for collecting books of every conceivable subject.
By the age of 70, Barnett had amassed historical artifacts ranging from early 16th century Hebrew texts to 1,500 bound volumes of Shakespeare.
As one of the greatest unknown book connoisseurs in Canadian history, Barnett had entire collections dedicated to history, science and technology.
Debbie Meert-Williston, special collections librarian at Western Archives, has spent the past few months cataloguing books from Barnett's collections, which are scattered across campus. 
"We've basically had to piece his life together," says Meert-Williston, who recently spent part of her job searching through books from across campus, hoping to find Barnett's gothic-style bookplate — a signature identifying his collection. The odd time, she will open one of his books and find a note or a letter providing more insight into the mysterious Englishman's life. 
According to Meert-Williston, in the wake of the 20th century, Western had around 3,000 books before Barnett's donation, which was considered very little at the time. During this period, students didn't have easy access to information like they do today. If they wanted enlightenment, they had two options: talk to a knowledgeable professor or pray there was a book on the subject, making Barnett's century-old donation a significant one.
"I think that his donation was an important factor in this university surviving and thriving as an institution," says Meert-Williston.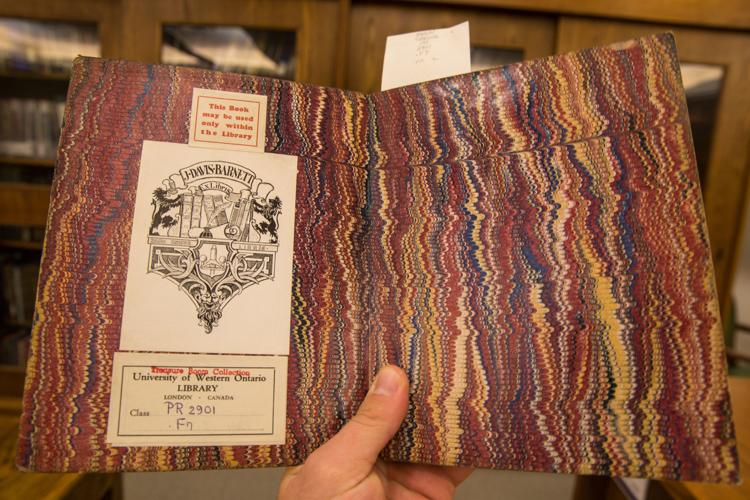 Anne Daniel, associate archivist at Western Archives who has also been tracking Barnett's work, agrees, stating that his donation set the stage for Western's emergence as a research-intensive university.
In October of 1866, at the age of 17, Barnett immigrated to Montreal from England. There are two things we know for certain that he brought with him: ambition to thrive as an engineer and a shabby trunk with just over a dozen novels. 
Having studied civil engineering in England, it wasn't long before he worked his way up the ranks in Montreal at the Grand Trunk Railway, from apprentice to chief draughtsman by the age of 21. He also designed Canada's first coal-burning locomotive.
During the four decades he worked for the railway, Barnett's book-collecting hobby became a second love. He travelled to big cities, like New York and Boston, and to small towns, entering every faded, shabby bookstore he came across, finding a Greek Bible here and a first edition of Shakespeare there.
Following his retirement from the Grand Trunk Railway, he eventually moved to Stratford, Ont. But his travels continued to nurture his collecting gene. As he moved along the rigid tracks, he continuously added to his collection. With the train pass from his time at the railway, Barnett moved freely across the nation.
"From at least age 12 to when he died,… he was collecting. It was over 50-plus years of collecting," says Daniel.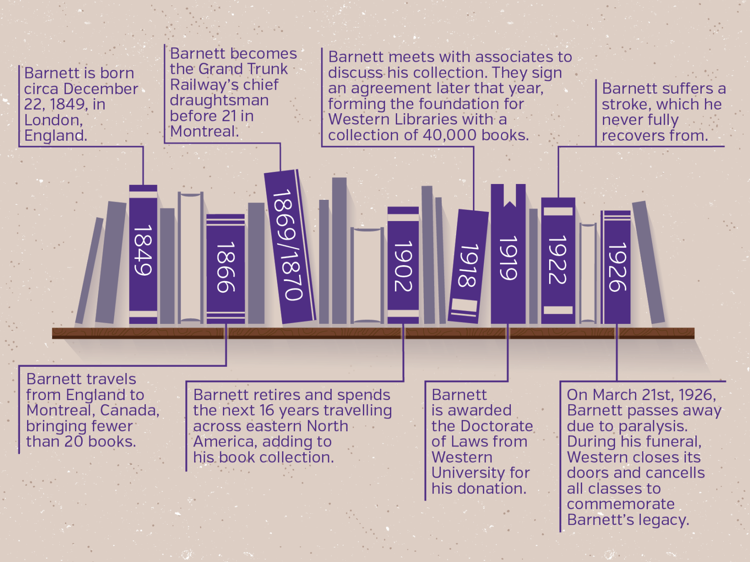 Barnett did not plan on hoarding these books in his home, as his intention was to ultimately donate them to an academic institution where they could be used for education. 
However, that institute wasn't initially Western. 
According to Daniel, an early draft of his will had stated that the books would go to McGill University, but toward the end of the First World War, he became increasingly concerned about the future of his collection, since he was reaching an old age and wanted to find a definitive location for his books. Things fell through with McGill. Why? We don't know.
Barnett later entered into talks with Fred Landon, a librarian at London Public Library at the time, who suggested on July 30, 1918 that Western would be a good home for his collection.
"Landon said to him, 'You should think about sending your books to Western,' and that sort of started the process," says Daniel. "He started talking to the chairman of the board of governors at Western, and they drafted an agreement to Western." 
The man of books hoped his collection would become the nucleus of a national public library. Barnett, Landon and Charles Ross Somerville, chairman of the board of governors at Western, eventually penned out an agreement that satisfied the bibliophile's needs.
Daniel notes that Barnett had specific conditions that Western had to adhere to in order to receive his collection. She believes that he wanted the books accessible to all, and kept in one location. He also wanted to be the first curator of the collection, which he continuously added to throughout the early '20s. 
In 1918, Barnett found another home for the books at an old school on Cheapside Street in what was known as the "library annex." They were later moved to main campus in the summer of 1924.
"He wasn't a librarian, but he knew these books. He collected every single one of them," says Meert-Williston. "He understood them. He used them to help people. He really became the first librarian at Western, even though he technically wasn't a librarian."
For the next four years, Barnett was heavily entangled in his collection, until he suffered a stroke that left him unable to move. He spent the rest of his life in Victoria Hospital, where he died in 1926 from paralysis. 
Not only was he awarded an honorary doctorate of laws from Western in 1919 for his donation, but on the day of his funeral, Western shut its doors and cancelled all classes. 
"He was actively engaged with the students. A lot of students had come to know him as an important, well-known [individual]. At that time, [he was] considered a founding father of the library, which would have had a significant impact on students ability to study, on faculty to teach and just on the university to offer a higher level of education," speculates Daniel.
While we may not know everything about Barnett, there's one thing we do know: his life work was about making information accessible to all. He was a man ahead of his time, trying to craft an egalitarian society using 40,000 books. His story will continue to be recovered as Western Archives finds more trinkets of information within his collection.
And while his collection's market value may not amount to the thousands of dollars poured into donations by Western alumni every year, his donation was the equivalent of 40,000 seeds, planted a century ago, that grew into the hundreds of thousands of books used by today's Western students.
Be sure to attend one of the upcoming events being held at D.B. Weldon Library and London Public Library commemorating Barnett's life.