Western's TA and postdoc union demonstrated on Concrete Beach Thursday alongside the London chapter of the Young Communist League of Canada.
The Public Service Alliance of Canada's Local 610, which represents Western University's graduate teaching assistants and postdoctorals, was protesting Premier Doug Ford's mandate on Ontario universities to create freedom of speech policies. As they marched through campus to shout outside president Amit Chakma's office in Stevenson Hall, they were joined by students and Londoners active in the local and provincial communist scene.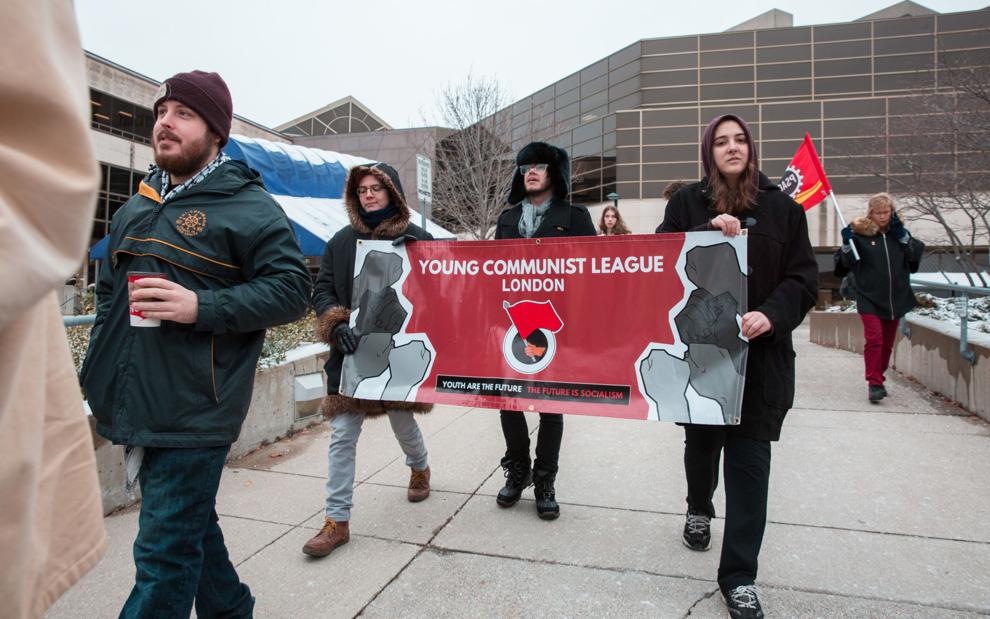 The "Day of Action" was jointly organized between PSAC 610 and the London YCL; its date coincided with a provincial "Day of Action" planned by the provincial YCL. PSAC members decried an assault on academic freedom, while the communists warned the policy would protect fascist speech.
In interviews, officials from PSAC and the YCL have described some ideological overlap on workers' rights.
On top of funding received from the university, PSAC collects union dues from all of Western's 2,200-plus TAs and postdocs, and negotiates collective agreements with Western for their members.
"[The Local] is where they go for help, where they meet to discuss workplace concerns, where they elect their local representatives and where local members vote on proposed contract settlements," they state in their handbook. "The Local is where members go to connect to the union."
Communism in the Forest City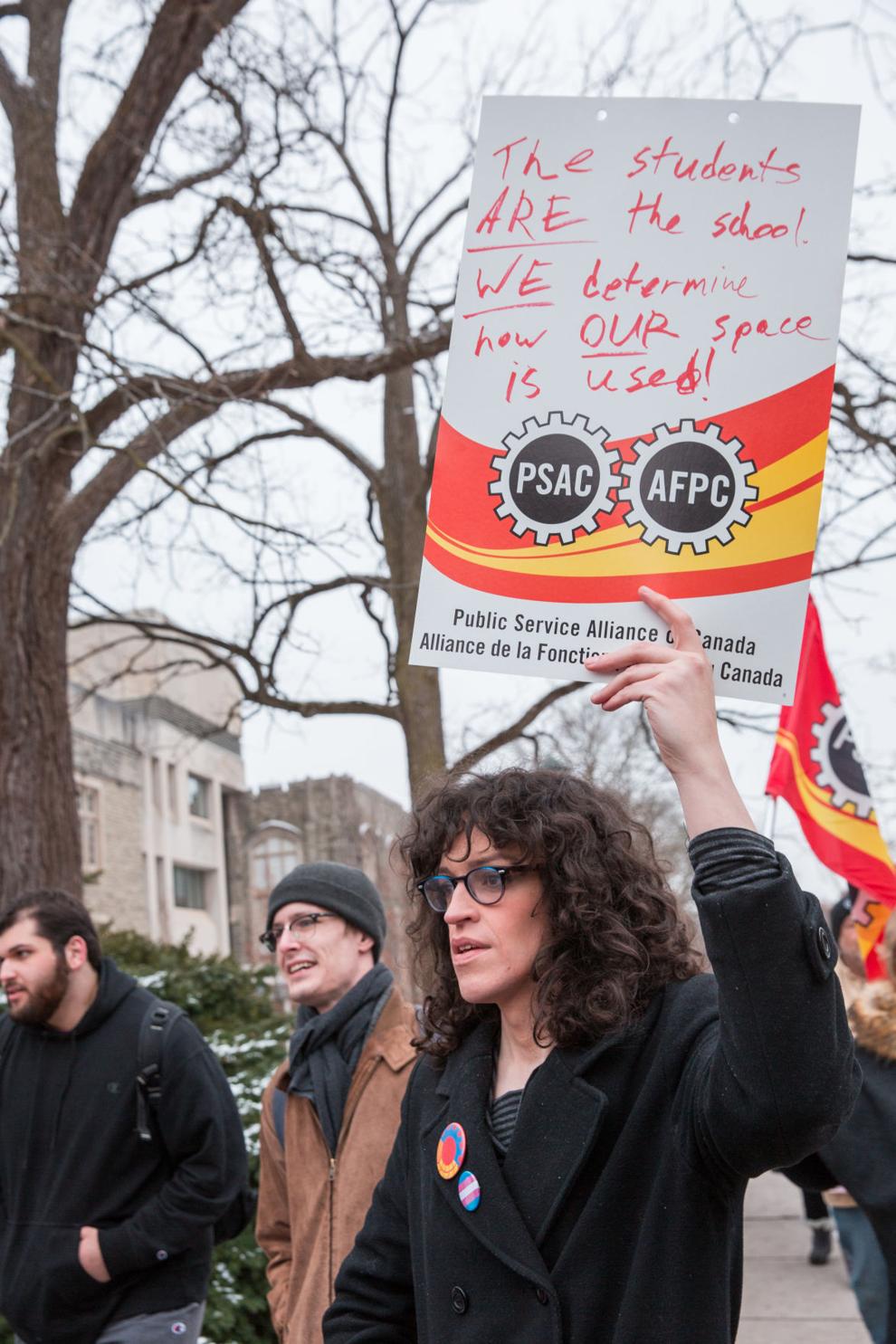 Everett Newland is a PSAC steward for Western's anthropology department, where she is a master's student and an organizer with the London YCL. On the PSAC-run event page on Facebook, she posted an essay she wrote for Rebel Youth, a socialist magazine that has printed since the early 20th century.
Titled "For the Right to Disruptive Protest," it criticizes a spread of fascism into education, typified by the free speech policy, and calls for "revolutionary change."
"As capitalism reveals its internal contradictions, we see a growing fascist movement that enforces capitalist ideology in the boldest, most repressive terms," it reads. "Disruptive protest is a powerful tool in the resistance against the privatization of education and the conversion of campuses into nexuses of capitalist ideology and fascist reaction."
In an interview after the demonstration, she said "revolutionary change," despite how some would interpret it, meant only the gradual building of a movement against capitalism toward a socialist alternative — not a single launch into utopia.  
Accompanying Newland on Concrete Beach were a handful of members from the London YCL, who walked abreast through campus holding a banner bearing the YCL's red flag logo. PSAC and the YCL were joined by protestors from the Fanshawe College Faculty Union, of the Ontario Public Service Employees Union.
One of the demonstrators was Clara Sorrenti — former Western student, current YCL member and MPP candidate for London North Centre with the Communist Party of Ontario in 2018's summer election; Terence Kernaghan of the NDP ultimately won the seat. Kernaghan planned on attending the march but instead provided a speech against Ford's policy to a PSAC 610 member to read.
Sorrenti joined the march to the back of Stevenson Hall, where the demonstrators shouted up to the rear window of Chakma's office. One window was open when the chanting started, but it was closed quickly after.
In her interview, Newland said that socialism and communism have many interpretations but that the movement as a whole was becoming more popular.
"There's a communist movement that's building again right now, and it's becoming larger and larger for a generation that hasn't been cowed by all the McCarthyism of the past," she said. "And we accept there are things that didn't work out in the past, and we are learning from this. The point of Marxism is to learn from history."
PSAC and YCL in partnership
Katelyn Mitri, PSAC 610's president, said in an interview she was unsure of members' overall sentiment toward YCL London's relationship with PSAC, though she remembered one member who was upset.
According to Newland, the YCL and PSAC are both a part of the labour movement.
"The people who are higher-up in PSAC 610 largely look at us as people who are willing to provide support and help organizing; that's what they care about," she said. "We're helping with the labour movement, and that's always what we've been willing to do."
When asked about the anti-capitalist ideas in Newland's Rebel Youth essay in an interview last week, PSAC's Mitri said that they "go hand in hand with what unions stand for."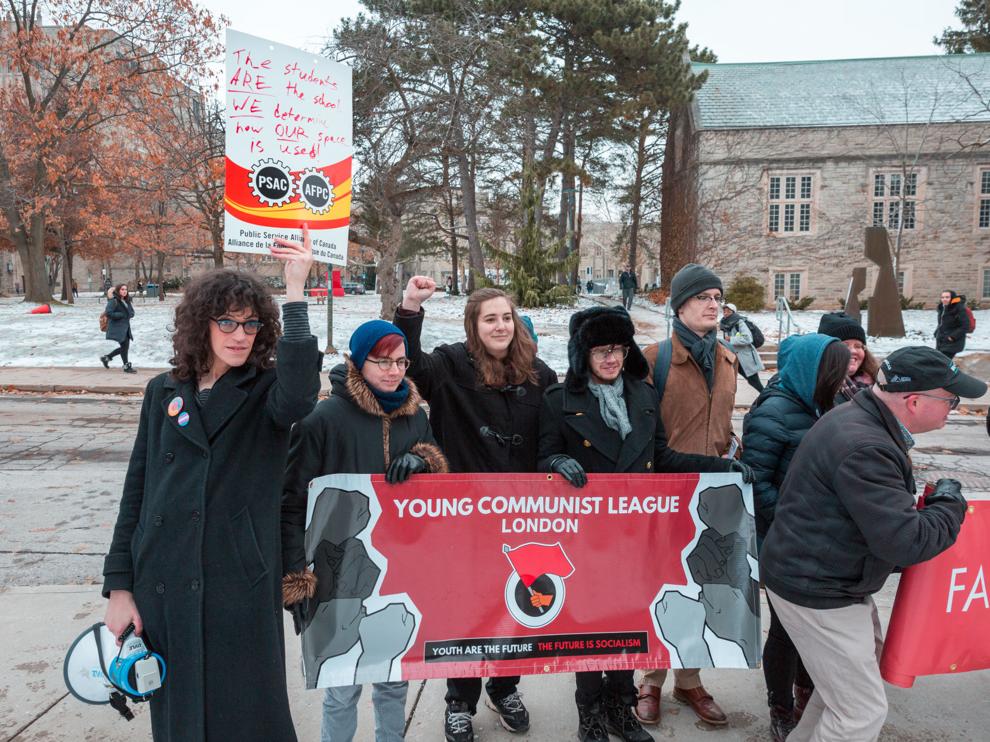 PSAC 610 is financially entrenched in campus by funding from its members and the university. According to independent audits published on its website, as of summer 2017, the Local had $657,230 in reserves across three funds for expenses like staff compensation as well as health insurance and financial assistance for members.
The Local received $190,000 from Western that fiscal year. They collected $120,000 in dues from members, which are mandatory for all TAs and postdocs on campus.
PSAC's criticism of Ford's free speech mandate is only part of their activism in recent weeks. This month, they've protested the Ontario Progressive Conservative's curtailment of Bill 148 — the Liberals' $15 minimum wage bill — and occupied Liberal MP Kate Young's office to support unionized Canada Post workers battling the government at the bargaining table.
As the demonstration on Concrete Beach finished, a visitor invited marchers to protest on Saturday in a rally against the federal government's use of back-to-work legislation on the postal union.
The YCL has also protested recent Progressive Conservative policy. The group attended two trans rights marches at Victoria Park, most recently after the provincial government's proposed stance to remove gender identity from the sexual education curriculum, which has since been overturned.
Sorrenti, a trans woman, spoke at the first meeting in early November, where she was joined by some of the League members who were on Concrete Beach, as well as Kernaghan. Newland spoke at the second meeting last weekend, and invited protestors to Thursday's Day of Action.
Protestors passing by Chakma's office. pic.twitter.com/0z9YmGZhfj

— Martin Allen (@mtrallen) November 29, 2018
On Concrete Beach, Newland railed against a free speech policy she said would protect fascism spreading into the academy. She marched to Stevenson Hall while PSAC officials led chants through megaphones that echoed down campus' corridors.
"I would encourage people to think about the power dynamics that are at play here — who are the ones complained of being silenced," she said in her interview. "Is it somebody who has trouble finding a voice in society?"