The "super moon" eclipse on September 27 sparked sky-rocketing excitement on Western's campus. Students were camped out on UC Hill and stood for hours outside of Cronyn Observatory in hopes of seeing the phenomenon.
These rare astronomical events get a lot of hype, but that doesn't mean it was the "be all and end all." If you missed the super moon, there is still more to see in our night sky before the winter term is up.
Astronomy and physics professor Jan Cami is an avid stargazer himself and explains January will yield a number of visible planets.
"Jupiter you can see right after midnight," he says, explaining students will need to wake up earlier to see a wider variety of celestial bodies.
"In the morning, the planets become interesting because you have Jupiter, you have Mars, and you have Venus and Saturn."
Even more exciting is the Comet Catalina, which will zoom closest to Earth on January 17 near the handle of the Big Dipper. This comet only has one pass in the existence of our planet and requires no more than a pair of binoculars to identify. 
Cami notes you don't need expensive equipment to have a successful night of stargazing. The moon, planets and constellations are easily visible with the naked eye.
"Learning the constellations, finding the constellations, it's kind of a fun thing to do," he says. "It's something for which you don't need a telescope."
But if you are interested in having a closer look at these objects, the Cronyn Observatory, located on campus beside Alumni Hall, is at your disposal. Just look for the dome-shaped building, known to be painted orange by engineering students in October.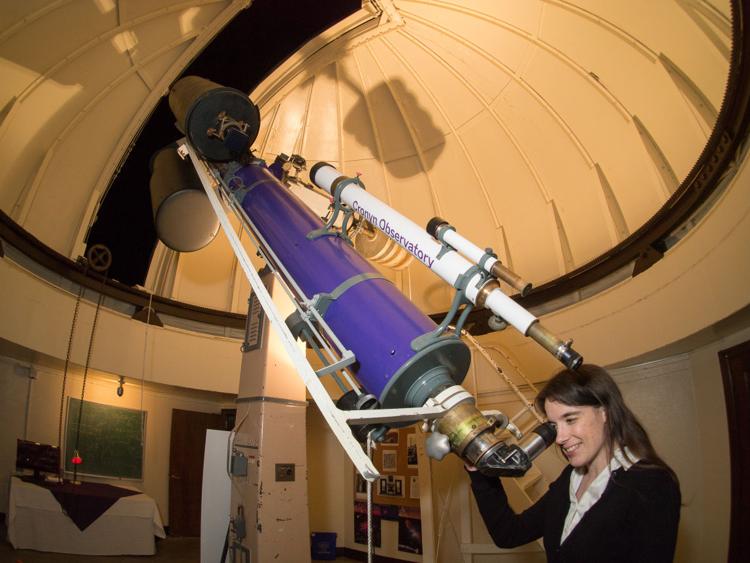 As director for the observatory, Cami explains there are a number of programs students can attend outside of class, such as monthly public nights and Exploring the Stars workshops. These programs are run in partnership with the Royal Astronomical Society of Canada.
"We actually often get student groups that just want to hear something about a specific topic in astronomy," he says. "You can book it if you go to the Cronyn Observatory website."
A reservation requires about 15 people and it's free.
"We always have professional astronomers there to give presentations and answer questions," he says.
First-year health sciences student Nicole Bagshaw is enrolled in Astronomy 1021 and finds the most interesting part of class has been visiting the observatory for projects.
"I've never looked through a telescope before, let alone one of that magnitude or size," she says. "You always hear about other galaxies and stars out there but actually seeing them for yourself is a really cool experience."
Bagshaw was most impressed with the super moon presentation a couple months ago. She says she was surprised to learn that the observatory was available to students outside of coursework as well.
"We regularly have people come in and ask us, 'oh, can you point it to this nebula or this galaxy?' and we will always be happy to do that," Cami adds. "I think it's a great source of information and know-how."
Interested students can also volunteer at Cronyn. While the Exploring the Stars program is run by graduate students, volunteers can help with public nights — especially during the busier spring and summer months.
Cami says there are a number of additional resources for students to scope out the sky on their own and stay informed with astronomy news.
Taking out his iPhone, Cami reveals which stargazing apps he regularly use, such as an online sky simulator called Stellarium.
"What I like about Stellarium is that it's free," he says. "It's open source, so everybody can use it and you don't have to pay for it."
Other useful apps include Starry Night and Star Walk.  
"[Star Walk] allows you to just point your camera to the sky and it will tell you what you're looking at."
One of Cami's favourite places to visit is the Astronomy Picture of the Day — a site maintained by NASA to showcase brand new images and astronomical discoveries.
"The first thing I do in the morning is look at the Astronomy Picture of the Day," he admits. "I love this site".
There are a number of other events coming up at the Cronyn Observatory for students to enjoy, including a Mercury transit on May 9.
"This typically happens only a few times per century," Cami says. "It starts early in the morning but lasts until 2 p.m. so we will have an event at the observatory for that."
Cami urges anyone interested to make use of this convenient resource.
"Anybody that has any burning question about either astronomy or wants to see some type of object can just come over," he says.