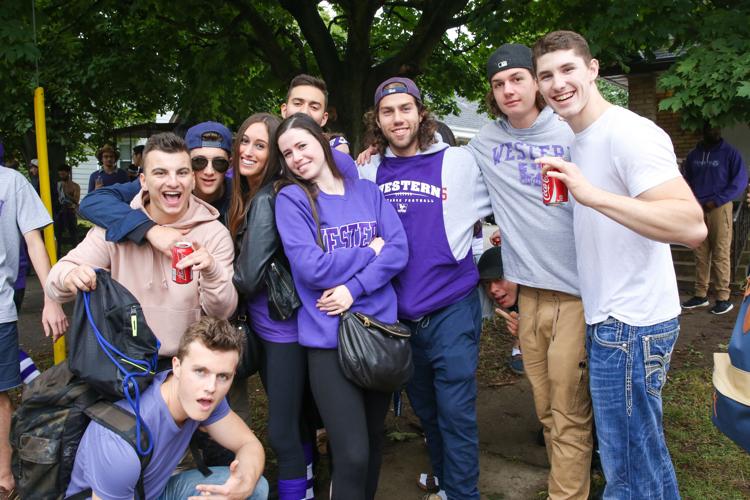 With the second-annual FOCO unfolding on Saturday, multiple Western University students say they've received warnings from university members.
Theo De Bono started a Facebook event for FOCO that's attracted close to 5,000 attendees and another 3,000 "interested" members. The third-year King's University College student said King's dean of students, Joe Henry, approached him after his class on Monday to discuss his FOCO plans. DeBono said the dean reminded him of the repercussions associated with celebrating FOCO, mentioning underage drinking and bodily injury.
"He restated many times he's not able to tell me not to throw a party, [and that he] just wants to make sure people are enjoying themselves responsibly," De Bono said.
Jane Antoniak, King's manager, communications and media relations, said Henry was concerned because De Bono was named in a London Free Press article and planned to hold a potentially illegal street party."
"It really is the dean of students responsibility to advise students of potential illegal activities that he becomes aware of," Antoniak said.
Another Western student received an email from Campus Police about a Facebook comment she made in June about FOCO. The student, who wishes to remain anonymous, posted last year that it was likely the event would happen again for a second time. Campus Police then sent an email this past Sunday, inviting the student to campus police's office to discuss the comment. The officer followed up writing that Western doesn't support FOCO and that any violation may be handled under the student code of conduct. The student chose not to reply.
Campus Police said they were looking into the incident.
"We're constantly concerned about students' safety on or off campus at all times of the year, and we just want people to act responsibly," said Sgt. Michael Davidson.
Other students have speculated another Facebook group was deleted for similar reasons. A Facebook event comparable to DeBono's, titled "FOCO 2.0," was deleted yesterday afternoon around 1 p.m. The creator of the group — a Facebook user under the alias Jonny Fiezier — posted in the group stating the event had gotten out of hand and advised students to stay at home on Saturday. The fake account was also deleted.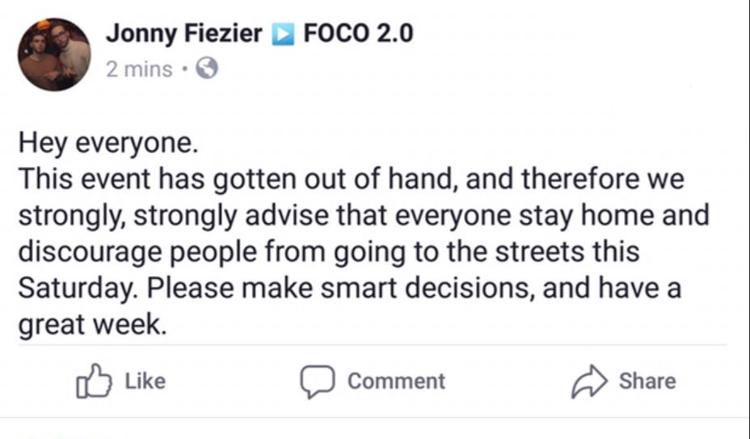 Otherwise, John Doerksen, Western's vice-provost (academic programs), said Western's senior administration has not directly contacted any students about FOCO this year.
He mentioned Western's student code of conduct does have provisions for off-campus incidents, but that the administration would review these incidents on a case-by-case basis. Under the code, off-campus conduct that would adversely affect the health, safety, rights, security or property of the university or its members and visitors is subject to discipline.
London Police Service has also spoken out about the unsanctioned event. London police aren't referring to FOCO as an illegal gathering; instead, Sandasha Bough, LPS constable and media relations officer, said they are referring the event as an "unsanctioned gathering."
A LPS media release said they will maintain a highly visible presence in the areas directly adjacent to Western University "during the unsanctioned Fake Homecoming street party." Western also released a statement writing the university strongly advises that students do not attend the event this Saturday.
Bough said LPS's biggest concern is ensuring emergency vehicles are able to get through and help individuals in need of urgent care. She said LPS will take a strict but fair enforcement approach.
"If we can keep the students in the yards, in the residences, that's what we want to do," she said. "We just want to ensure public safety."
Doerksen also urged students to not only think of themselves as Western community members but as London community members this weekend. He invited students to show their school spirit at the school's official Homecoming on Oct. 20.
However, it's safe to say many students, including DeBono, will still likely still celebrate FOCO this weekend.
#foco is gonna be lit 🔥🔥🔥🔥 @lpsmediaoffice

— SirDanceALot (@MaxBauus) September 27, 2017
"At this point, yeah I'm still going to have my friends over and enjoy the afternoon. I don't think 4,000 people are going to show up. But who knows," De Bono said.