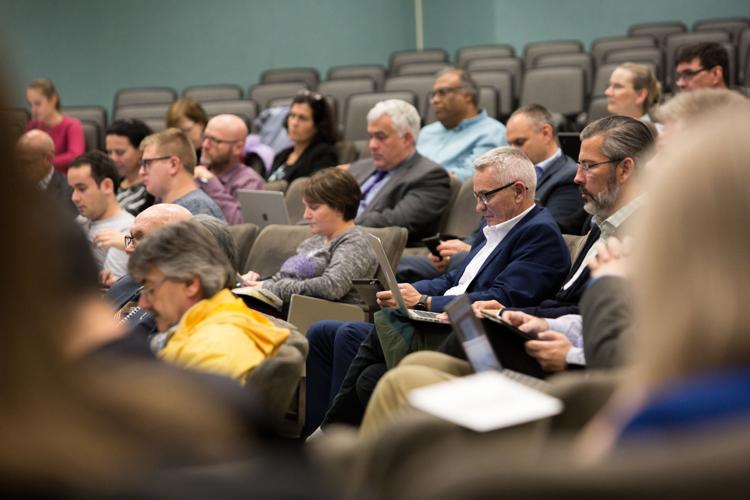 The University Students' Council celebrates a waited win after three motions concerning student-life were passed by Senate on April 12.
The Senate Committee for Academic Policy and Awards mediated the referral of the motions by working with the USC and student senators to reach an agreement about Fall Reading Week, the designation of "Honors" to "Honours" and accommodations for illness for undergraduate students. 
Fall Reading Week was in a two-year trial period ending in October 2018 and is now permanent. According to advocates, it was initially scheduled too early and didn't coincide with midterms, leading to the creation of an ad hoc subcommittee — led by John Hatch, visual arts professor and chair of SCAPA — to determine a better date. 
The final decision comes after a lengthy deliberation from the FRW ad hoc committee created to determine a better date that would benefit all

— Rania Osman (@_raniaosman_) April 12, 2019
Hatch pointed out that the only group benefitting from the original FRW date was first-year students, giving them a break to better adjust to their new university life. He also pointed out that the subcommittee decided to bring down the fall term's 62 days of teaching to 60 to "give more flexibility to move Fall Reading Week." 
FRW will take place the third week after Thanksgiving Monday. 
"The USC worked close with student senators and all faculty and affiliate student councils to talk about what the issues were," said Danny Chang, USC vice-president. "We negotiated with everybody and came to a really good solution."
The designation of "Honors" will be replaced by "Honours", taking effect in October 2019. The USC conducted a survey via student centre and found that students preferred the Canadian spelling instead of the American one because they identify more with it. Apart from diplomas, the -ours spelling will be used in all official documents at Western. Students graduating this year who wish to have the -ours spelling must pay a fee to have it changed.
Senate also passed the "Consideration for Student Absences – Undergraduate Students in First Entry Programs" policy, which allows students to fill a self-declaration form to report twice per academic year resulting from illness or other extenuating circumstances. Chang said that it is an "honoured based" system because it is giving access to students to sign-in online and get an accommodation. 
The policy doesn't apply to exams or work over 30 per cent. It will be in a three-year trial period and will take effect September 2019. 
SCAPA's ad hoc committee still needs to determine a date for the Fall Preview Day now that FRW has been moved.