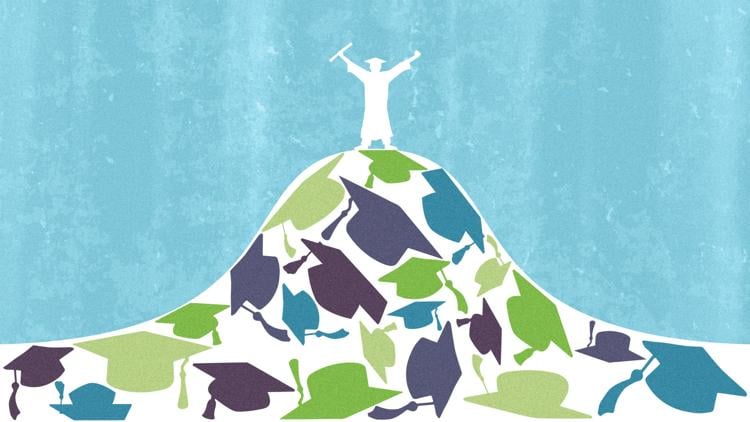 It's not an easy feat to achieve good grades in university. While students work hard for high GPAs, many instructors work to maintain a set class average.
To do this, grading on a curve — also known as bell curving — is a common practice. While there are different approaches, generally students' grades are distributed over a normal distribution, and the majority of students receive a grade close to the predetermined average. In some cases, bell curving can shift an entire class's grades up or down.
First-year engineering student, Niall Murphy, has been on the losing side of this practice. After writing his physics final exam in the summer, Murphy was confident that he would finish with a high grade in the course.
But when final grades were released, Murphy was not satisfied. His professor announced on OWL that everyone's grades had been lowered to meet the department's set average — an average that had to fall between 65 to 75 per cent. 
Unhappy with this reasoning, Murphy and his friends appealed to the physics department. After about five weeks, they received a rejection from the department with the same explanation: according to policy, the course average must conform to the department's set range. Murphy still wasn't satisfied with this response, so he submitted another appeal to the dean of the Faculty of Science.
"The professor never mentioned there was a set average for the course," Murphy said. "There was nothing about [adjusting grades] in the course outline, ... so I appealed to the dean on the basis that we weren't given sufficient warning."
Within two weeks, the Faculty of Science's assistant dean of first year studies notified Murphy that his appeal had been granted and that every student's final grade would be reverted back to the original. For Murphy, this meant his final grade increased by eight percentage points. The assistant dean said the decision was reached because the instructor never explicitly wrote in the course outline that grades could potentially be altered. According to the academic policy in the physics department, in order to make grade adjustments, the course outline must contain the statement: "The department of physics and astronomy may, in exceptional cases, adjust the final course marks in order to conform to Departmental policy."
---
As a university, Western University does not mandate a general range of set averages, according to John Doerksen, vice-provost of academic programs.
He says Western's administration has no direct influence on how many people will receive A's or B's in a given year or how many will fail out of school. Instead, setting and maintaining averages falls to departments. Overall, he said not many students flunk out of university. 
"We actually have one of the highest retention and graduation rates of all the research-intensive universities in Canada," Doerksen said. "Approximately 94 per cent of our students move from year one to year two." 
While Western does not regulate a university-wide average, it releases departments' undergraduate grade distributions annually. The statistics state the percentage of students who received A's and B's and those who received F's. From the data collected for the 2016-17 academic year, the Faculty of Science had the highest percentage of students who received F's at 5.3 per cent, while students attending the Richard Ivey School of Business had lowest percentage of students receiving F's at 0.6 per cent with 92.3 per cent of students receiving A's and B's.
According to acting associate dean of science, Ken Yeung, the Faculty of Science does have a set range of class averages to maintain consistency each year. If a class average is considerably higher than the set average, it is brought to the department's attention. 
"When the student pool is large, such as over 1,000, we have no reasons to anticipate any significant fluctuations in the overall [class average] from year to year," said Yeung in an email. "When a class average deviates from the norm, one would logically conclude the evaluation question set being the cause."
Yeung said that the department and its instructors try to avoid making broad adjustments to an entire class, and that it's a last resort. Adjustments will only be made after consulting instructors, course coordinators and the undergraduate chair. 
Conversely, Mitch Rothstein, professor and chair of the department of management and organizational studies, reported he has never seen a case of shifting grades downwards in his department.
However, Rothstein said courses in his department do have averages also set to fall within a range. He clarified that, while other business programs purposely fail a certain number of students, Western does not. Instead, Rothstein believes the department has reasonable progression requirements, such as attaining a certain grade average each year, for students to remain in the program. 
Professor and associate chair of undergraduate affairs of psychology, Leora Swartzman, said that averages tend to be lower in first-year classes and higher in upper-year classes.
"In some respect, there's a vetting process," Swartzman speculated. "Third-year students are probably, on average, better students than first-year students. … So you're left with a different pool of individuals in upper-year courses."
Swartzman recalled that, when she taught large classes, she would employ an item analysis of exam questions to determine which ones were good discriminators between high-scoring and low-scoring students. If some questions were deemed to be poor discriminators, they would be excluded in future tests. Swartzman said that this could be one of the methods to control for fairness and consistency in the grading process.
While Swartzman recognizes that grades matter for students who are aiming to attend graduate or professional programs, she believes that assigning grades should be based on merit, not on need.
Since there are no university-wide standards on set averages, the methods of evaluation can vary greatly for each department and faculty.
---
While set averages vary, the university's grading scale for undergraduate students is consistent. 
Officially, a B grade is equal to a 70 to 79 per cent, which is defined as "Good work, meeting all requirements and eminently satisfactory." Across faculties, a B grade is typically considered to be within the range of set averages, while an A or A+ grade describes that students are submitting superior work or performing above average.
In academia, other scoring practices may use the percentile system instead of actual letter or numerical grades. Using percentiles is a common practice in standardized exams, such as the LSAT or the MCAT. While Yeung acknowledged that this system eliminates test-to-test variability, it cannot adequately evaluate a student's eligibility for progression on a pass-or-fail basis.
"In a perfect universe, we would love to see every student pass and be able to progress academically," expressed Doerksen. "Our goal is to support student success wherever we can."
As for bell curving, one reason departments choose it is because it can help prevent grade inflation. The physics department's policy acknowledges students' grades must also place each student in the historical context of the course. In other words, an A grade today must be equal to an A received in the same course three years ago. Despite this, Western's faculty averages still show an increase over the years, suggesting that bell curving may not be able to completely counteract grade inflation. 
Another reason Western decentralizes its grade distribution to each department is because it helps ensure students are assessed by scholars instead of administrators. Regardless, since current policies differ across the board, departments could do more to be transparent about their practices with students.