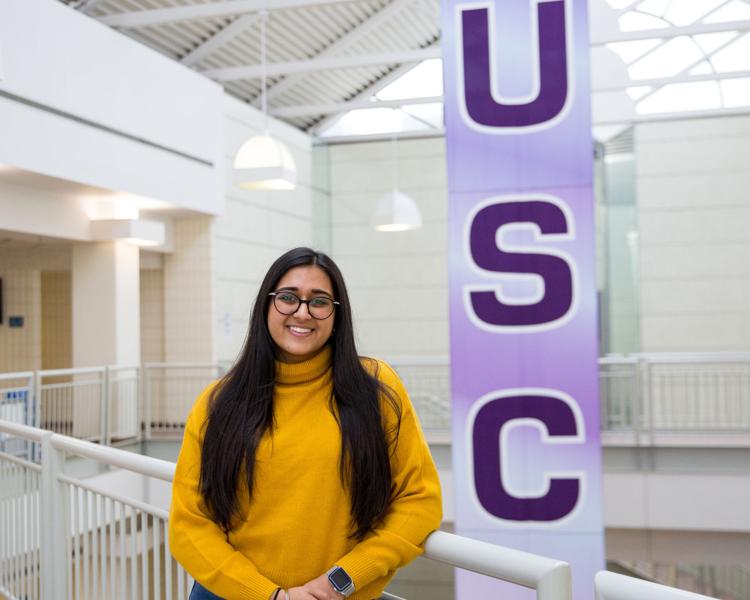 Aleesha Rehill is no stranger to taking a leading role on campus.
The fourth-year biology student announced her bid for University Students' Council president this week, one of four candidates in the race.
Rehill has spent her four years at Western University on various committees: planning semi-formal dances in her first year and moving up the sophing ladder to become the head soph of Ontario Hall in her third year.
Rehill's experience as head soph was her first taste of leadership on campus, igniting her passion for bridging the gap between people from various faculties and backgrounds.
"[The role] really started to bring out advocacy, I would say, in me," she explained. "I really had to advocate for my 50 sophs and what they need and going to my residence manager or going to the housing office and being like 'this is what my sophs need, this is what they're struggling with.'"
But the crown jewel on her resume is her role as Orientation Week coordinator this academic year.
As coordinator, Rehill was in charge of planning and executing OWeek 2019, which entailed frequent meetings with USC executives, managing a budget and coordinating an extensive team of sophs to bring together an action-packed week for incoming first-years.
Rehill said that working closely with USC executives opened her eyes to the importance and power of student government.
"Once I began working with the USC, I went from saying 'the council at our school' to saying 'our council,'" she said. "So I want every student to say 'our council.' I want every student to feel like they're a part of the USC, because they are."
Rehill wants to focus on better engaging students with their students' council, through enhancing student feedback and creating better connections between main campus, affiliates and ratified clubs.
Breaking down barriers also has a more personal connection for Rehill.
"Breaking down barriers is a really big thing for me, in my job and being a woman of colour, I've definitely felt sometimes that I was out of place or [felt] imposter syndrome or that I didn't belong," she said. "So really breaking down those barriers and making [students] feel like any opportunity is open to them."
Rehill — if elected — would be the second woman of colour to hold the presidential role in the USC's history.
As well as breaking down barriers, if elected, Rehill hopes to prioritize mental health support on campus and the anti-racism working group struck in response to an English professor using the N-word in class last semester.  Rehill is specifically looking forward for the USC and Western to write their updated strategic plans this upcoming year, allowing her to think beyond her year in office.
"I think everybody agrees there's a lot of work to be done there, and it's not an issue that will be solved overnight or in one year," she said in regards to the anti-racism working group on campus. "And that's why I think even this upcoming year, the USC and Western are redoing their strategic plans, and so we're not just thinking about the next year, we're thinking about the next four years. And so I think there's a lot of room there to start thinking critically about the bigger issues on our campus including racism."