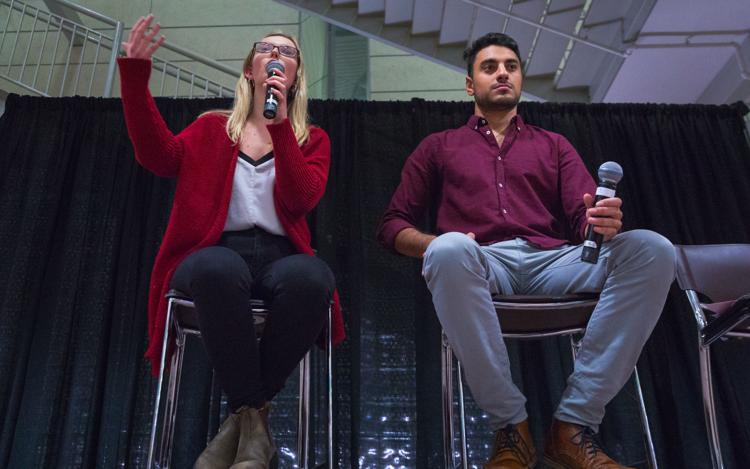 Bardia Jalayer and Catherine Dunne are fourth-year students running for USC president and vice-president, respectively. Their platform includes seven pillars: health and wellness, the student voice, academic success, student safety, life in London, student experience and affordability. Bardia+Cat outline that the core of their platform reflects the actual challenges and concerns that students need to overcome. 
Sexual violence prevention
Sexual violence prevention is the area where this platform truly excels. The recommendations to reform police "approaches" regarding sexual violence at Western University are not only specific but survivor-centered. These include appointing an independent investigator (ideally from Anova), introducing rape-shield protection, and face-to-face protection for survivors.
The platform also focuses on informing people about the process to report sexual violence and being sure to keep those who do report in the loop about progress. Further, Bardia+Cat want to create a process for sexual violence outside of the student code of conduct. The creation of a stand-alone policy is something that Western lacks, but needs. Overall, their platform points on sexual violence contain concrete recommendations that provide insight into how to best protect women. The concreteness of these policy points stands in contrast to the vague ideas that ForYe provides in their platform. 
Provincial response
The most important question hanging in this election is how each slate will deal with the probable provincial changes to universities. With the University Students' Council's funding coming mostly from ancillary fees, the prospect of an opt-in option threatens the very existence of a student government. As such, the primary question on voters' minds is how the incoming PVP will deal with this change if it occurs. Here is where the gap in Bardia+Cat's platform lies.
In their initial platform release, there was no mention of a plan for how they may deal with educational cuts. In the media debate on Jan. 23, Cat insisted that the inclusion of a plan would be premature as details of the provincial government's plans have not been released. However, Team ForYe included an extensive plan to inform students about the necessity of ancillary fees. This sentiment was surely welcomed by voters, especially those who are worried about the changes.
Bardia+Cat since released a broad plan highlighting an advocacy based approach to combatting educational changes, were they to come. But earlier deference concerning these changes seemed like an idealistic way of dealing with an issue that — looking at the PC track record — will most likely come to fruition.
Health and wellness
Though mental health is usually the centre of this platform point, Bardia+Cat focus on other parts of wellness. 
There is a direct focus on promoting women's health. This can be seen through the promise of free menstrual products and the removal of the 45 minute mandatory video to receive birth control. These are areas where female students face more hurdles than their male counterparts.
When it comes to mental health, they mention expanding crisis counselling and creating a system to help students receive the most specific help for their needs. Further, they want to increase privacy in the Wellness Education Centre as they see an issue with the glass walls it currently adorns. They also focus on education by creating programs to educate students on mental health first aid. 
Another area of wellness covered is healthy food. They hope to introduce an ingredient list for The Spoke and the Wave to help students make healthy decisions and to provide more Halal, Kosher and vegan options.
These policy points are both specific and achievable — a theme throughout this platform. These ideas can help students make better choices and specifically help minority groups. 
Academic success 
Bardia+Cat focus on reforming academic accommodation in their platform, though they mention keeping the Fall Reading Week and increasing study space. The specific policies to help students control their academics is the stand-out here. They advocate for missed academic work relief, which would allow students to self-report missing any assignment under 15 per cent. This strategy would surely be welcomed by students and could prove effective for reducing stress. 
They are also looking to revolutionize academic counseling to introduce online booking. This could certainly help students access academic counseling as the current drop-in system has many flaws. Another point in the platform is to adequately train counselors in mental health support and cultural sensitivity. Some students report having negative experiences when trying to get accommodation and this initiative may have the potential to help students.  
Affordability 
The final major platform point focuses on helping students receive the best student experience without spending too much. As such, they will introduce tax-free Thursdays to help students save money while eating out at The Spoke and the Wave. This is an interesting goal, as the savings for students will be minimal and may promote more spending on this day. 
They also advocate for freezing tuition, which, while important, is most likely unachievable if the 10 per cent tuition decrease is introduced next year. This illustrates again the fact that the platform did not adapt to the Ford government's announcement. 
There is a point on expanding financial aid and offering more grants, but there is no direct plan on the execution of creating more grants.
Overall, this platform excels in areas such as sexual violence, health and wellness and academic success. Unfortunately, due to the lack of preparedness regarding the provincial changes, the affordability section is lacking tangible changes that will help students. This is not to say that Bardia+Cat will be unable to react to changes in ancillary fees, but it is difficult to guess their strategy when we do not know their views.
Note: This article has been updated since publication in our print issue to reflect that Bardia+Cat released material in reaction to the provincial announcement.