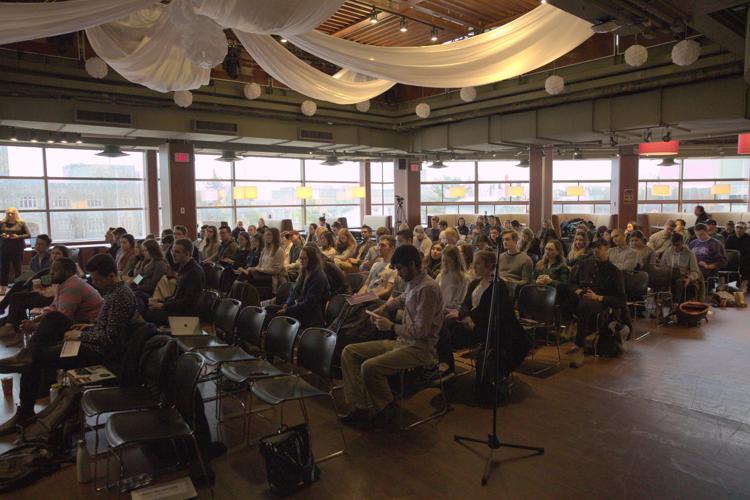 A much-needed replacement for the USC's elections demerit point system made it through council at Sunday's meeting.
The motion to amend the Elections Governance Committee's violations procedure scrapped the entire demerit point model for a simpler alternative: there are now only major and minor violations, with each category requiring unique sanctions.
Previously, the University Students' Council used a demerit point system to penalize candidates during elections. Candidates' violations of campaign guidelines — which limit things like campaign dates and locations — would elicit points corresponding to the severity of the infraction. After a certain threshold of demerit points is reached, it varied in different elections, candidates would be disqualified. For example, for the president and vice-president election, candidates were dismissed after 30 points. This happened in the 2015 USC elections when Team Litchfield was disqualified.
Candidates were seriously punished only for their final, disqualifying violation: this led to a system where candidates could invest demerit points into the success of their campaign.
The new model was proposed by social science councillor Keaton Olsen on Sunday. While the new system doesn't change how minor campaign violations are treated, major violations are better defined and have tougher punishments. 
Olsen's recommendations depart from the previous demerit system mostly in its new major infractions. These include "action or conduct which represents a flagrant undermining of the purpose and effect of the electoral process" and "repeated and willful violation" of elections by-laws.
If the EGC finds a major violation, they will have two options: disqualify a candidate or void the entire election.
The motion was intended for an earlier meeting, so that it could affect February's elections, but it was delayed. It is likely that Olsen's system would have benefited students' recent votes, and some councillors seemingly agree.
At Sunday's meeting, a councillor asked his peers, "if you didn't rack up 29 demerit points, why didn't you?"
Since rules are created to prevent unfair advantages, whichever candidates break them the most have the most advantageous campaigns.
The last election would have been affected by the new system. In this election cycle, a candidate for social science president, Adam Khimji, sent a mass-email to thousands of students, violating both school and elections policies. Khimji reached thousands of voters and received hundreds of responses to a platform survey he was peddling. Whereas this would likely be considered a "flagrant undermining," the candidate received 10 demerit points — half his maximum — and was allowed to continue in the race, despite reaching nearly every voter by a disallowed means.
This incident is the quintessential failure of the old demerit point system. If the motion had not been meant for Khimji's cycle, one might guess similar recommendations would be drafted in response to it. The motion's debate on council floor was like a reflection on this past season, as several councillors described student distaste for the demerit system. The motion itself mentions the "public opinion" of demerits as a reason for considering its alternative.
The struggle of replacing demerits was imagining a system that could dismiss crooked candidates without becoming draconian about insignificant errors, such as volunteer pre-campaigning. Olsen's minor-major schedule has the potential to adequately handle this long continuum of violations, which stretches from trivial accidents to election racketeering. Fines and warnings seem appropriate for a volunteer accidentally pre-campaigning; candidates who purposely harm the process should be asked for more than an apology to the EGC.
The new system has the potential to hurt the candidates who hurt the system — anything less than that is beneath the student vote.