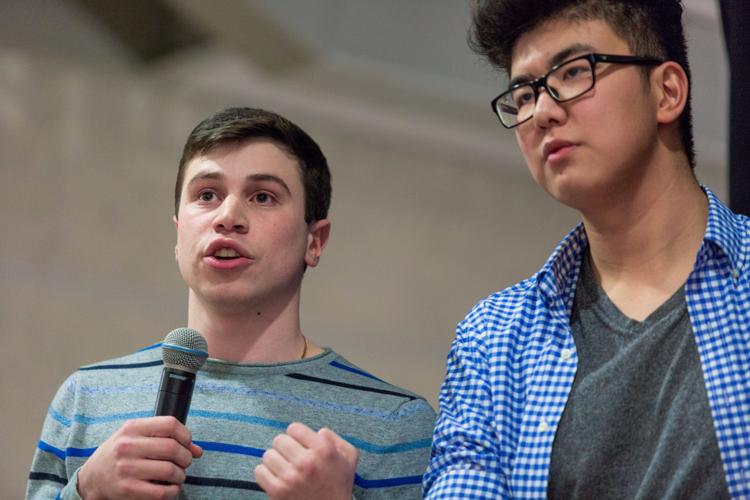 Team ForYe emphasized the research that backs their platform, and in many cases this is true. But at some crucial points, what research was done is not clear. It is a platform of highs and lows, with favourable and unfavourable comparisons with Bardia + Cat. In choosing a slate, students should choose which of these sections they believe is most important, and hope it is a ForYe-high, not a low.
The provincial response
The very presence of this section became an issue at this year's media debate: Bardia + Cat did not have a response to the announcements at the time, which were made just days before the platform deadline. Undoubtedly, it is commendable that there is some material to address what is now a forefront issue for students. But students should read the material as a sort of prospectus for how post-secondary funding could play out, not for what to do about it.
Their main proposal is to switch to a voluntary student unionism model; how the University Students' Council is to switch to this model in a year's time is not specified for obvious reasons. The voluntarism model also bodes poorly for services which the USC could not easily deny access to, but which still rely on fees, including The Spoke and the Wave or the Gazette.
As a slate, it is important to have official responses to such important news, and ForYe producing this material immediately is a sign of transparency. They have made their intentions clear, which is certainly positive, even if they can provide little more.
Sexual violence prevention
This is a low point for ForYe, especially in comparison to their opponent's platform.
The sexual violence epidemic on campuses is defined by attacks in private spaces by people the victims know. But the ForYe platform focuses on increased policing, self-defence programs and violence prevention training for Western Foot Patrol. None of these cases would be effective in stopping the archetypal campus sexual assault, which occurs with drugs or alcohol either in residences or frat and sorority houses — where police and foot patrol do not reach, and when self-defence is not a woman's first thought, because they are with a person they thought they could trust.
ForYe do address this type of assault is through an optional course on violence prevention for co-curricular credit, though courses like this already exist on campus. The research does not shine through here.
Health and wellness
The platform's two most substantive points are hiring more counsellors and training faculty and staff about mental health; both are possible and desirable.
Wait times are consistently cited as one of students' greatest concerns. The university has dealt with this partly through better triage counselling. But, as the current USC executive and ForYe argue, Western University's new consolidated mental health building needs a full staff to reach its potential. ForYe also make an important nod to hiring diverse counsellors, so members of marginalized communities can speak to professionals that better understand their experiences.
Faculty and staff training would also be a great help, as students often deal with professors who simply don't understand or are indifferent to mental health problems and become a barrier in seeking the accommodations students deserve. In these cases, students have to circumvent the academics for the academic counsellors, adding time and stress to an already laborious process. It is not a coincidence Ontario Undergraduate Student Alliance is also advocating for this province-wide.
Sustainability and accessibility
On sustainability, this platform contains a few doubtful, if not confusing, points. But, their points on accessibility are strong.
Firstly, eliminating the sale of plastic bottles from third-party businesses like Subway and Tim Horton's, whose revenues the USC will need now more than ever, will be an uphill battle.
The platform then says ForYe will advocate for the construction of a parking garage. It is hard to imagine Western green-lighting a garage when there are currently none on campus and the administration is set on a car-free campus in the future. As ForYe themselves point out, Western is looking to cut spaces. Even if they renege on this principle and add more, it seems impossible they would invest millions in a whole garage structure.
It's also worth noting that ForYe claims parking passes sold out in one day, highlighting the greater need for more spaces. This is wrong — the passes were open for purchase in the summer, and they sold out within the first day of classes; 80 per cent were sold by O-Week.
But on accessibility, the platform does well. All of their points about increasing the accessibility of lecture halls and elevators illustrate how simultaneously obvious yet ignored accessibility concerns are. And the slate's record in adding gender-neutral washrooms to campus bolsters their credibility in pursuing them.
Academic Success
Open Educational Resources, or OER, is the centerpiece of this section. As students face OSAP cuts, and as textbooks remain exorbitantly overpriced, this is only more important. Notably, they would push OER across all faculties, not only the biggest ones, which is the first of several nods to small faculties like FIMS, Arts and Humanities and Music.
The platform also addresses grace days (which alleviate late penalties) and the upcoming review of Fall Reading Week and Sunday exams. All three would help students with school — and reading week, which is widely loved by students, is a crucial piece of governance to maintain.
Note: This article has been updated since publication in our print issue to reflect that Bardia+Cat released material in reaction to the provincial announcement.