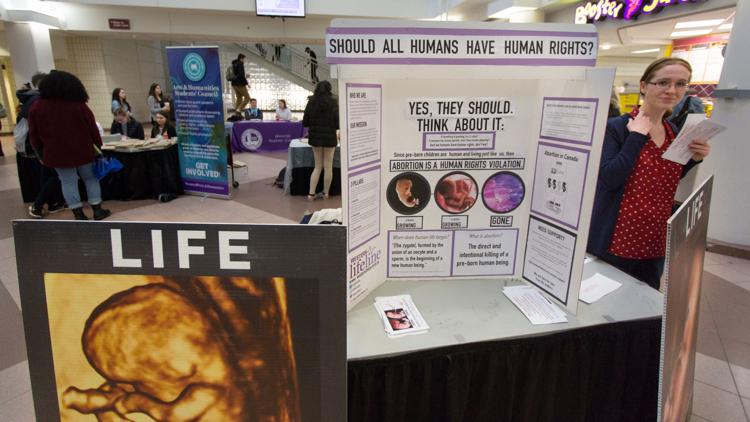 Western Lifeline, a pro-life club on campus, is more active this year than last, holding its fourth event today compared to only one last school year. 
Set up in the University Community Centre atrium, Western Lifeline's mission is to "make abortion unthinkable on campus." Since September, Lifeline demonstrations have sparked fierce debate, especially a January booth next to the UCC pharmacy and the Western Wellness Education Centre.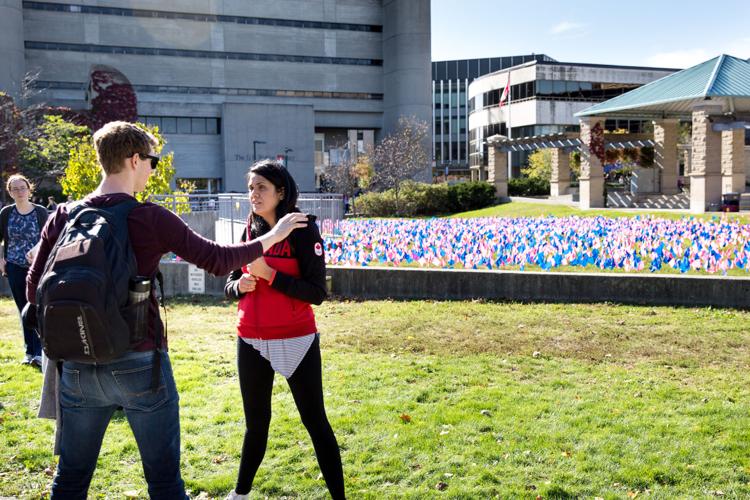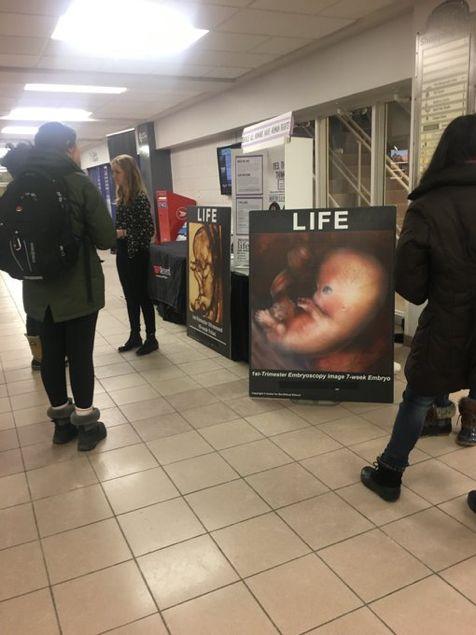 While the number of Western Lifeline events are up this year, the club has been more active in the past. Western Lifeline held 11 events in 2015-16 alone, according to the University Students' Council.
Maria McCann, Western Lifeline president, said an increase in membership enabled them to host more events this school year. 
"Discussions about injustices are often difficult because talking about a human rights violation is something that's very uncomfortable and something that affects us all," McCann said. "We can't raise awareness about the injustice happening to pre-born children unless we talk with people about that."
However, several campus groups argue students should have the information and the choice to avoid these demonstrations. The USC's Women's Issues Network has started posting on Twitter and Facebook to alert students who may be triggered by such displays. 
History PhD student and co-founder of Pro-Choice London, Robyn Schwarz, runs a pro-choice Twitter account that lets students know when and where anti-abortion displays are on campus. Schwarz doesn't think Western Lifeline should have official club status.
Schwarz emphasized that while she thinks Western University students have the right to hold their own views on abortion, she does not think they should be trying to push those views on others. She wants Western to be a welcoming and safe community and does not want students to feel bad about having abortions.
FYI #westernu community, our #antiabortion club is back at it today with their usual display in the USC foyer right near the booster juice. Please avoid this area if you do not want to be confronted with #antiabortion images and messaging. We are here if you need to talk.

— Pro-Choice London, ON (@Prochoiceldnont) March 27, 2018
"I hope that that's something that other members of the Western community share," Schwarz said. "It would be one thing if they were just protesting, but they're being given almost an official protest status because they can book tables, they can book rooms, they can do all of these things. But in order for that to happen, the USC's clubs bylaws would need to change."
USC student programs officer Mac McIntosh acknowledged Western Lifeline has been closely following clubs policy and stated that the club has a right to exist on campus. He also said if somebody wants to avoid that type of information, they have full right to do so.
He said the USC has received a huge amount of feedback about Western Lifeline, from both the group's Concrete Beach flag demonstration in September and their UCC basement booth. 
"As a ratified club, Lifeline has the right to speak out and to bring up a controversial issue as long as they're doing so in a respectful way," he said.