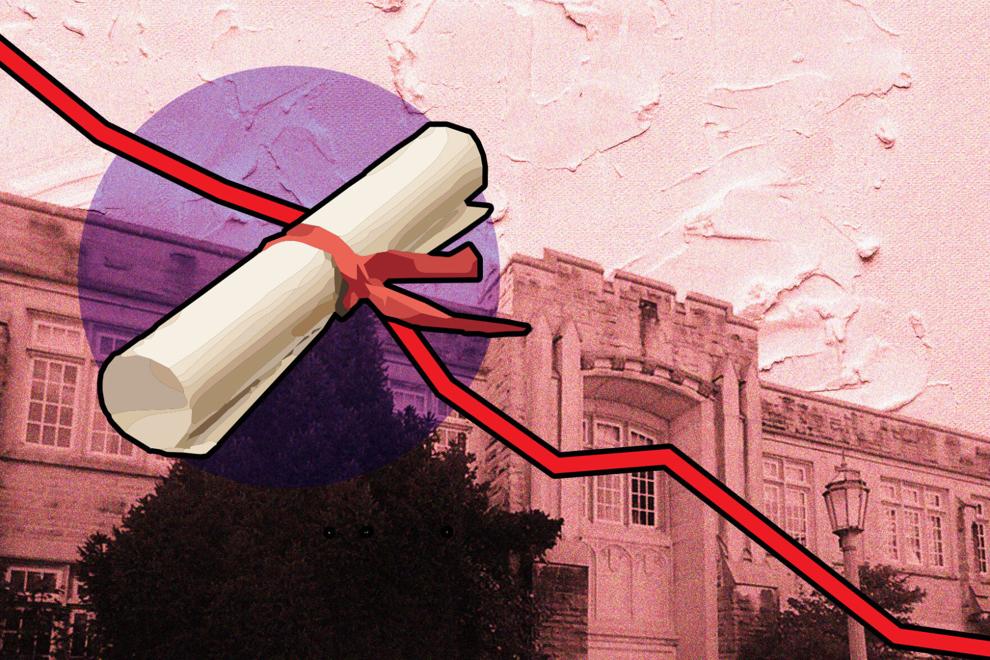 The Faculty of Arts and Humanities at Western University has seen a steady decline in undergraduate enrolment over the past decade. 
The faculty's total undergraduate enrolment has gone down over 28 per cent since the 2011-12 school year, even as the number of first-years admitted to Western has skyrocketed in recent years.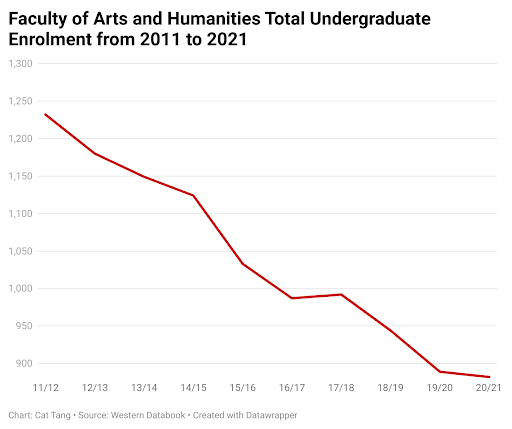 Arts and Humanities associate dean of academics Tracy Isaacs and president of the Arts and Humanities Students' Council Jack Bradley both attributed the decline to misconceptions surrounding the practicality of an arts degree.
"There's been an increasing societal pressure towards entering more 'marketable' degrees," said Bradley in a statement. "I might also note the pressure our current generation feels toward a perceived stability — with rising housing costs, general costs of living and such."
Isaacs said there are many valuable skills students can gain from an arts degree such as problem solving, critical thinking and reading comprehension. 
She also argued the arts and humanities are crucial for addressing big issues like climate change, global health and social equity. 
A recent article published by Policy Opinions found a disconnect between what employers look for and what Social Sciences and humanities degrees teach. 
"In some ways it's bad PR on our part," said Isaacs. "We know the value of our degrees and we know that they actually have a lot of relevance and practical value but often we don't convey that." 
Isaacs added that this trend is a global phenomenon that is not just isolated to Western.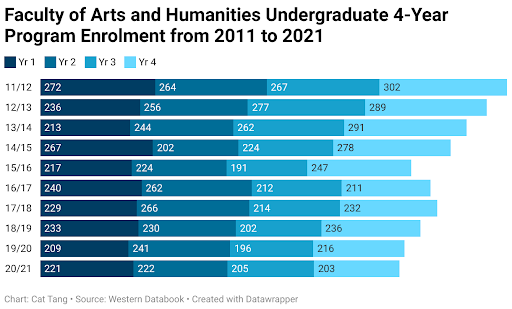 The Arts and Humanities class of 2011-12 was the faculty's largest graduating class in the last decade, with 302 graduating students — this is the only graduating class to surpass 300 students. 
The 2011-12 school year also saw the highest first year enrolment numbers with 272 students. The class shrunk to 256 students in the 2012-13 school year and grew to 262 students in the 2013-14 school year — these fluctuations could be attributed to students transferring faculties or dropping out. 
Both Isaacs and Bradley feel optimistic that there will be a shift in attitude towards the arts and that enrolment numbers will increase, despite the data. 
"If you look at the databook for first year intake for this year — 2021-22 — it'll be on the upswing again," said Isaacs. "It's going to be around the 240 range, which is back to what it was in 2016-17." 
Western would not release the 2021-22 enrolment numbers.