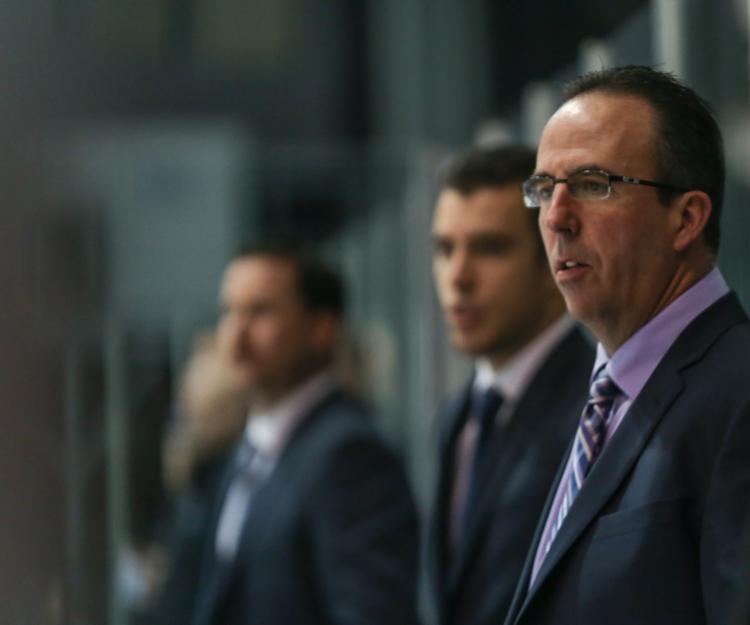 Varsity coaches can no longer also be professors after a shift in the reporting structure of Western's athletics programs.
As of the start of 2016, Sports and Recreation Services, which is responsible for all varsity teams, intramurals and recreational sports, are now reporting to Jana Luker, the associate vice-president of student experience. Previously, SRS reported to the dean of the Faculty of Health Sciences through the School of Kinesiology.
The change will see any future salaried coaches hired only to coach and not to teach at Western. The four coaches who are also currently professors will not be affected by the change, but their replacements will be coaches only. The current coaches are: Vickie Croley, track and field head coach; Ray Takahashi, wrestling head coach; Volker Nolte, rowing head coach; and Clarke Singer, men's hockey head coach. Professors who volunteer to coach on their own time will not be affected.
Luker believes the reporting change can be attributed to the pan-university focus of both SRS and the new student experience portfolio.
"Student athletes and participants are drawn from across all faculties and the three colleges and not exclusively a kin background or Faculty of Health Sciences," she said in an interview.
Western's director of sports and recreation, Thérèse Quigley, likewise justified the necessity of the change in the reporting structure. She added the change is in response to comparable changes in sports and recreation services at many other Canadian universities. Quigley herself was part of a similar change at McMaster University back in 1990.
The structural change was also heavily influenced by a 2011 report made by external reviewers entitled, "Setting A Place At the Table for SRS: Report of the Review of UWO Sports and Recreation Services." According to both Quigley and Luker, there will not be an effect on the athletes and current coaches because it's just an administrative change.
"I think on the ground as far as the sports I don't anticipate people even know unless they're really into the administration of the whole thing," said Luker.
Moving forward Quigley said it is very unlikely that a coach would be hired with a contract that included teaching at the University as a full-time split position. She explained this has been a gradual change over many years at Western. In the past, most varsity coaches had a full-time split position with teaching, but today only four such positions remain.
Peter Lemon, a kinesiology professor and volunteer softball coach at Western, agreed with the decision to keep the professor and coaching jobs separate in the future.
"If a coach no longer coaches they won't revert back to being a professor, they'll go elsewhere," he said. "It reflects the specialized nature of society today where people tend to focus on one thing as opposed to several things. I think it's good — I don't think it's really going to change anything."
In terms of response to the changes, Quigley said most of the questions have come from Western alumni.
"Our alumni came to school here at Western in a day where the professor did coach," said Quigley. "Over time many of those faculty members moved away from coaching and everyone in the faculty that's been hired within the past 10 or 20 years is very focused on the research and teaching." 
The diminishing numbers have been justified by the need for professors to focus on their research without spreading themselves too thin. On the other hand, demands for coaches have changed as it has transformed from a seasonal position to a 12-month job. Quigley said she understands people might be disappointed, but it's just the reality of a research-focused university like Western.
"It's the specialization and the direction both [coaching and teaching] have gone has not really made [coaching] a career path that very many people would recommend because you're going to be limited in your career growth and development as a faculty person," said Quigley.
The reporting structure change also reflects a shift in the focus of the field of kinesiology away from sport and physical education towards research in human movement and health, and in recent administrative changes.
"This responds to the change of leadership and the background of the new dean of the Faculty of Health Science [Jayne Garland]," said Luker. "We anticipate future deans in the Faculty of Health Science as well who don't necessarily come from the School of Kinesiology."
Quigley added she doesn't think the budget for varsity athletics will change despite now being overseen by the student experience portfolio. Both Quigley and Luker stated the funding might flow differently, but there won't be a significant increase or decrease in the size of the budget.