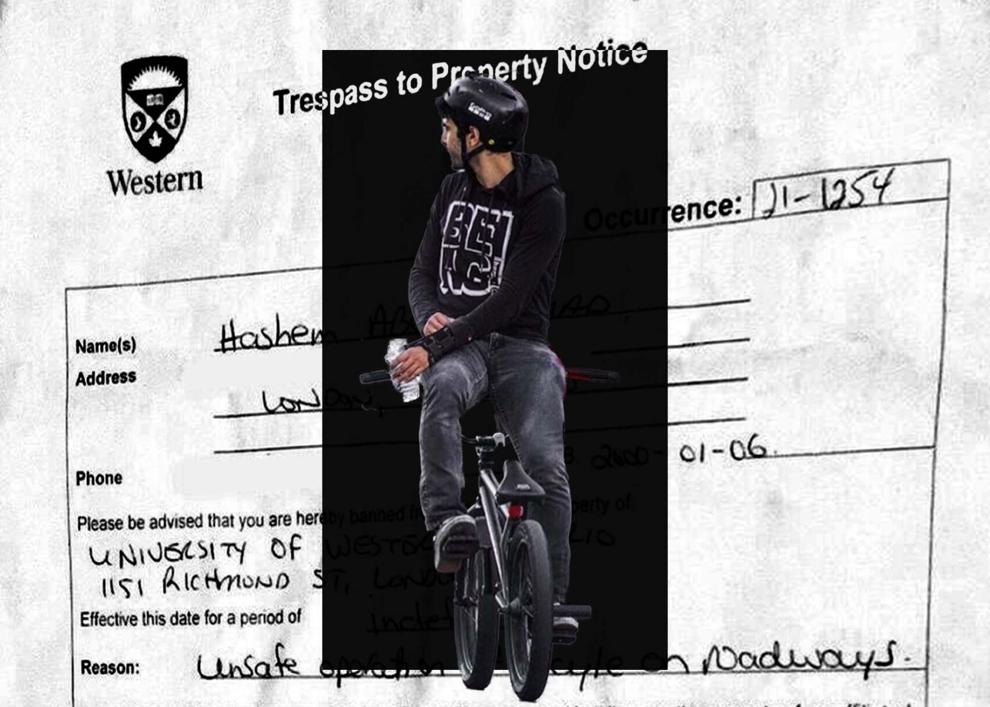 A petition to remove the trespasser ban on Hashem Abou Ahmad, also known as Western University's Backwards Bike Guy, has gained over 800 signatures as members of the community rally to bring him back. 
Ahmad, a third-year computer programing and analysis student at Fanshawe College, was charged with trespassing on Western's campus last semester after campus police deemed his backwards riding "unsafe operation of a bicycle." 
Ahmad has been seen riding backwards on his bike on campus since 2018. He said he had never been stopped before this year. 
"Nobody had stopped me until [then]," said Ahmad, referring to the officer he videotaped stopping him on the night of Sept. 5 2021 for riding backwards in the bike lane in front of Medway-Sydenham Hall. Ahmad was given a $110 ticket for not having a horn on his bike, which is the law.
In the video, Ahmad was told by the officer that issued the ticket that his riding technique was "dangerous to the students and to traffic." 
Another officer then told Ahmad that he was riding on private property and that he had previously been told not to ride in that manner. Ahmad said in the video the latter is untrue. 
Campus police did not respond to the Gazette's question regarding Ahmad's previous biking at Western. 
According to Ahmad, he had no problem accepting the ticket; his issue was with the way he was treated. 
"I was treated really, really badly. Like before even starting the video. The officer was yelling at me, she was ranting. It wasn't very pleasant," said Ahmad. "[At that point] I was like, okay, just give me a second, I opened my phone and I started recording."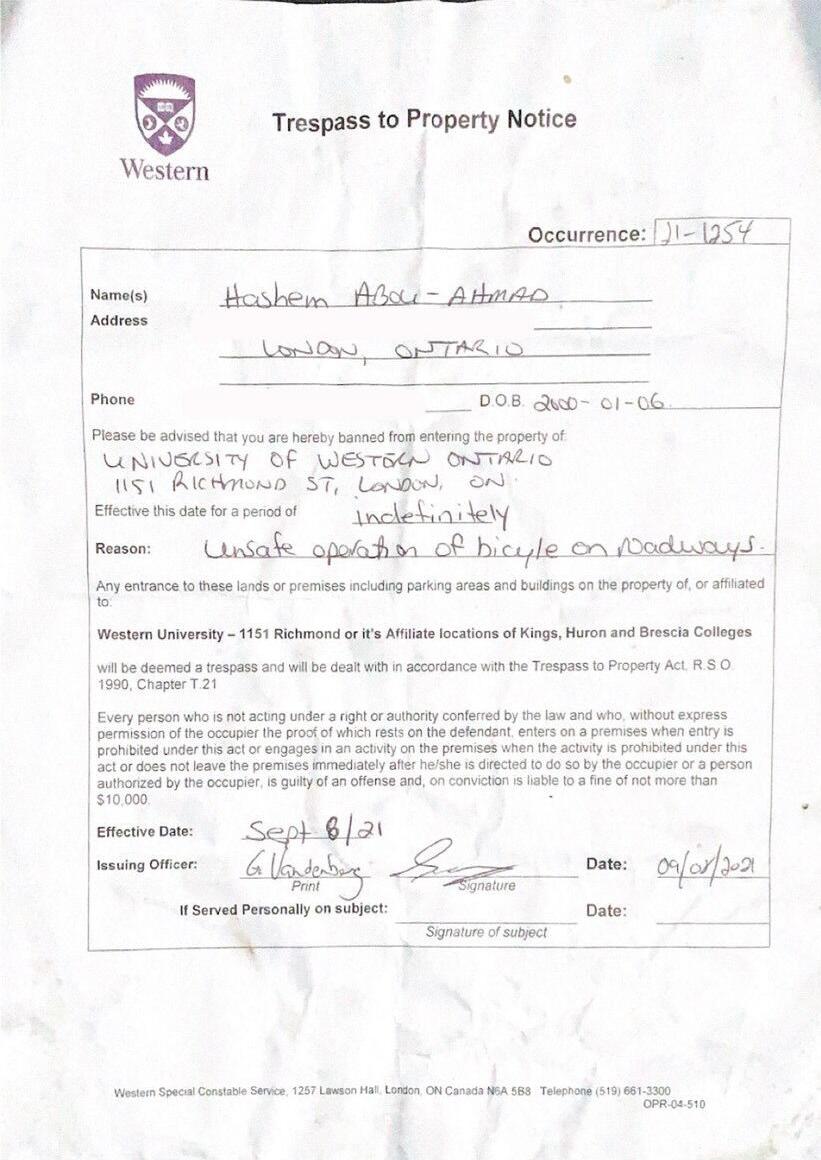 Ahmad was officially banned from campus and given a trespass notice on Sept. 8, in another videotaped interaction with campus police, where he was stopped again for riding backwards and not having a horn on his bike. The trespass notice was especially troubling for Ahmad, who hoped to keep the door open to further his education at Western after he finishes at Fanshawe.
While Ahmad expressed frustration over what he referred to as racist treatment in the two videos, looking back he felt this claim may have been "a bit too much." 
"I couldn't think of any reason other than either [discrimination] or they don't see that riding backwards is not dangerous," said Ahmad.  "I've been doing it for so long and cops have passed by me all the time and they never say anything."
In response to the Gazette's inquiries into Ahmad's ban, campus police said in a statement they could not comment on individual cases but affirmed, "if there is behaviour occurring that is unsafe for any member of the Western community, the Special Constable Service has the authority to issue warnings and/or a trespass notice."
Ahmad said he does not plan on going to court to contest the trespass notice, but he does hope the petition will gain enough traction to convince campus police to reconsider their stance to his backwards biking.
The petition, created by third-year Western Arts and Humanities and Math student Sophie Wu, calls on Western students and community members to sign on and put pressure on campus police to end the ban on Ahmad. 
Wu said she started the petition because she believes Ahmad did nothing wrong. She hopes that this issue will spark a wider conversation about transparency between campus police and the community.
"It's not illegal to ride your bike backwards," said Wu. "It's important to talk about when campus police do something as severe as give someone a trespass notice — it should be with good reason. There should be a method for people to at least know about what's going on and to hold [campus police] accountable."
According to Wu, Ahmad's removal from campus is not something that will benefit the Western community.
"I always really enjoyed watching him ride his bike backwards. And I read his story and I didn't think he was doing anything dangerous or hurting other people," said Wu. "Because of the trespass notice he can't even set foot on campus, so I just felt like it was something that more people should know about." 
According to campus police, "anyone who wishes to seek reconsideration of a decision trespassing them from campus can do so by writing to the Special Constable Service."