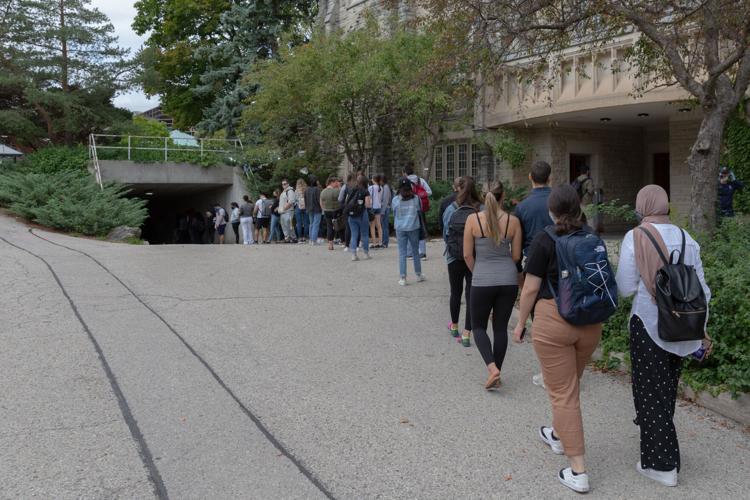 Students hoping to buy textbooks waited hours in a socially-distanced line that stretched all the way from the UCC to University College Hill this week. 
Students are facing wait times of 60 to 90 minutes if they arrive when the store opens at 12 p.m., and those coming later face even longer lines. 
Emma Reily and Brooke-Lynn Caschera, both in their third year of health science, had already been waiting half an hour when they were standing outside the side entrance of Lawson Hall — nowhere near the University Community Centre.
"I think [the line] is good just so that there's not a lot of people in the bookstore, to prevent transmission," said Caschera. "But it's still a little bit of a pain."
Long bookstore lines are common in September as students gear-up to begin classes, but this year the wait has grown exponentially as the store has reduced hours from 12 to 4 p.m. and limited capacity to 25 people.
The anticipated wait times prompted the Bookstore to offer a curbside pickup service where students can make purchases online and pick them up within 48 hours at the Great Hall in Somerville House.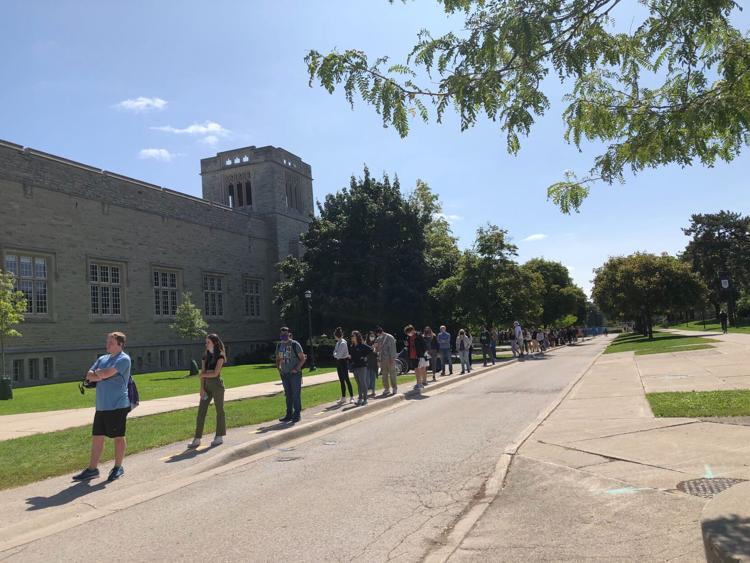 But, the wait for curbside pickup has also grown dramatically since its start, with recent lines reaching from Somerville to Alumni Hall, offering little hope for students looking to skip the queue. 
"I'm not even going to get all my books today because I still don't know what books I need," said Reily. "I'm not going to come back to the line, I'm going to do the pickup. I didn't know much about the pickup before."
According to Chris Alleyne, associate vice-president of housing and ancillary services, over 2,000 orders have been placed for pickup as of Friday. The Great Hall will discontinue the service this coming Friday and an alternative location will be made available.
Alleyne anticipates the textbook rush to last one more week, with Sept. 21 marking the end of peak season. 
"For health and safety reasons, all textbooks and course materials will be counter service only," said Alleyne, in a statement to the Gazette. "Students will need to bring a printed copy of their textbook list and a staff member will collect the course materials from our shelves for them, to limit direct contact in a high-touch environment."
The store has also placed floor decals to show designated waiting areas, enhanced cleaning, provided hand sanitizer throughout the store and encouraged contactless payment.