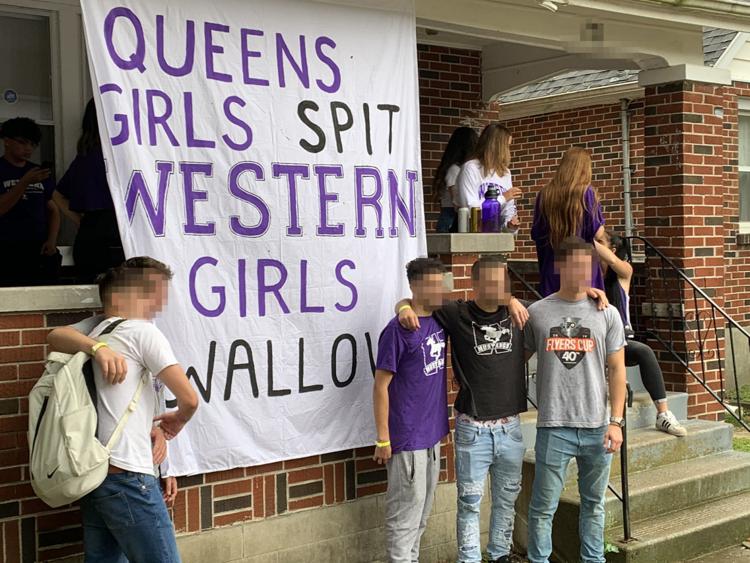 Banners with vulgar remarks displayed on Broughdale houses this Fake Homecoming have been called misogynistic by two of the city's most recognizable names.
Alan Shepard, Western's president, wrote a letter condemning the messages painted on bedsheets and hung from porches or windows.
"It was very upsetting to see a couple of banners in the Broughdale neighborhood that demonstrated a lack of respect for women," he wrote. "Casual misogyny, passed off as a joke, is always corrosive."
Ed Holder, Mayor of London took to Twitter to share his disapproval, calling them "sexism, misogyny, and rape culture on full display."
While the banners are viewed by many as a normal part of the Fake Homecoming atmosphere, the criticism throws a harsh spotlight on the painted bedsheets, which have also been covered by London media.
Perhaps the most eye-catching of the messages displayed Saturday was "Queen's girls spit, Western girls swallow." Londoners have also pointed to "My roommate is a virgin pls help" and "If your girl goes to Western she's not your girl anymore" as examples of misogynistic messages.
Jennie Massey, a lead of Western's sexual violence prevention work, said the messages were harmful.
"These messages cause harm because they reflect and they create environments where violence against women is normalized," she said.
As the associate vice-president of Student Experience, Massey also administers Western's Student Code of Conduct. She confirmed no formal complaints have been made about the banners, and so they are not investigating any cases.
However, they are still taking the matter seriously.
She said Western will be continuing to collaborate with the University Students' Council and sophs to improve education about gender-based violence on campus.
"Our best prevention is through education," she noted.
Holder and Shepard also called for a change. Western has long-battled a party reputation that is epitomized by the banners.
"We have made progress this year. There is still work to do," wrote Shepard.
Holder, speaking from London's highest office, was very critical, stringing off his concerns in a series of tweets.
"We will not allow London to be used as a door-mat, nor a poster-child for the ignorant messaging that was on display over the weekend," he wrote.